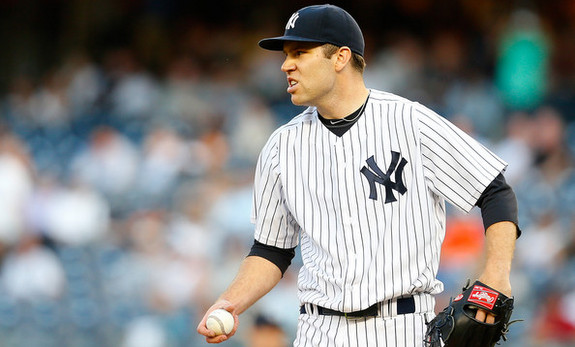 Way back in Spring Training, the Yankees held an honest-to-goodness competition for the fifth starter's spot. Michael Pineda blew everyone out of the water in camp and won the job with ease, but he was a total unknown coming into the year due to his injuries. He has to prove he belonged in the rotation and that's exactly what he did.
One of Pineda's competitors for that fifth starter's job was David Phelps, who has competed for a rotation spot in Spring Training in each of the last three years. Phelps had to settle for a bullpen gig and his role was undefined at the outset of the regular season. He was essentially the third setup option behind Shawn Kelley and Adam Warren before Dellin Betances broke out.
Phelps allowed one run in 1.1 innings in his first appearance of the season, then allowed three runs in two innings of work his next time out. He finally had a scoreless outing in his third appearance, when he recorded all of one out. His best and most memorable relief appearance of the season was his fourth, when he retired all seven Red Sox batters he faced with a 4-1 lead to earn his first career save. The bullpen was taxed and he stepped up in a big way.
Three days later, Phelps recorded his single biggest out of the season (+.174 WPA) by striking out Mike Carp with the bases loaded and two outs in the eighth inning of a game the Yankees led 3-2. It was an eight-pitch at-bat and I remember it because of Phelps' little fist pump/bunny hop celebration combo: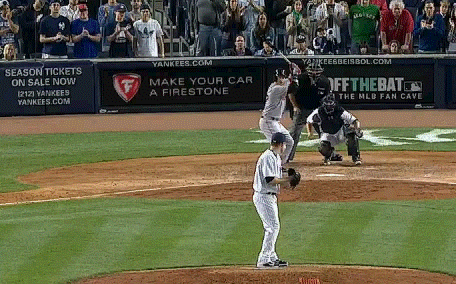 Phelps remained in the bullpen for the entire month of April — he had a 3.86 ERA and 5.79 FIP in 11.2 innings during the season's first month — before moving into the rotation to replace the suspended/injured Pineda. His first start was pretty good — he held the Angels to one run in 5.1 innings while on a strict pitch count. Phelps' next outing was not so good (four runs in five innings against the Brewers) but his next two after that were strong (five scoreless against the Pirates, seven innings of two-run ball against the White Sox).
After getting roughed up in three straight starts by his hometown Cardinals (five runs in six innings), the Mariners (six runs in six innings), and the Royals (seven runs in 5.2 innings), Phelps settled down and went on his best stretch as a big league starting pitcher. Beginning on June 13th, he posted a 3.29 ERA and 4.27 FIP in 54.2 innings spread across his next nine starts. He completed at least five innings in all nine starts and at least six innings in six of nine starts. Phelps' best start of the season (71 Game Score) was the first of those nine starts (6.2 scoreless against the A's):
The Red Sox clobbered Phelps for five runs in only two innings on August 3rd, and a day later he was placed on the 15-day disabled list with elbow inflammation. Joe Girardi told Wally Matthews the elbow had been bothering Phelps for "three or four weeks" before he had to placed on the DL. "We thought it was something we could manage, and he was managing. He was pitching well. It was just inflammation. But [against the Red Sox], for whatever reason, it bothered him."
The injury ended Phelps' stint as a starter in 2014. He pitched to a 4.28 ERA and 4.18 FIP in 17 starts and 96.2 innings from early-May through early-August, which isn't sexy but is more than fine from your sixth starter. Phelps was really the team's seventh starter when you think about it. Vidal Nuno got the call when the team first needed a spot starter and he stayed in the rotation after Ivan Nova blew out his elbow. It wasn't until Pineda got hurt/suspended that Phelps moved out of the bullpen and into the rotation.
Phelps returned to the team in mid-September and spent the rest of the year working in relief only because there wasn't enough time left in the season to stretch him back out to starter. He closed out the year with six not particularly good appearances (4.2 IP, 4 H, 4 R, 4 ER, 6 BB, 3 K) in low-leverage spots. The most memorable part of Phelps' September was when he threw at Kevin Kiermaier of the Rays — he buzzed him inside but did not hit him — apparently in retaliation for Tampa hitting a bunch of Yankees that month. The benches cleared but nothing really came of it.
Between his 17 starts and 15 relief appearances, Phelps had a 4.38 ERA and 4.41 FIP in a career-high 113 innings in 2014. His strikeout rate (7.33 K/9 and 18.5 K%), walk rate (3.66 BB/9 and 9.3 BB%), homer rate (1.04 HR/9 and 10.8 HR/FB%), and ground ball rate (41.2%) were all decidedly mediocre. League average or worse across the board. Phelps was actually more effective against lefties (.314 wOBA) and at home (.327 wOBA) than against lefties (.356 wOBA) and on the road (.338 wOBA), which is weird. Pretty much the opposite of what I expected.
Phelps is now three years into his big league career and he's established himself as a swingman who won't kill you as a spot starter for a month or two. His career performance as a starter (4.34 ERA and 4.16 FIP in 219.2 innings) isn't all that different than his performance as a reliever (3.84 ERA and 4.32 FIP in 79.2 innings), so he's yet to stand out in either role and make you think that's where he belongs. That's fine though. Swingmen get no glory but they are a necessary part of the pitching staff. Phelps was more than capable when pressed into duty this season as well as the last three seasons overall.