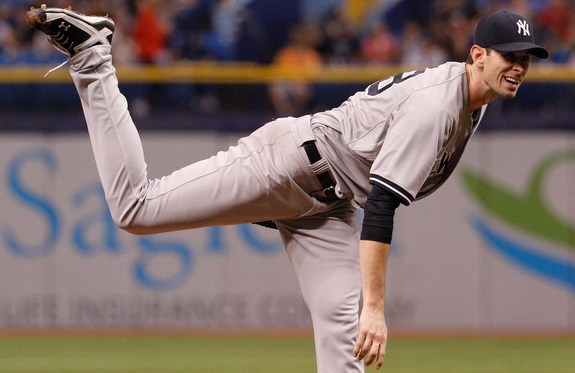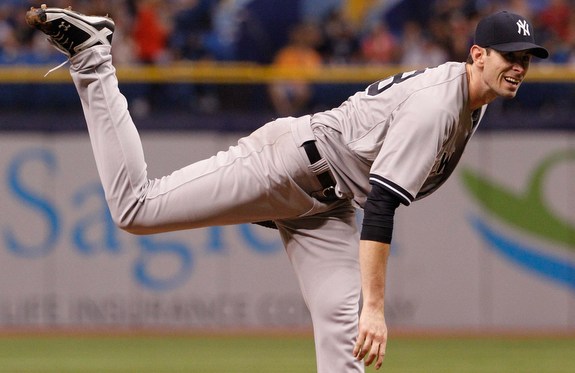 It's amazing that despite all their offensive problems in 2014, the Yankees were rather desperate for pitching help at midseason. Ivan Nova (elbow) and CC Sabathia (knee) were lost for the season, and at one point it sure looked like Michael Pineda (shoulder) would be as well. David Phelps was doing an admirable job filling in and Vidal Nuno had his moments, but the Yankees needed more stability. Masahiro Tanaka and Hiroki Kuroda were rocks in the rotation. The rest was a mess.
On July 6th, three and a half weeks before the trade deadline, Brian Cashman pulled the trigger on a straight one-for-one swap with the Diamondbacks that sent Nuno to Arizona for right-hander Brandon McCarthy. The two sides were reportedly talking for weeks before ex-D'Backs GM Kevin Towers decided to sell. The timing worked out well for New York too — two days after the trade and one day before McCarthy's first start in pinstripes, Tanaka suffered the partially torn elbow ligament that essentially ended his season.
It easy to be skeptical about what McCarthy at the time of the trade. His 5.01 ERA in 109.2 innings with Arizona was a major eyesore, as was his 1.23 HR/9 (20.2 HR/FB%). He had a 4.53 ERA in 135 innings the year before, and his long history of shoulder problems was another red flag — McCarthy visited the DL with a shoulder issue at least once every year from 2008-13. His strikeout rate (7.63 K/9 and 20.2 K%) with the D'Backs was fine and both his walk (1.64 BB/9 and 4.3 BB%) and grounder (55.3%) rates were excellent. The Yankees were hoping to get the 3.82 FIP version of McCarthy, not the 5.01 ERA version.
In true 2014 Yankees form, McCarthy's very first inning with the team was derailed by shaky infield defense (Mark Teixeira throwing error) that resulted in three unearned runs. The Indians put seven balls in play that inning and two were in the air, both caught for outs. It was a rally built on Teixeira's error and ground balls with eyes. McCarthy settled down after that and allowed just one more run in the next 5.2 innings. The Yankees eventually won the game in 14 innings. Quite the hectic debut.
McCarthy held the Reds and Rangers to one run in six innings in each of his next two starts before the Rangers touched him up for four runs in six innings. After that, McCarthy allowed just seven runs (four earned) in 27.1 innings across his next four starts. His best start for the Yankees and on the season in general came on August 21st, when he struck out eight in a four-hit shutout against the Astros:
McCarthy, who throughout his career has been a bit homer prone, allowed just three balls to leave the yard in his first nine starts with the Yankees. That little bit of good fortune came to a crashing halt in Toronto on the final day of August, when McCarthy allowed three solo homers in the span of four batters to turn a 3-0 lead into a 3-3 tie in the seventh inning. The Bombers went on to lose the game 4-3. It was not McCarthy's finest moment. Not at all.
After that little homer episode, McCarthy allowed just four runs in his next three starts before getting clobbered in his final outing of the season (five runs in 5.1 innings against the Orioles), something that was a common theme throughout the rotation. Pineda was the only one not to get lit up in his final start. Anyway, McCarthy's stint in pinstripes ended with a 2.89 ERA (3.22 FIP) in 90.1 innings spread across 14 starts. His strikeout (8.17 K/9 and 22.2 K%), walk (1.30 BB/9 and 3.5 BB%), and grounder (49.1%) rates were all way better than average. His homer rate (1.00 HR/9 and 12.8 HR/FB%) was in line with his career average (1.04 HR/9 and 10.3 HR/FB%).
Soon after the trade, McCarthy told reporters the D'Backs didn't allow him to throw his cutter, a key pitch in his arsenal when he transformed himself from a fastball/curveball pitcher to a cutter/sinker pitcher while with the Athletics a few years ago. "[Shelving the cutter] wasn't something I totally agreed with," McCarthy told Josh Thomson back in July.
"I feel like myself again. [The D'Backs] didn't want me throwing it any more. They wanted more sinkers away, but I feel like I need that pitch to be successful," said McCarthy to John Harper in July. "The Yankees came to me right away and said, 'We need to bring the cutter back into play.' They obviously looked back and saw, 'when he's good he was throwing cutters. When he's not, he wasn't.' I was glad to hear it because I was going to tell them that anyway. It's been frustrating because I felt like I've been throwing better this season than any other year."
Now here's where it gets interesting. Here is McCarthy's pitch selection over the years, courtesy of Brooks Baseball:
| | % Cutters | % Sinkers | % Curves | % Four-Seamers |
| --- | --- | --- | --- | --- |
| 2011-12 with A's | 41.3% | 36.1% | 18.9% | 3.7% |
| 2013-14 with D'Backs | 23.6% | 49.2% | 20.1% | 7.1% |
| 2014 with Yankees | 18.8% | 36.0% | 20.9% | 24.2% |
McCarthy threw more cutters in his first two starts with the Yankees (37) than he did in his final eight starts with the D'Backs (36), but overall PitchFX says he threw fewer cutters in New York than he did Arizona.
There are two things going on here. At least I think there are two things going on here. One, McCarthy threw only 10.3% cutters with the D'Backs in 2014 before being traded (34.6% in 2013), so he actually did throw more cutters with the Yankees this year. Two, I think there are some PitchFX classification issues. The data at FanGraphs says he threw only 13.0% four-seamers with 45.6% sinkers and 20.4% cutters while in pinstripes. I think a bunch of those four-seamers are actually misclassified cutters, but I can't confirm that. If that is the case, his pitch selection in the table above would much more closely resemble his time in Oakland, when he was awesome (3.29 ERA and 3.22 FIP).
McCarthy says he was using the pitch more often with the Yankees but the PitchFX data says otherwise, so I don't know who to believe. I tend to believe the data at times like there, but there could be classification issues. It happens all the time, particularly with cutters, though they are usually mixed with sliders, with four-seamers. I really don't know what's going on here. Maybe McCarthy and the Yankees were just blowing smoke when they said he was throwing more cutters.
Anyway, here's something neat (via Brooks):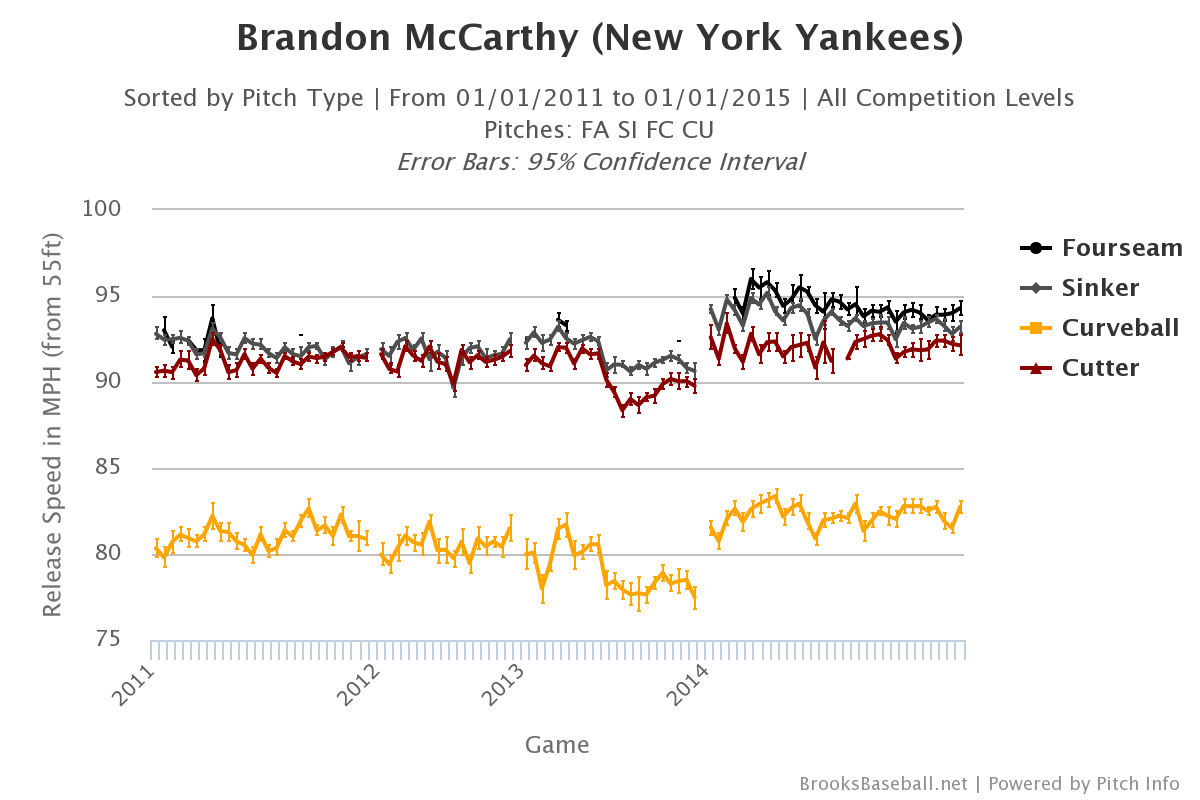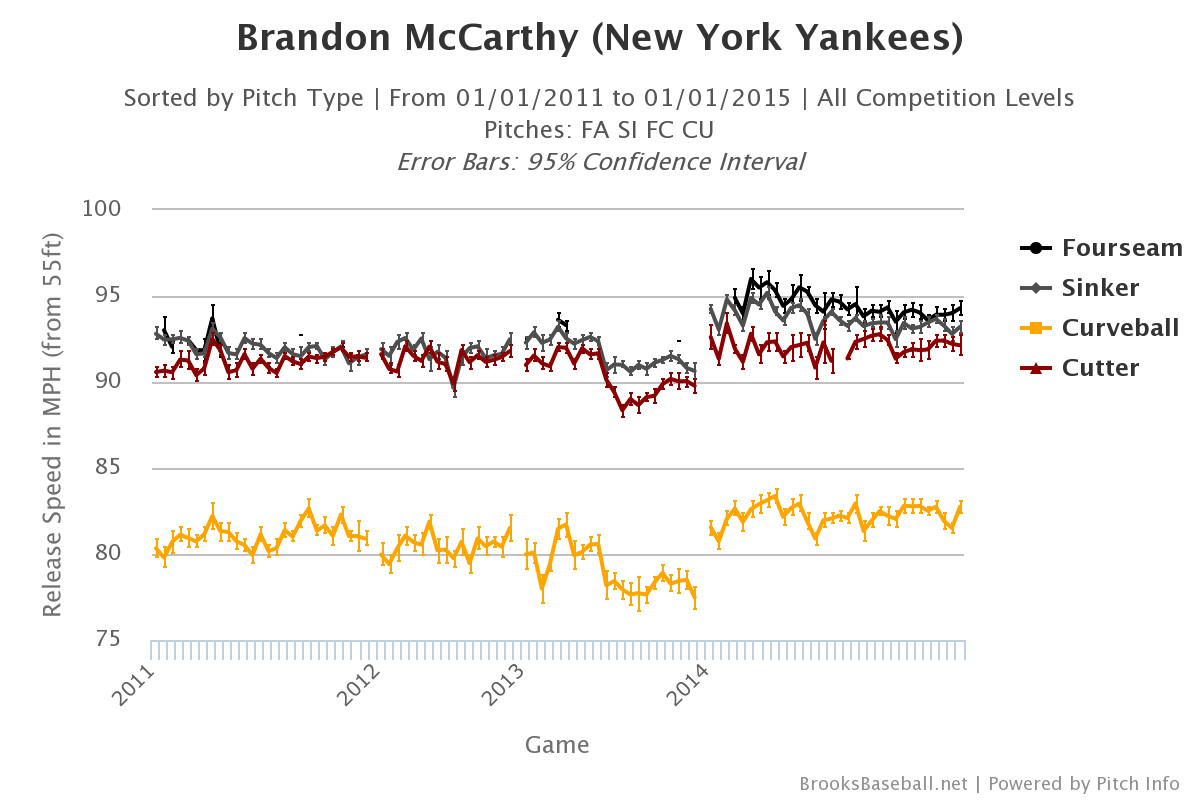 McCarthy added a ton of velocity this year. Across the board too, even his curveball was harder. His cutter went from 90.7 mph last year to 92.2 mph this year. His sinker went from 91.8 mph to 93.8 mph and his curve went from 79.1 mph to 82.3%. These are really big increases! McCarthy told Nick Piecoro back in Spring Training that he changed his offseason routine in an effort to avoid the DL, which he did in 2014 for basically the first time in his career. The velocity could simply be the result of having a healthy shoulder for the first time in years.
Regardless of what's going on with the cutters and increased velocity and all that, McCarthy gave the Yankees a big shot in the arm after the trade and was borderline ace-like for 14 starts. It happened. It's in the books. Worry about how he will perform in the future and if he'll re-sign with the Yankees another time. There's an entire winter to do that. For now, I just want to point out that even though both Jon Lester and David Price were traded at the deadline, McCarthy had the most impact of any pitcher traded this summer. It just wasn't quite enough to get the Yankees back to the postseason.