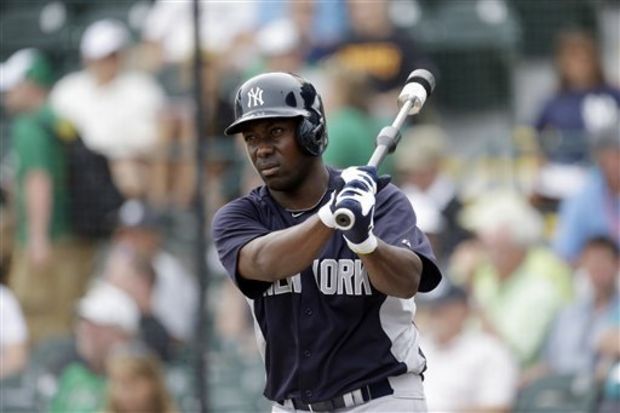 All Rob Refsnyder has done is hit. After starting slowly following the 2012 draft, he's put up monster numbers at every level of the minors in the last two seasons, ending 2014 in AAA with a .300/.389/.456 (137 wRC+) line. It seems, or at least seemed, that his time in the Bronx is near.
Then the Yankees re-signed Chase Headley, which pushes Refsnyder out of immediate consideration for a starting spot.
It might appear as though the Yankees crowded Refsnyder out of a spot, but by re-signing Headley they might have made his transition to the big leagues easier. The same is true for Jose Pirela, and other candidate for an infield position before Headley signed.
It's all about versatility
The trade for Martin Prado last July gives the Yankees flexibility. They took advantage right away, starting Prado multiple times at 2B, 3B, LF, and RF. It appears that he'll start the season as the everyday second baseman, but that could change at any time — not because of Prado's performance, but because others are stepping up.
Instead of starting Refsnyder at second out of the gate, they'll have him continue what he started at Scranton Wilkes-Barre. If he continues pummeling the ball as he did in 2014, he can force his way into a call-up even if Prado is performing to expectations.
As of today, Alex Rodriguez is the Yankees' primary DH. That could change between now and Opening Day, but let's assume it's true. In that case, who are the Yankees two biggest on-field risks? Alex Rodriguez and Carlos Beltran. Should anything happen to either, Prado can move to the outfield and Refsnyder can take over at second base.
(Refsnyder did play nine games in the outfield last year, and another 42 in 2012. He was an outfielder in college. But it appears that the Yankees want him to stay at second base. There's a better chance that they move Prado to the OF rather than Refsnyder.)
Pirela is a man of many positions, having started multiple games at every spot except catcher in 2014. He also continued hitting well, a 117 wRC+ in 581 PA at AAA, which followed a 118 wRC+ in 530 PA at AA in 2013. Basically, ever since he reached AA he's started to hit. Given his versatility, the Yankees can easily find a spot for him whenever a need arises.
Pirela can slide in for anyone who gets hurt, other than Brian McCann. The Yankees can work in Refsnyder in the event that anyone other than Didi Gregorius gets hurt, moving Prado to whatever position and inserting Refsnyder at 2B.
By fielding a team of veteran major leaguers, the Yankees can let Pirela and Refsnyder signal when they're ready. With their flexibility, they can probably work in one of those guys at almost any time. Additionally, they provide depth in case of injury. If any of the seven non-mask-wearing fielders gets hurt, the Yankees have an easy way to fill the void.
When the Yankees signed Chase Headley they didn't block two young players. They merely changed the way they'll fit into the 2015 plans. It might be for the better, for all parties.