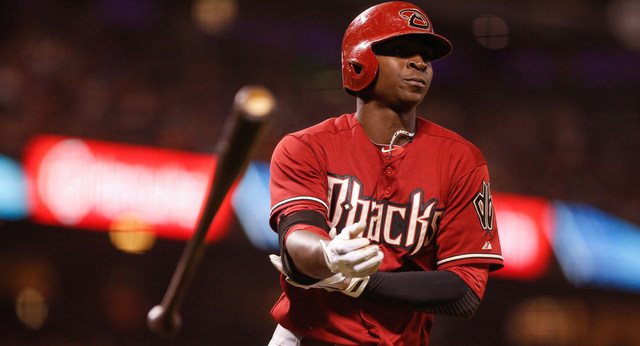 1:58pm: It's a done deal, the Yankees have officially announced the trade. The deal is as reported this morning: Greene to the Tigers, Ray and Leyba to the D'Backs, and Gregorious to the Yankees. Welcome to the Bronx, Didi.
12:01pm: The Yankees have landed their shortstop of the future. Or at least their shortstop for 2015. The team has agreed to acquire Didi Gregorius from the D'Backs in a three-team trade that sends Shane Greene to the Tigers. Detroit is sending left-hander Robbie Ray and minor league infielder Domingo Leyba to Arizona. It doesn't appear there are any other pieces involved. The deal is still pending physicals. The always reliable Sweeny Murti and Ken Rosenthal had the news. Bob Nightengale says Arizona rejected Greene-for-Gregorius straight up before the Tigers got involved.
In a nutshell, the trade plugs the Yankees' shortstop hole with a young player who can actually play above-average defense and may improve at the plate. It also creates an even bigger hole in the rotation — Greene was the only MLB starter on New York's roster without some kind of injury concern heading into 2015. The Yankees needed rotation help before the trade and they need even more now. It seems like they will dip into free agency to take care of that. Plenty of arms still available.
Gregorius, 24, was originally signed and developed by the Reds. He went to Arizona in the three-team trade that sent Shin-Soo Choo to Cincinnati and Trevor Bauer to the Indians two offseasons ago. Gregorius is from Amsterdam and he comes from a baseball family. His father pitched in Honkbal Hoofdklasse — the highest level of pro baseball in the Netherlands — and his brother plays in that league now. Didi's real name is Mariekson Julius, by the way.
This past season Gregorius hit .226/.293/.393 (76 wRC+) with six homers in 229 plate appearances for the D'Backs. He spent much of the summer in Triple-A — he hit .310/.389/.447 (122 wRC+) with three homers in 260 plate appearances in Triple-A in 2014 — after losing the starting shortstop job to Chris Owings in Spring Training. Arizona has clearly identified Owings as their shortstop of the future and used Gregorius to fill their pitching needs.
Didi, who is listed at 6-foot-2 and 205 lbs., hit .252/.332/.373 (92 wRC+) with seven homers in 404 plate appearances in 2013, his first extended stint in MLB. He actually hit his first career homer at Yankee Stadium last April, but it came against Phil Hughes, so that hardly counts:
The Yankees are clearly hoping Gregorius, a left-handed hitter, can get back to his 2013 level of production and improve on it going forward. It's worth noting Gregorius does draw a fair amount of walks (career 8.1 BB%) without striking out much (16.9 K%), and those are two traits that generally portend well for the future. He hasn't hit lefties at all as a big leaguer though — 33 wRC+ against lefties and 102 wRC+ against righties.
In the field, Gregorius is considered an above-average defender by scouts while the various stats say he's been about average if not a tick below so far in the show. I wouldn't take the numbers to heart right now given the relatively small sample size. "He has smooth actions, plus range and a sniper rifle of an arm. His arm rates as a 70 on the 20-80 scouting scale, allowing him to make plays from deep in the hole that other shortstops can't," said Baseball America (subs. req'd) when they ranked him Cincinnati's fifth best prospect following the 2012 season, before the trade to Arizona.
Gregorius has been healthy throughout his career aside from an elbow strain in 2013 that kept him out for just about all of Spring Training plus the first two weeks of the regular season. He missed another week in April 2013 after suffering a concussion when he was hit in the head by a pitch. Otherwise his medical history is clean. Gregorius is considered a good makeup/clubhouse guy and he also speaks four languages: English, Spanish, Dutch, and Papiamento. That'll come in handy in the clubhouse.
Greene, 26, was pretty much a rotation savior for the Yankees this summer. He had a 3.78 ERA (3.73 FIP) in 78.2 innings during his MLB debut with strong strikeout (9.27 K/9 and 23.5 K%) and ground ball (50.2 GB%) rates. His walk rate (3.32 BB/9 and 8.4 BB%) was solid and his command has been much improved these last two years thanks to some mechanical tweaks make by minor league pitching coordinator Gil Patterson. I like Greene, I think his mid-90s sinker/upper-80s slider combo is legit, though he did struggle against lefties this season, as detailed in our season review post.
Because he spent a big chunk of 2014 season in the minors, Gregorius currently has less than two years of service time, so he can not become a free agent until after the 2019 season. He will be a Super Two though, meaning he will be arbitration-eligible for the first time next offseason and have three more years or arbitration after that. Greene won't be arbitration-eligible until after 2017 or a free agent until after 2020. The Yankees are giving up six years of Greene for five years of Gregorius. I don't see a problem with that.
The Yankees desperately needed a shortstop, both for the short-term and long-term, and while we have to wait to see if Gregorius can become that long-term piece, the team got him at what I think is a more than fair price if not an outright bargain. I really like Greene and think he'll be a solid pitcher going forward, but pitchers like him are much easier to find that 24-year-old shortstops these days. I don't love Didi, I'm skeptical about his bat going forward, but this is a shot the Yankees had to take.