I was originally planning to post a post-Winter Meetings thoughts post, but then the Yankees re-signed Chase Headley yesterday morning, so I changed gears. Instead of a post-Winter Meetings thoughts post, here's a post with some post-Headley deal and post-Winter Meetings thoughts combined into one post. To the post:
1. So that reported four-year, $65M offer Headley had from an unknown team had to be made up, right? It had to be his agent trying to drive up the price. As cool as it would be to say Headley turned down substantially more money to return to New York because the Yankees are totally awesome and everyone else sucks, I have a hard time thinking a rational human being would pass up that much extra money just because he liked playing somewhere. Take $1M less per year like Andrew Miller? Sure. I can buy that. But $3.25M per year like Headley? That's a lot of money for the kids — Headley's wife just had a baby, Joe Girardi said at the Winter Meetings — and the kids' kids and the kids' kids' kids to leave on the table. Maybe it's true and Headley really did value playing in New York so much that he turned down an extra $13M or so. That would be cool. I just have a hard time believing it. That reported $65M offer seems like a classic "agent trying to drive up the price" move. (For what it's worth, Headley told Jack Curry yesterday he did turn down more money to return to the Yankees without giving specifics.)
2. With Headley back, the 13 position player slots on the roster heading into next season are just about set. We know who the nine starters will be — assuming Alex Rodriguez is the regular DH — and the bench will have Brendan Ryan, Chris Young, either John Ryan Murphy or Austin Romine as the backup catcher, and probably Jose Pirela in the last spot. It wouldn't be the worst thing in the world to bring in potential bench piece or two as a non-roster invitee to push Pirela (and Ryan?) in camp, maybe someone like Adam Rosales or, day I say, Jayson Nix, but that's not a pressing issue right now. Either way, Headley will join Didi Gregorius, Martin Prado, and Mark Teixeira as the regular infielders. The Opening Day infield last year was Teixeira, Brian Roberts, fading Derek Jeter, and Kelly Johnson. The year before it was Kevin Youkilis at first, Robinson Cano, Eduardo Nunez, and Nix. Even though it lacks a bonafide superstar like Cano, the projected 2015 infield looks so much better than what they ran out there from 2013-14. Million times better. They actually have a bonafide Major League caliber player at all four positions. That wasn't the case the last two years.
3. The Headley signing presumably pushes Rob Refsnyder back to Triple-A Scranton to start next season — I suppose he could beat out Pirela for the last bench job, but I'm not expecting that to happen — and I do think that's the best thing for his development, especially defensively. Learning on the fly in the big leagues is not easy. I've said this a million times already: when someone inevitably gets hurt next summer, the Yankees can move Prado to whatever position to fill in for the injury, then call up Refsnyder to play second. I am not at all a fan of handing a non-elite prospect a job out of Spring Training and prefer Refsnyder to get his opportunity as an injury replacement at midseason. I'm pretty sure I've written this before, but I think the best case scenario for his MLB arrival is the Brett Gardner path — up and down the first year, part-time role the second year, then full-time role the third year. The adjustment from Triple-A to MLB is more difficult now than ever before — Brian MacPherson recently spoke to a bunch of executives about this — and anything the Yankees can do to ease Refsnyder's transition is a positive in my eyes. And, of course, re-signing Headley presumably makes Refsnyder (and Eric Jagielo?) more available in a trade, especially if they're confident in Pirela going forward. If Refsnyder (or Jagielo!) can help land a pitcher with a few years of control left, it's definitely something the Yankees should explore.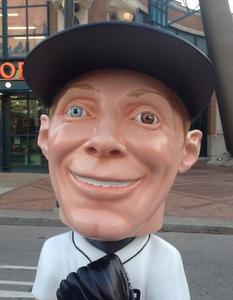 4. I do believe the Yankees are sincere when they say they will pass on handing a huge money long-term deal to Max Scherzer. He's an excellent pitcher and would obviously be a huge help. That's not really up for debate. The question is whether Scherzer and a bunch of scrap heap arms are better for the club than spreading the money around and signing two or three pitchers for similar 2015 money. Say Hiroki Kuroda, Edinson Volquez, and Chad Billingsley. Or Volquez, Brandon Morrow, and Chris Capuano. (Not endorsing either set of pitchers, just throwing names out there.) The Yankees need multiple starters right now and chances are they'll have to dip into the scrap heap at some point this summer anyway, so maybe it's better to get two solid pitchers rather than one great one. As good as Scherzer is, he does only take the ball once every fifth day. As Joe detailed last week, the Yankees have almost no money coming off the books next offseason (Shawn Kelley, Young, maybe Ryan, that's all), so signing Scherzer probably means they have to sit out free agency (the big names, anyway) next winter barring a payroll increase. One year deal guys like Kuroda, Billingsley, Morrow, and/or Capuano would both help the 2015 rotation and leave some financial flexibility for next winter, when three legit aces (David Price, Jordan Zimmerman, Johnny Cueto) and several other solid starters (Doug Fister, Ian Kennedy, Andrew Cashner, Mat Latos) are scheduled to hit the market. Some will sign extensions, sure, but some will inevitably hit the market. There's too many for that not to happen. At that point the Yankees will be a year away from shedding Teixeira's and Carlos Beltran's contracts (maybe CC Sabathia's as well), making a another big money deal a little easier to swallow. I'm in favor of skipping Scherzer, signing a few cheaper starters, then revisiting the pitching market next offseason.
5. Over the last year or so, there has been an uptick in the number of MLB player for MLB player trades going down around the league. At the Winter Meetings last week there was the Matt Kemp/Yasmani Grandal trade, the Jeff Samardzija/Marcus Semien trade, and the Rick Porcello/Yoenis Cespedes trade. At the trade deadline we had the Jon Lester/Cespedes swap, the John Lackey/Allen Craig deal, and the David Price/Austin Jackson/Drew Smyly three-team trade, among others. There are still plenty of MLB player for prospect deals (the first Samardzija trade, the Dee Gordon/Andrew Heaney deal, etc.), but the MLB player for MLB player trades are happening more often nowadays. I find these trades more fun and interesting, and I'm pretty sure they're due to the second wildcard. It's easier to get into the postseason than ever before, and there are many more buyers than sellers. Teams don't want to take risky prospects in return for their established big leaguers because those prospects can't help them win right now, so they're focused on getting other established big leaguers back in return. The Yankees made four trades before the deadline this summer and three of the four were big leaguer for big leaguer. The only exception was the Prado/Peter O'Brien swap. Contrary to what many seem to think, the Yankees do have some tradeable assets on their MLB roster. Will they use any of them to get help elsewhere on the roster at the trade deadline? Intrigue!
6. We all know the Yankees have a lot of injury risk in the rotation heading into next year, and also some on the position player side, and that's really scary. So I'm going to close with this as a change of pace: what if everything goes right? What if Masahiro Tanaka's elbow holds up and Michael Pineda makes 30+ starts? And that CC Sabathia's surgically rebuilt knee gives him a more stable landing and better effectiveness? What if A-Rod returns from his year away with a fully healthy body and rakes in his new role as the DH? What if the bone spur was the only reason Beltran didn't hit in the second half in 2014? What if Teixeira starts mashin' taters now that he's more than a full year removed from wrist surgery? Just humor me for a second. What if all that stuff we're all expecting to go wrong instead goes right? How amazing would that be? I think the Yankees would win the AL East in a landslide in that case, and then they'd go into the postseason with two aces, a dominant bullpen, and a deep lineup. Realistic? Nah. Fun as hell think about? You bet.