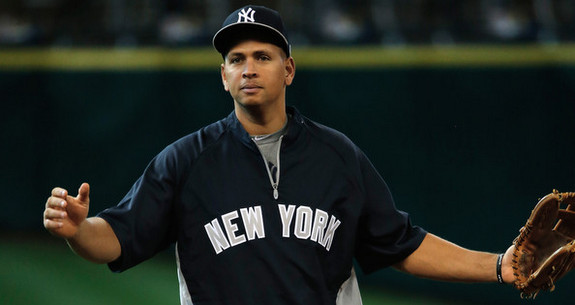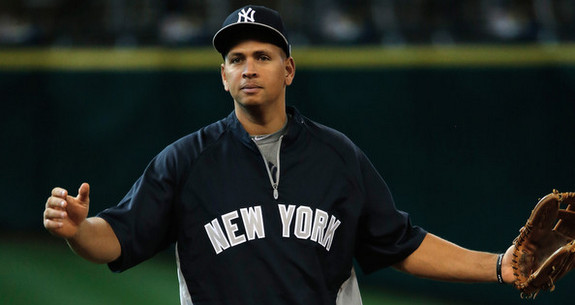 Well, it appears the days of contrived Alex Rodriguez controversies have returned. With Spring Training now only five weeks away, word has gotten out that A-Rod is planning to win the third base job in camp. Actually, according to some reports, Alex considers the third base job his and it's Chase Headley who has to win it away from him camp.
At least that's what someone close to Rodriguez has said. From Steven Marcus:
"Alex's mind is that job's not Headley's, it's Alex's to lose," the source said. "That's what he thinks. Alex is going into training camp thinking that he is the starting third baseman, that if there's a competition, Headley's got to win it from him. It doesn't matter about the money, what they signed Headley for. This guy [Rodriguez] can play."
Meanwhile, a presumably different person close to A-Rod wasn't as firm, instead saying Alex is simply preparing to play, not take away anyone's job. From Kevin Kernan:
"Alex is looking at this season as a fresh start," one friend said. "He's prepared to do the best he can in his role as a DH, but he is also preparing to play third base, knowing there will be times that Headley needs a break.

"He knows that Joe Girardi is a manager who likes to have options and wants to keep all his players fresh, so he knows he will get some time at third, and he feels being used in that way is good for the team overall. Everyone can get a break.
Believe who you want. I really don't care. The most important thing is that A-Rod is preparing to play and be a factor this coming season, including at third base in some capacity.
This, of course, is a good thing. Make no mistake, the Yankees want no part of Alex and wish he'd just go away, but if they are stuck with him, they want a motivated A-Rod, not an apathetic A-Rod. They want a player with ambition who wants to prove everyone wrong. They don't want someone who's going to half-ass it.
The Yankees have gone to great lengths to marginalize Rodriguez this winter, most notably by signing Headley but also by signing Stephen Drew to increase infield depth. Drew's an able body who can play third in an emergency. They aren't counting on A-Rod to be that emergency guy at the hot corner.
If Alex is going to play any sort of regular role for the 2015 Yankees, he's going to have to earn it, and that begins in Spring Training. A-Rod has been posting photos of himself working out on Instagram — which makes him no different than, like, 50% of all athletes — and I have zero doubt he will come to camp in great shape. That's just who he is. Showing up is only step one, however.
There's nothing A-Rod can do at this point to fix his image or change the way people think about him. His image his beyond repair. And the Yankees have made it clear there is no third base competition. The job is Headley's. A-Rod says … or, rather, people close to A-Rod say he wants to play a big role and that's great. He's motivated and he wants to contribute. That can only be good for the Yankees.