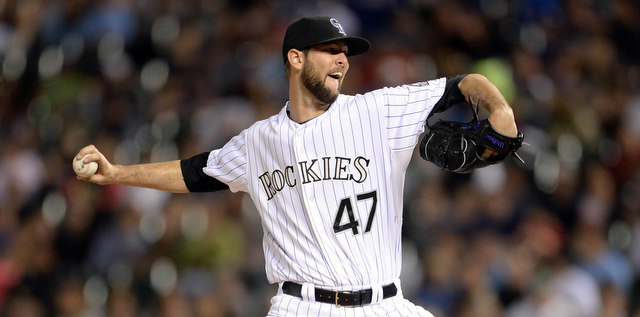 1:35pm: The Yankees have announced the trade. It's Martin for cash considerations, as reported. Gonzalez German has been designated for assignment to clear a 40-man roster spot.
12:30pm: The Yankees have acquired right-handed reliever Chris Martin from the Rockies for cash, according to Jack Curry. Colorado designated Martin for assignment last week when they needed roster space after signing Nick Hundley. The Yankees have not announced the trade and will need to a clear a 40-man roster spot.
Martin, 28, made his MLB debut with the Rockies last season, allowing 12 runs on 22 hits and four walks (and two balks!) in 15.2 innings. He struck out 14. Martin spent most of the year in Triple-A, where he had a 4.39 ERA (3.21 FIP) in 26.2 innings with good strikeout (12.15 K/9 and 29.9 K%) and walk (3.04 BB/9 and 7.4 BB%) rates.
The Rockies originally acquired Martin from the Red Sox in the trade that sent Jonathan Herrera to Boston last winter. Boston signed him out of an independent league in 2011. Here's a scouting report from Sox Prospects:
Throws from a 3/4 arm slot. Easy, balanced delivery with the ball loosely coming out of his hand. Fastball sits 93-95 mph. Creates sink by throwing downhill … Also features a solid-average 84-86 mph slider. At its best the pitch shows depth and bite, but he's inconsistent with the offering and at times it rolls to the plate, allowing batters to get a piece of it. It generates swings and misses when its on. Also mixes in a below-average 83-84 mph changeup.

Martin is a tall drink of water — he's listed at 6-foot-8 and 215 lbs. — so I guess it's no surprise the Yankees pounced. They love their tall pitchers. Martin is just another bullpen depth arm who figures to head to Triple-A Scranton when the season begins. Small move designed to slightly upgrade literally the 40th spot on the 40-man roster.