Got a nice big 15-question mailbag for you this week. Send us stuff through the "For The Mailbag" form in the sidebar. Trust me, the question goes through even though it doesn't look like it.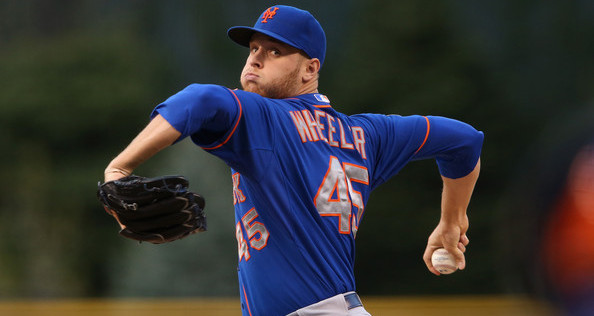 Stu asks: If the Yankees offered Dellin Betances and Didi Gregorius to the Mets, which starting pitcher(s) could they reasonably expect to receive in return? Would either team pull the trigger?
The Mets have six starters for five rotation spots — seven if you count Rafael Montero, who is MLB ready — and they've been shopping a few of them hard this winter, specifically Jon Niese, Dillon Gee, and Bartolo Colon. Gee seems most likely to go. For Gregorius and Betances, I think the Yankees would have to ask for Zack Wheeler, and the Mets would say no. It's weird, the Mets have six starters, but three have little value (Niese, Gee, Colon) and three have a ton of value (Wheeler, Jacob deGrom, Matt Harvey). There's no one in the middle who'd be a more appropriate return for Didi and Dellin. I really liked Niese a few years ago, before his recent arm problems, and I wonder if the Yankees could get him for a good not great prospect at this point, someone like Eric Jagielo maybe.
Jim asks: Did Hall of Fame voters overrate John Smoltz while underrating Mike Mussina and Curt Schilling? They both out-WAR him by a sizable number of wins, and Schilling also has a very decorated postseason resume. What was it about Smoltz that made him a first-ballot guy and for Moose and Schilling to not even get half of the vote?
Yeah I think he was overrated a bit. I wrote our Smoltz Hall of Fame profile at CBS and was a bit surprised — I thought his case was much stronger than it actually was. (For the record, I do think he's a Hall of Famer.) I think playing with Greg Maddux and Tom Glavine boosted Smoltz's case — for more than a decade we heard Atlanta had three future Hall of Famers in the rotation, and as good as Smoltz was, he rode Maddux's and Glavine's coattails a bit — and also for some reason people love the fact that he was both a starter and a closer. For what it's worth, JAWS ranks Schilling 27th and Mussina 28th all-time among starters. Smoltz is 58th after adjusting for his time as a reliever. I don't understand why there was a such a big voting disparity but at the same time I do. Know what I mean? Smoltz was awesome, and when you play with two no-doubt Hall of Famers for so long, people start calling you a no-doubt Hall of Famer too. (Ben Lindbergh gave a longer answer to this very question last week, so check that out too.)
Steve asks: Isn't Daniel Murphy the perfect comp for Refsnyder?
Aside from Murphy being a left-handed hitter and Refsnyder being a right-handed hitter, yeah I think that is a pretty good comparison. I would hope Refsnyder could develop into a better defender than Murphy, who remains comfortably below-average, but it might not happen. Second base is hard. One big difference between the two is strikeouts — Refsnyder struck out 105 times in 577 plate appearances last year between Double-A and Triple-A while Murphy's career-high is 95 strikeouts in 697 plate appearances back in 2013. If Refsnyder turned into a right-handed Murphy, I'd be very happy with that.
Mark asks: Is it just me or don't you find it a little odd we're now 42 days away from spring training and the Yanks still haven't hired a hitting coach (not to mention a 1B coach too)?  You would think after last year's feeble offensive output, Brian Cashman would have not only hired a hitting coach but also the team's first ever assistant hitting coach by now!
Yep! Surprisingly, the knee-jerk reaction of firing the old hitting coach– I thought it was pretty obvious someone was going to take the fall after the Yankees missed the postseason for the second straight year, and once Cashman re-signed, Kevin Long was the obvious candidate to fall on the sword — may not be working out as well as expected. Just about every team has filled their coaching vacancies already. The pickin's are slim. I'm of the belief that hitting coaches, while important, do not have nearly as much impact as everyone seems to think. The Yankees will hire someone eventually and everyone will blame him when the offense stinks again in 2015. Circle of life.
Eric asks: Why don't the Yankees know what they're going to get from A-Rod this year? He's no longer suspended – why hasn't he been checked out medically and put on the field to see what he has left? Thx.
Alex has been working out according to his Instagram account (journalism!), but what are the Yankees going to learn about him on a bunch of backfields against minor leaguers in the middle of the offseason anyway? Not a whole lot. If he rakes, they'd have to take it a grain of salt. If he stinks, they'd feel exactly the same way they do right now. The Yankees clearly expect nothing from A-Rod next year. That's why they re-signed both Stephen Drew and Chase Headley and added Garrett Jones.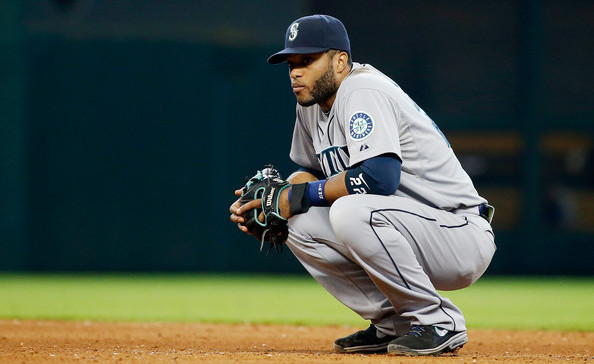 Bobby P. asks: Now that it's been over a year since Robinson Cano signed with Seattle, and the Yanks are clearly moving in a different direction, has your evaluation of the club not matching the M's huge offer changed? I realize how much money they would have been committing at the end of the deal but I can't help but I just would have loved the chance to rebuild around Robbie moving forward.
Rebuilding around a 32-year-old middle infielder making $24M a year doesn't really sound all that appealing. Don't get me wrong, Cano is still an elite player, but his best years are very likely behind him, and that's not someone you build around. Robbie is a "win now" player at this point of his career. You have him on your roster because you're ready to win this year, not two or three years down the line. The Yankees desperately lack a star player and top notch hitter like Cano, but my opinion of his contract hasn't changed at all. Love Robbie forever, but I'm glad the Yankees didn't re-sign him at that price.
Dave asks: It seems like all but a handful of teams are trying to be competitive this year. Surely though, some of them will be out of the race by the trade deadline. Which top-of-the-rotation pitchers do you see becoming available mid-season?
The first name that jumped to mind was Johnny Cueto. Jon Morosi said the two sides haven't make any progress in extension talks and Cueto's agent told Mark Sheldon they won't talk contract after the season starts. The Reds aren't any good and they'll get a haul for Cueto at the trade deadline. Much more than a silly draft pick after the season. Cueto is two years younger than Max Scherzer and every bit as good. He's going to get a massive contract when he hits the market next winter. Other high-end starters who could become available are Cole Hamels (if he isn't traded these next few weeks) and Andrew Cashner (who's never healthy), though that's just my speculation. I could see the Tigers shopping David Price if they fall out of the race as well.
Matt asks I know he's really young, and not even in A ball, but what's up with this Leonardo Molina kid? I never hear much about him, though I think he was pointed out recently as a young kid to keep an eye on somewhere.
The 17-year-old Molina received a $1.4M bonus as New York's top international signing during the 2012-13 signing period. Baseball America (subs. req'd) called him an "an explosive, quick-twitch player" and "the most athletic prospect in Latin America" at the time of the signing. Molina had a rough pro debut with the Rookie GCL Yanks last summer (58 wRC+) but he played most of the season at age 16. He was a high school sophomore in pro ball. Baseball Prospectus (subs. req'd) ranked Molina as the team's eighth best prospect a few weeks ago and called him a potential "first-division player/occasional all-star." I think that ranking was pretty aggressive but Molina is definitely one of the top lower level prospects in the system. I expect him to return to the GCL this year simply because he's so young.
Tim asks: Do you think the Yankees will move Jagielo to the OF now that Headley is here long-term and Miguel Andujar appears to be a more viable option and will be in Tampa this year?
Not yet even though the reports on his defense were pretty terrible last year. Jagielo is still two levels away from MLB and there's no reason to move him off third right now. I think it's more likely he gets traded now — probably to a team that still believes him at the hot corner — than moved to another position as the club tries to fit him in the roster puzzle. As bad as his defense supposedly looked a year ago, I think you have to give Jagielo more than one full year at third base. Worry about where he fits later, when he's actually MLB ready. Same with Andujar.
Samantha asks: At the end of last season we heard a lot about the potential for a 6-man rotation. Right now it will be a struggle to fill even a 5-man rotation, but if a guy like Adam Warren does get stretched out and do well in Spring Training, will a 6-man rotation be legitimately considered?
I hadn't really thought about it but it could be possible. Based on the roster right now, the Yankees will have a four-man bench, which means a six-man rotation and six-man bullpen. Betances and Esmil Rogers could both go multiple innings, Justin Wilson too, so that would make it easier to carry one less reliever. A six-man rotation would allow the Yankees to take it easy on Masahiro Tanaka, Michael Pineda, and CC Sabathia, all of whom have some injury concerns. A six-man rotation is possible but I don't think it's likely. Let's see if they get through Spring Training with everyone in one piece first.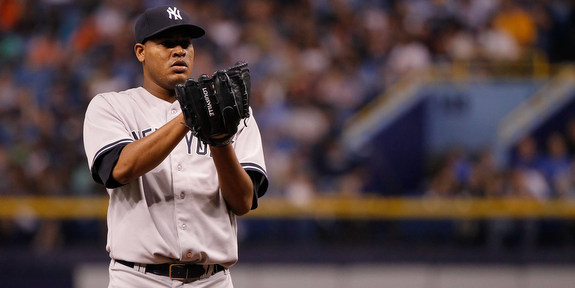 P.J. asks: Let's assume Ivan Nova comes back in mid June and pitches decently upon his return. He will be under team control for only one more season, 2016. With Luis Severino and Ian Clarkin ready do the Yankees look to trade Nova at end of the 2015 season and try and get something for him before he becomes a FA at the end of the 2016 season?
Severino and Clarkin shouldn't have any impact on Nova. (Also, it's unlikely Clarkin will be ready by 2016. Severino might be though.) Pitching depth is a good thing, and even if they were ready, Severino and Clarkin are no sure things. That isn't to say the Yankees shouldn't be open to trading Nova, they should be open to trading anyone and everyone for the right return, but they probably shouldn't actively shop him either. At this point in time, I say keep Nova for 2016 and maybe even try to sign him to a little extension, say three years and $24M. Something like that. Nova didn't get a big bonus as an amateur ($80,000), he just might be open to it.
Calvin asks: Are they finding a market inefficiency in bullpen depth that helps consistently out perform their Pythag?
Eh, I'm not sure I would call having a deep bullpen a market inefficiency, I'm pretty sure every team knows that's a good thing to have. But I do think that's part of the Yankees' plan. A few months ago a user at reddit did a real nice quick and dirty analysis showing bullpen strength had a small correlation with outperforming (and underperforming) run differential, though there was a correlation nonetheless. The Yankees outperformed their run differential by 13 wins (!) the last two years and by 17 wins since 2008, and I think Joe Girardi's bullpen management is a big reason why. He has more weapons to work with right now than at any other point during his tenure.
Nic asks: What are the chances David Carpenter gets a shot at closing? That way Betances and Andrew Miller are saved for the more high leverage innings.
It's possible, but he'll probably have to pitch his way into that role. I think it's more likely Betances closes and Carpenter takes over as the team's primary right-handed setup man alongside Miller. Of course, Miller could also close since guys like Justin Wilson and Chasen Shreve will be available for the lefty setup work. I'm not really concerned about who will close — the Yankees have plenty of options and will have a strong closer and a deep setup crew regardless. I'm just curious to see who ends up in the ninth. Betances dominated last year but Miller has the big closer worthy contract.
Nick asks: Now that Manny Banuelos has officially been traded, who was the best player that he was ever rumored to be in a package for? Who could the Yankees have gotten for him way back when?
According to the RAB and MLBTR archives, Banuelos was mentioned in trade rumors for Ubaldo Jimenez (when he was good), John Danks (when he was good), and Matt Garza back in the day, mostly from 2011-12. That's all we've got. I'm certain Banuelos was involved in more trade talk, a lot more, but that's all that was reported. Garza is the best of that bunch by default — Jimenez has been a disaster since 2011 aside from the second half of 2013 and Danks hasn't been the same since blowing out his shoulder. Garza had two more years of team control at the time of the trade rumors and was worth 2.7 bWAR total during those two years, which ain't much. Is it weird that I'd rather have three years of David Carpenter and six years of Chasen Shreve now than two years of Garza then? I don't think that's weird.
Dustin asks: With the Yankees not in a position to get rid of rotation depth, do you think giving up on Manny Banuelos is a sign they are going to get another starting pitcher? Or are they really that down on Manny that they don't even view him as a starter?
I expected them to go after more pitching depth even before the Banuelos trade. I think the trade means they were down on Banuelos and didn't consider him a starting option in 2015. They probably didn't have particularly high hopes of him turning into an option for 2016 either. The results weren't encouraging last summer and Banuelos has essentially lost three years of development. He was hurt most of 2012, all of 2013, and spent 2014 shaking off rust. That's a lot of development time lost at a critical age. It's the kind of stuff that derails careers. It happens all the time. Such is life. Pitching prospects, man.