There are 14 questions and 13 answers in this week's mailbag. I feel like these things get longer and longer each week. Send us questions via the "For The Mailbag" form in the sidebar at any time.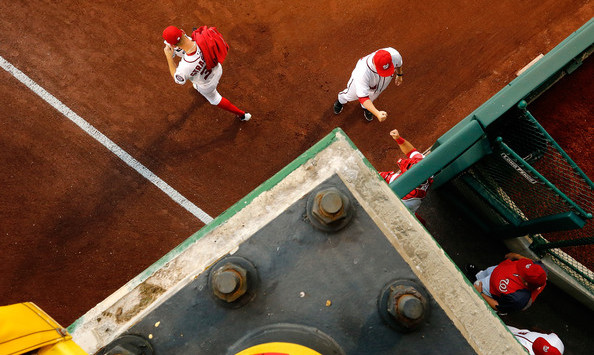 Lonnie asks: Any chance the Yankees could go after Strasburg? The Nats would want proven stars … would a package built around Betances and Sanchez/Murphy get it done? Maybe throw in Refsnyder as well?
Oh I'm certain the Yankees will at least make a call about Stephen Strasburg (and all of the Nationals starters) if they haven't already. Aside from not being nine feet tall, Strasburg fits everything the Yankees look for in a starter — velocity, strikeouts, control of the strike zone, and ground balls. I mean, every team looks for that in a pitcher, but the Yankees really seem to emphasize the velocity and control part. They didn't just randomly target Michael Pineda and Nathan Eovaldi on a whim, you know.
Anyway, I think Lonnie answered his own question. The Nationals are the ultimate win now team and they're going to want proven players in return, not a reliever and a handful of prospects. As good as Dellin Betances is and as promising as Gary Sanchez/John Ryan Murphy and Rob Refsnyder look, that's not even close to what it'll take to get two years of a 26-year-old ace. The Yankees would do that in a heartbeat. A half-season season and a half of David Price got a young big league starter, a young big league infielder, and a very good shortstop prospect, for example. I'm not sure the Yankees have the pieces to get Strasburg. They don't have that potential star young MLB ready player to give up.
Will asks: Would Marco Scutaro make any sense for the Yankees?
Not at this point, no. Scutaro, who I just learned has the same birthday as me (different years!), was designated for assignment by the Giants earlier this week. He played only five games last year due to back problems and had another pretty serious back surgery last month — they had to fuse two vertebrae together — which will keep him out for roughly six months. So Scutaro won't even be able to play until June at the earliest. Since he is 39 and we're talking about a serious procedure, chances are his rehab will extend longer than that. There's a chance he's already played his final MLB game.
Adam asks: Does Kyle Kendrick make sense for the Yanks? If no … why?
The Yankees do need pitching but I'm not sure they're desperate enough to outbid teams for Kendrick. The 30-year-old had almost identical 2013 and 2014 seasons resulting in a 4.65 ERA (4.31 FIP) with good walk (2.46 BB/9 and 6.3%) and ground ball (46.9%) rates but an awful strikeout rate (5.46 K/9 and 13.9 K%). If you remove opposing pitchers, Kendrick has struck out only 13.0% of batters faced these last two years. That's really, really bad. He has no out pitch. The only thing Kendrick has to offer is innings, but they aren't quality innings. People like to talk about guys being NL pitchers, well Kendrick is the classic example.
Sam asks: It is FanFest season around the Majors and I always wonder why the Yankees don't hold one. Is it cost or are there too many fans to accommodate? Does the club feel it's unnecessary? I'd like the chance to meet some present and future players. I need a Greg Bird autograph now — so what gives?
I honestly have no idea why the Yankees don't do anything like this. They're a blast and I'm sure teams make a decent amount of money from them. (If they didn't make money, they probably wouldn't do it.) The Yankees don't do a whole lot to cultivate young fans and maybe that's because they think the Yankees #brand speaks for itself. I doubt the marketing folks think like that though. The Yankees aren't the only team to not do some kind of caravan or FanFest event, but it would be really cool if they did. They draw nothing but positive reviews around the league.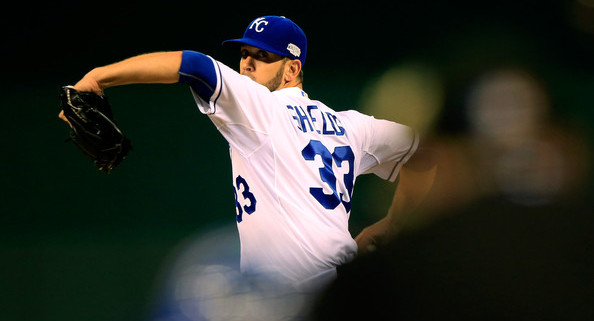 Kevin asks: If James Shields really is in the 4-year, $80 million range shouldn't the Yankees jump all over that?
I haven't heard he's come down that far just yet. I think the Yankees are concerned not so much by the total dollars or years or anything like that, but with buying too much decline. A seven-year deal for 30-year-old Max Scherzer and a four-year deal for 33-year-old James Shields takes you through their age 37 seasons, except with Scherzer you're getting more peak years. Shields is very good and I think he'll age better than Scherzer (I base that on nothing tangible, just a hunch, really), though if you give a 33-year-old with that many miles on his arm four years, you're buying nothing but downside. If the Yankees were a no doubt contender looking to put themselves over the top, I think signing Shields would make more sense.
Vinny asks: Regarding Scherzer's contract: do the deferred payments affect the luxury tax hit in any way?
No, Scherzer's luxury tax hit is based on the average annual value of his contract, not when the money is actually paid out. So his seven-year, $210M contract comes with a $30M tax hit even though he will really make $15M for the next 14 years (!). According to Cot's, the Nats are up around $160M in payroll for luxury tax purposes with Scherzer on board, so they aren't close to the $189M luxury tax threshold. (They have a freaking ton of money coming off the books after the season.) If deferring money reduced how much a player counts against the luxury tax, everyone would be doing it. MLB won't let teams get off that easy.
Ian asks: If you had to guess, what would A Rod, CC, and Teixeira have gotten on the free agent market this winter?
I'll start with A-Rod because he's the easiest: nothing. I don't think anyone would sign a 39-year-old with two surgically repaired hips coming off close to two lost seasons. Not even a token minor league contract from his hometown Marlins. Alex would be pushed right out of baseball if he was a free agent this winter. Teams want no part of that baggage.
The standard contract for a "veteran starter we aren't quite sure about" these days seems to be two years and $20M or so, and that's what I think Sabathia would get. Jason Hammel, Bartolo Colon, Edinson Volquez, and Scott Kazmir have all signed contracts like that recently. Maybe Sabathia would get less because he missed the end of the year following knee surgery, or maybe he would get more due to his reputation and name value. Teams are still absolutely guilty of paying players for past performance.
Teixeira's the most difficult one to me. Adam LaRoche just got two years and $25M and he's both the same age (approximately) as Teixeira and a better player at this point of his career. At the same time, Kendrys Morales just got two years and $17M and is a far inferior player to Teixeira. So does that put Tex in the two years, $20M to $22M range? Maybe Morales isn't the best player to use as a basis of comparison. I'm not sure what Teixeira would have gotten as a free agent at all.
Alex asks: Would the Yanks have any interest in Cliff Lee still? Short term commitment and likely cheaper to acquire than Hamels?
Yeah, possibly, but I think they want to see him healthy first. Lee is owed $25M this coming season with a $27.5M vesting option ($12.5M buyout!) that will kick in if he throws 200 innings in 2015. He dealt with a lot of elbow problems last season and although he has been throwing this winter, I think the Yankees would still want to see him on a big league mound before pulling the trigger. If you get him now and his elbow gives out, you'd get absolutely nothing from the trade. Let's see him healthy first.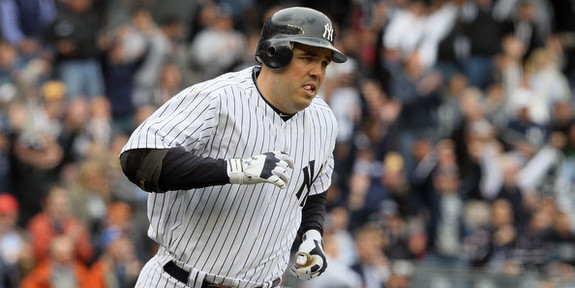 John asks: I saw an article recently on the retired Adam Dunn and how 49% of his plate appearances ended in a guaranteed outcome (walk, k or HR). Wondering where this ranks and if any Yankees would make the top ten of the list, like Nick Johnson or Jason Giambi. Thanks and keep up the great work.
Since 1910, a total of 1,577 players have accumulated at least 3,000 career plate appearances. (Strikeout data isn't all that reliable prior to 1910.) Here are the ten players with the highest (and, for fun, the lowest as well) career percentages of the three true outcomes, meaning walks, strikeouts, and home runs:
Ten Highest Rates
Ten Lowest Rates
Player
TTO%
Player
TTO%
Russell Branyan
50.47%
Emil Verban
5.88%
Adam Dunn
49.93%
Stuffy McInnis
6.84%
Rob Deer
49.06%
Bill Killefer
7.21%
Mark Reynolds
48.58%
Lloyd Waner
7.45%
Jim Thome
47.58%
Ivy Olson
7.84%
Mark McGwire
45.64%
Eddie Brown
8.06%
Ryan Howard
45.53%
Homer Santana
8.20%
Carlos Pena
45.48%
Charlie Deal
8.22%
Mike Napoli
44.09%
Nap Lajoie
8.23%
Mickey Tettleton
43.53%
Don Mueller
8.23%
Unsurprisingly, all of the guys on the lowest three true outcome rate (TTO%) list all played a very, very long time ago, back when no one hit dingers and everyone put the first pitch in play. You can see the full 1,577-player spreadsheet right here. (Use Ctrl + f to search through it for any specific names.)
Nick Johnson ranks 99th all-time at 35.86% and Jason Giambi ranks 56th at 37.92%, so no, they aren't close to the top ten. Mickey Mantle is the highest notable Yankees player on the list — he ranks 19th all-time with a 40.16% three true outcome rate. Reggie Jackson isn't far behind at 23rd overall (39.72%). Derek Jeter is 576th (25.25%), Jorge Posada is 73rd (37.26%), Bernie Williams is 374th (28.37%), and A-Rod is 126th (34.99%).
Jonathan asks: So what exactly is the holdup with the OFAC and Moncada? Is it just government bureaucracy or is there more to it? Seems like we've been waiting for him to be unblocked longer than other international FA.
Mike asks: How will Yoan Moncada's contract work? I have read it will be a bonus since he has less than 5 years professional experience. Is he on the books for league minimum for the first 3 years? What happens when he is arbitration eligible?
Going to lump these two together. From what I understand, the OFAC hold-up is all bureaucracy. Moncada didn't defect from Cuba — the Cuban government gave him a visa and let him leave — and apparently that's slowing down the process. I don't understand it at all. All I know is that the Yankees can't sign him until the OFAC signs off.
Moncada is like every other international free agent teams sign out of Latin America each summer. He gets his bonus up front and goes into the farm system like everyone else. When he reaches MLB, Moncada will make near the league minimum during his three years of pre-arbitration and then go through three years of arbitration before qualifying for free agency. Aside from the massive bonus, he's just like every other draft pick or international signing.
Dan asks: Why are some players given 4th options – how does that process work? I know Dellin received one last year, and it would certainly be nice if Romine got one this year.
Fourth options are confusing. There are several ways a player can qualify for one, but the only one I actually understand is when the player burns all three options within his first five full professional seasons. So if the Yankees call up Rob Refsnyder — a 2012 draftee with two full pro seasons under his belt — this year and wind up optioning him in 2015, 2016, and 2017, he'd get a fourth option for 2018. That doesn't apply to Betances. I have no idea why he qualified for a fourth option. It would have been very nice if Austin Romine had a fourth option for this year, but Brian Cashman confirmed that is not the case.
Brad asks: If he retired today, would Brian Cashman be honored with a plaque in Monument Park?
I think the answer is no right now. The only GM in Monument Park at the moment is Ed Barrow, who called the shots from 1921-46. The Babe Ruth, Lou Gehrig, Bill Dickey, first half of Joe DiMaggio's career era. His plaque was dedicated in 1954. Cashman is entering his 17th season as GM and he's still eight years behind Barrow. If the Yankees win another World Series or three before the end of Cashman's tenure, then yeah, I think he might get a plaque. Otherwise the answer is no.
Dan asks: If the Yankees wanted to, could they consider exploring a trade of Brian McCann to the Braves, now that they have parted with Gattis?
The Braves can't afford McCann — their payroll has held steady at $90M or so since 2001, and Cot's says they have $81M on the books for 2015 with Mike Minor's arbitration case still pending. The team filed for $5.1M, so even if they win the hearing, their payroll is over $86M, which leaves them no wiggle room. I don't see any reason why the Yankees should pay McCann to play for another team. Even trading him for Craig Kimbrel — the salaries aren't a wash but they're the closest the Yankees and Braves can get — wouldn't make sense for the current roster. The Yankees need a starting catcher more than they need a closer. Don't see it at all.