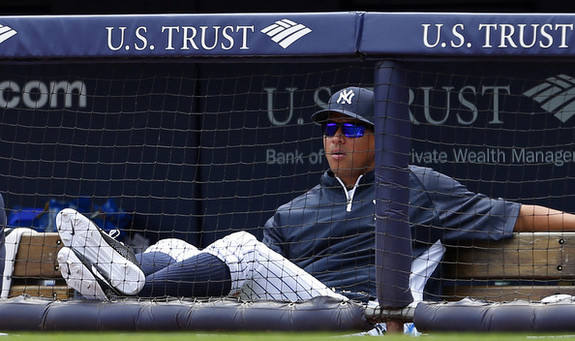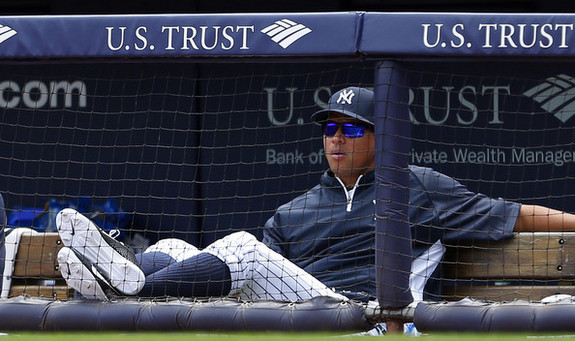 As much as they wish they could, the Yankees are unable to avoid the three years and $64M left on Alex Rodriguez's contract following last year's suspension. They are attempting to void the $30M in historic home run milestone bonuses however, and Jon Heyman reports the team is "confident" they will be able to get out of the five $6M bonuses.
Long story short, the wording of the marketing agreement — it's a marketing agreement, not a player contract, because MLB contracts do not allow bonuses based on stats like homers and RBI — allows the Yankees to say the homers are not be historic due to Alex's performance-enhancing drug history. Here's more from Heyman:
Yankees people are said to be confident A-Rod wouldn't prevail in the expected skirmish over the $30 million, not only because of their belief that his drug missteps have rendered his marketing value nil, but also because of the phrasing in the agreement that requires that the Yankees "designate" the historic home runs as milestones, and perhaps even more importantly, the potential to call him to the stand under oath should he challenge their decision to refuse to pay, as is his right.

…

The clause, at one point, reads, "The Yankees are under no obligation to exercise its right to designate a historical accomplishment as a milestone provided that its decision is made in good faith and in accordance with the intent of the parties in the covenant."
Heyman says A-Rod even contacted Scott Boras because he could be a witness in a potential grievance hearing. Boras was Alex's agent at the time and negotiated the homer bonuses, but he reportedly declined to help Rodriguez even though he would be able to make a commission on the bonuses. (A-Rod fired Boras a few years ago.)
Boras might not back Rodriguez during a potential legal battle, but the union sure would. They legally have to because Alex is a member. It doesn't matter that he sued them — the suit was eventually dropped, but still — last year as part of his scorched earth tour. Besides, the MLBPA doesn't want to set any sort of precedent by allowing a team to void an agreement with a player.
Anyway, I'm no lawyer, but it sounds like the Yankees are going to say they decided in good faith the homers are not historic and more or less dare A-Rod to come after them and potentially testify under oath. The bonuses are pretty obviously historic though. The specific milestones (homers 660, 714, 755, 762, 763) in the agreement correlate to tying the four highest homer totals in history and taking over as the home run king. I mean, duh.
In reality, we're talking about one $6M bonus. A-Rod is six homers away from tying Willie Mays on the all-time list with 660 dingers, but getting to 714 homers to tie Babe Ruth seems like a long shot. Alex would have to hit 60 homers from ages 39-41 after hitting 41 homers from 35-38. Doable? Sure. But it is unlikely at this point of A-Rod's career. Is it worth the trouble to save $6M? Probably. But proving the milestone homers are not historic sounds like a tall order.