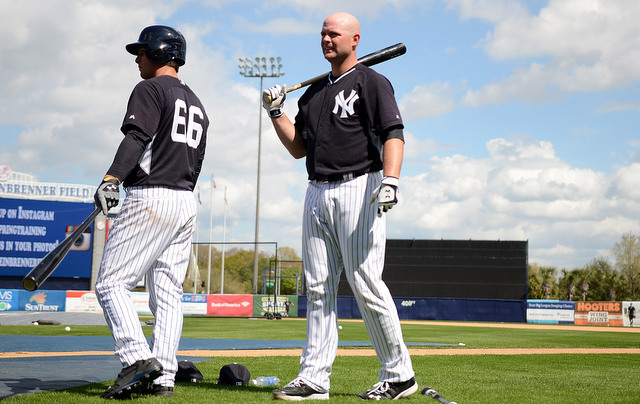 Late last week, MLB and the MLBPA announced a series of rule modifications designed to improve baseball's pace of play. A few league executives were quoted as saying they aren't necessarily trying to shorten games, they're trying to eliminate some of the downtime within games. They don't want players standing around and fans reaching for their phones between pitches, basically.
The biggest rule modification now requires hitters to essentially keep one foot in the batter's box if they take a pitch. They can't watch a pitch go by, step out, fix their gloves, take some practice swings, then get back in the box. If they want to adjust their batting gloves, they have to do it in the box. The MLBPA signed off on the rule changes — MLB can't just unilaterally make rule changes, the players have to agree — but not everyone loves them.
"It seems like every rule goes in the pitcher's favor. After a pitch, you got to stay in the box? One foot? I call that bulls—," said David Ortiz to Gordon Edes yesterday. "When you come out of the box, they don't understand you're thinking about what the [pitcher] is trying to do. This is not like, you go to the plate with an empty mind. No, no, no. When you see a guy, after a pitch, coming out of the box, he's not just doing it. Our minds are speeding up."
A few prospects in the Arizona Fall League — the one foot in the box rule and several others were tested during the AzFL — said they felt rushed during their at-bats and didn't love the new rule, so Ortiz is not alone. He claims he doesn't step out for the sake of stepping out, he steps out to refocus and dig through his mental toolbox to figure out what pitch might be coming next. It would be easy to bash Ortiz on a Yankees blog but I totally believe him. I'm guessing he is far from the only hitter who steps out to refocus in the middle of an at-bat.
So that got me wondering about Yankees players who might not like the new pace of play rules. Both hitters and pitchers since now there will be some pressure on the pitcher to throw the ball because the batter is in the box waiting. There's no real way to quantify something like this, and I'm not Tampa so I can't ask the players about it myself, but we can look at each player's pace. Pace being the average amount of time that passes between pitches within their at-bats as measured by PitchFX. Here's the data:
| Player | 2014 Pace | Career Pace | Pitcher | 2014 Pace | Career Pace |
| --- | --- | --- | --- | --- | --- |
| Alex Rodriguez | lol | 23.8 | Chris Capuano | 25.4 | 22.8 |
| Jacoby Ellsbury | 24.3 | 22.1 | David Carpenter | 25.3 | 24.3 |
| Brett Gardner | 23.9 | 23.4 | Masahiro Tanaka | 25.1 | 25.1 |
| Stephen Drew | 23.7 | 21.7 | Adam Warren | 24.8 | 22.7 |
| Garrett Jones | 23.3 | 22.6 | Justin Wilson | 24.5 | 24.2 |
| Chris Young | 23.3 | 21.9 | Ivan Nova | 24.1 | 22.1 |
| Didi Gregorius | 23.1 | 22.7 | Dellin Betances | 23.0 | 22.6 |
| Chase Headley | 22.2 | 21.6 | CC Sabathia | 22.7 | 23.7 |
| Brian McCann | 22.0 | 21.7 | Michael Pineda | 22.4 | 21.4 |
| Mark Teixeira | 21.7 | 20.8 | Andrew Miller | 21.9 | 20.4 |
| Carlos Beltran | 21.5 | 21.0 | Nathan Eovaldi | 20.6 | 20.6 |
The pace data matches the eye test. Anecdotally, McCann and Teixeira are pretty good at staying in the box during an at-bat and not wondering around after taking a pitch. Gardner, on the other hand, seems to step out and take a practice swing after each pitch. Tanaka certainly wasn't the quickest worker on the mound last year and Nova seemed to be taking more time than usual — his pace sat right around 22.1 seconds from 2010-13 — maybe because his elbow was barking.
By and large, the Yankees have some really slow workers on the roster. The average pace in MLB last year was 23.0 seconds, and 13 of the 22 players listed in the table were at or above that last year. The Yankees as a team had a 23.0-second pace at the plate and a 23.6-second pace on the mound in 2014. Without the pace of play rule changes, those rates might have gone up this season. They're a slow working group.
On an individual level, Ellsbury, Gardner, and Drew look like the hitters who will have to make the biggest adjustment staying in the box after taking a pitch. They'll have to overcome that feeling of being rushed and it could be a piece of cake. Something they conquer in an afternoon. Who knows? The new pace of play changes probably won't make much difference to Headley, McCann, Teixeira, and Beltran based on their paces.
On the mound, pretty much the entire staff will need to speed things up a notch thanks to the new rules, especially Capuano and Tanaka. Sabathia's an interesting case because he's been working faster and faster as he's gotten older. When he first got to the Yankees in 2009, he was pushing a 25-second pace. He's gradually knocked that down to less than 23 seconds. I guess the wily veteran has slowly been an adopting a "get it and throw it" mentality.
Eovaldi works very fast for a starter. His pace last year was the 15th quickest out of the 88 qualified starters, and this sort of ties into what we talked about yesterday, his need to slow the game down on occasion. The pace of play rule changes might not matter all that much to Eovaldi based on how quickly he usually works, but he is a guy who might be able to benefit from taking another second or two to catch his breath and collect himself in big spots.
MLB and MLBPA approved the rule changes last week in part because they want to give the players all of Spring Training to adjust. Shaving a second or even half a second off the time a player takes between pitches might not seem like much, but baseball players are creatures of habit, and they've been doing things their way for a long time. The Yankees in general have a slow working roster, so there will be a lot of adjustments to make. That doesn't mean there will be negative results, it's just something that has to be done.