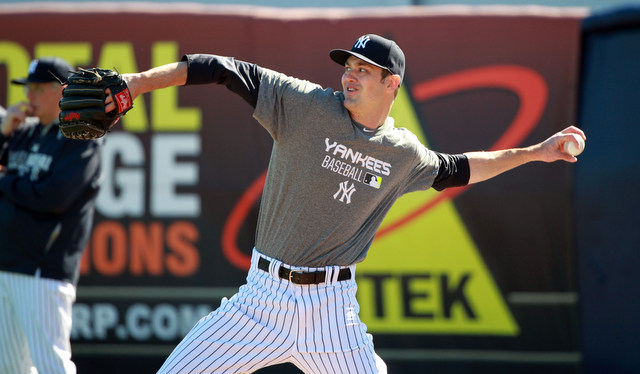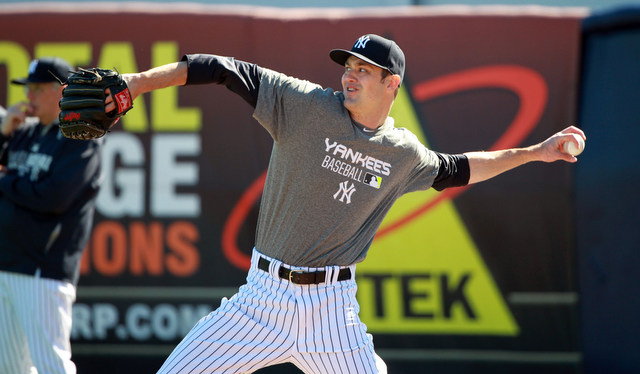 Spring Training has begun and the offseason is over. The Yankees made a lot of transactions this winter — I count eleven trades and free agent signings involving actual MLB players — and accomplished their goals of getting younger and more flexible. It was a different winter in the sense that there were no massive free agent contracts handed out.
Some offseason pickups are more important to the Yankees than others, obviously. More important not just for the success of the 2015 Yankees, but for the 2016 and beyond Yankees as well. Which offseason addition was most important both short and long-term? That's what we're here to decide. With all due respect to one-year guys like Stephen Drew and Garrett Jones, and fringe roster guys like Chasen Shreve and Chris Martin, here are the team's six biggest offseason pickups.
RHP David Carpenter
Acquired from the Braves in the Manny Banuelos trade, the 29-year-old Carpenter is going to step right into some sort of setup role this year. Shawn Kelley's old role, basically, which is fitting because they are similar fastball-slider pitchers. It's hard to consider any non-elite reliever like Carpenter a long-term piece — he's been traded four times and claimed off waivers once already in his career — but he is under team control as an arbitration-eligible player through 2017. If he performs well, he'll stick around in the bullpen for a few years.
RHP Nathan Eovaldi
Eovaldi, who just turned 25 ten days ago, was New York's big rotation addition this winter. He had a shaky year with the Marlins in 2014 (4.37 ERA in 199.2 innings) but there are signs of growth, specifically his continually improving walk rate (2011-14: 13.7 BB%, 8.9 BB%, 8.9 BB%, 5.0 BB%) and FIP (2011-14: 4.35, 4.13, 3.59, 3.37). The Yankees acquired Eovaldi because of what they believe he will become, not what he has been, and his raw tools — specifically one of the hardest fastballs in the game — suggest major upside. Upside, of course, means he's not there quite yet. Like Carpenter, Eovaldi is under control through the 2017 season as an arbitration-eligible player and the team envisions him fronting the rotation by time he qualifies for free agency.
SS Didi Gregorius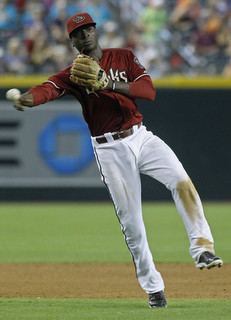 Needless to say, a starting shortstop is a pretty big deal. The Yankees had to find a new starting shortstop this winter for the first time in two decades and Gregorius, who turned 25 last Wednesday, gets the first crack at being Derek Jeter's long-term replacement. He's basically the polar opposite of Jeter as an above-average defender and below-average hitter. It'll be a shock to the system for many Yankees fans initially. Gregorius came over in the Shane Greene three-team trade and he's under team control for five more years, including the last four as a Super Two arbitration-eligible player. He's never going to be a guy who hits in the middle (or even at the top) of the order, but shortstop is a damn important position.
3B Chase Headley
The Yankees acquired the 30-year-old Headley at the trade deadline last year and saw firsthand how well he fit both in the clubhouse and on the field. A switch-hitter with patience and some pop to go with excellent defense at the hot corner is the kind of player every team could use. The Yankees re-signed Headley this offseason to a four-year contract worth $52M to take over as their starting third baseman, A-Rod or no A-Rod. He probably won't be asked to hit in the middle of the order at the outset of 2015, but honestly, I could see him hitting second or third before long if the guys expected to hit in the middle of the order repeat their 2014 efforts.
LHP Andrew Miller
Although he's a lefty, Miller replaced David Robertson on the roster. They're both top notch late-inning relievers. Handedness doesn't matter. The Yankees gave Miller a four-year, $36M deal over the winter and it remains to be seen if he'll be the team's closer or setup man this season. Either way, the team expects him to be a force in eighth and/or ninth inning. This isn't your garden variety lefty reliever. Miller, 29, will be counted on to be a late-inning force during the life of his new contract.
LHP Justin Wilson
Like Miller, Wilson is no typical lefty reliever. He has power stuff — averaged 96.3 mph with his fastball last year — and is able to face both lefties and righties. Walks have been an issue for the 27-year-old Wilson in his two years and one month as a big leaguer (career 10.6 BB%) but he has missed plenty of bats (career 22.0 K%) and gets plenty of ground balls (50.9 GB%). He's basically a left-handed complement to Carpenter. Wilson has four years of team control remaining. He can't become a free agent until after the 2018 season.
* * *
As a reminder, this poll is trying to balance short and long-term importance. That isn't necessarily easy. Veteran players like Headley and Miller figure to have their best years in 2015 and gradually decline during their four year contracts. And, if all goes according to plan, younger guys like Gregorius and Eovaldi will get better each year, so 2015 will hopefully be the worst years of their time in pinstripes. Make sense? Anyway, let's get to the poll.
Who was NYY's most important pickup of the winter?