Today is the final day of the offseason. Pitchers and catchers are scheduled to officially report to Spring Training tomorrow, though more than a few Yankees are already in Tampa working out at the team's complex. Tomorrow it'll be official though. Like officially official. Spring Training is about to begin, folks.
Down in Tampa yesterday, pitching coaching Larry Rothschild told Bryan Hoch the Yankees plan to discuss using six starters early in the season, in April and possibly May. They briefly used a six-man rotation at the end of last season — obviously it's easier to pull off with expanded rosters — and as early as last August we heard it was something the team was considering for 2015.
"It's a result of some of the stuff that's gone on over the last few years, not just here, but everywhere," said Rothschild to Hoch. "We're aware of situations here and early in the season, we need to get these guys through these stretches. Being that possibly early in the spring, some of them aren't going to be able to throw a lot, we're going to need to build them up too and give them the extra days when we can."
A six-man rotation seems ambitious — the Yankees might have a hard time cobbling together five starters by the end of Spring Training based on the injury risk in the current rotation — though there's no harm in discussing it. It might be unconventional, but baseball has been trending towards using pitchers less and less over the last, I dunno, 30-40 years or so. This is the logical next step. Let's look at this a little deeper.
What Are The Benefits?
In the most basic terms, the less a pitcher pitches, the less likely he is to get hurt. The Yankees have two major injury risks in the rotation in Masahiro Tanaka (elbow) and CC Sabathia (knee), and pitching every sixth day instead of every fifth could help keep them on the field. I'm certain that's what the Yankees are thinking. They want these guys to get through the entire season in one piece.
Pitchers in Japan work just about once a week and, according to Eno Sarris, they've undergone Tommy John surgery less than half as often as their MLB counterparts. Eno also spoke to Brian Bannister, a former big leaguer who spent time in Japan, and he said the extra time off does help while also noting NPB training methods are much different. "The recovery process in Japan is very deliberate with massage and soaking in alternating hot/cold water common," he said. This isn't as simple as "six-man rotation = less elbow injuries because look at NPB." The preparation is different too.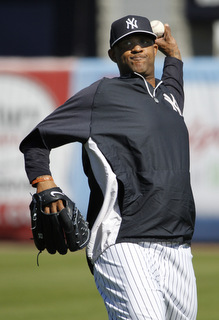 Okay, now here is the important part: reducing the risk of injury is not guaranteed. Tanaka's elbow has already been compromised and it could be that there's nothing that can be done to improve his chances of staying on the field. The doctors have already given him the okay to pitch in games. If his elbow's going to give, it's probably going to give regardless of whether he's starting every fifth day or every sixth day. Same with Sabathia's knee. The Yankees could go through all the trouble of using a six-man rotation and these guys could still get hurt again.
Using a six-man rotation will ostensibly help the Yankees keep their starters healthy, and that's a good thing. Their starters are actually pretty good when they're healthy and they want those guys to make as many starts as possible. At this point a six-man rotation would be reactive instead of proactive — Tanaka and Sabathia (and Michael Pineda and Ivan Nova) have already suffered their major injuries. They'd just be trying to stop them from getting worse.
What About The Rest Of The Roster?
A six-man rotation means either a three-man bench or a six-man bullpen. The extra roster spot has to come from somewhere. If the Yankees go with a three-man bench, it means one of Chris Young, Garrett Jones, or Brendan Ryan won't make the roster because one spot needs to go to a backup catcher, and I find cutting one of those guys unlikely. They all make seven figures. Maybe someone gets hurt in camp — Alex Rodriguez or Mark Teixeira, for example — opening a spot and making a three-man bench doable.
More than likely though, the Yankees would use a six-man bullpen based on their current roster. Adam Warren and Esmil Rogers — one of whom could end up the sixth starter — are both capable of throwing multiple innings, as is Dellin Betances. Justin Wilson isn't a lefty specialist, he can throw a full inning. (A LOOGY has no place in a six-man bullpen.) The Yankees have the personnel to swing a six-man bullpen, especially since Joe Girardi is so meticulous about rest and keeping his relievers fresh. Plus they have the bullpen depth in the minors to make call-ups when necessary.
A Chance To Get Creative
That last part about call-ups is where it gets interesting. The sixth starter doesn't have to be one starter, it could be a collection of starters. For example, Bryan Mitchell could make the start, then be sent down to Triple-A for an extra reliever, say Chris Martin. Then, when that rotation spot comes up again, Martin goes down and Chase Whitley comes up. (Mitchell couldn't come up because of the ten-day rule.) Then after Whitley's start, he goes back down in favor of a reliever, say Jacob Lindgren this time. When the rotation spot comes up again, Lindgren goes down and Mitchell comes up. Rinse, repeat. Make sense?
If the Yankees want to keep both Warren and Rogers in the bullpen so they can be used for multiple innings — a good idea with a six-man bullpen — Mitchell and Whitley could work in tandem as the sixth starter, pitching on the same schedule and alternating starts in MLB and Triple-A. Jose DePaula could be part of this arrangement too. He's got an option left. It sounds great in theory because it allows the Yankees to keep a full seven-man bullpen most of the time with the sixth starter only on the roster the days he's needed. These are people though, remember. Imagine being Mitchell or Whitley and having to do all that traveling from Triple-A to MLB for a day or two every other week. It would really suck and could impact performance.
How's The Schedule Look?
Usually the month of April is cluttered with off-days because of weather concerns, enough that teams can often avoid using their fifth starter for a rotation turn or two. Off-days allowed the Yankees to avoid using their fifth starter (Freddy Garcia) until the 13th game of the season in 2011, after three full turns through the rotation. The Yankees won't have that luxury this year. Here's the April schedule from the official site:
The regular season starts on April 6th, the Yankees have the token "in case it rains on Opening Day off-day" on the 7th, then they play eight games in eight days. So right off the bat they need their fifth and potentially sixth starter. Following the off-day on the 16th, they play 13 games in 13 games, so again, there's no chance to hide the fifth and sixth starter. After that off-day on the 30th, they play 17 games in 17 days.
Point is, there is no chance to skip the fifth and/or sixth starter early this season, and that might be part of the reason why the Yankees are considering a six-man rotation. The scheduled off-days don't really allow for much extra rest early in the season and they want to make sure Tanaka, Sabathia, and everyone else gets a little breather in April. A six-man rotation is the only way to do it.
Okay, So What's The Downside?
A six-man rotation does sound wonderful. As I mentioned though, it messes with the rest of the roster by taking a spot from the bench or bullpen. It also means fewer starts from your top starters. Starters average 32.4 starts in a five-man rotation and only 27 starts in a six-man rotation across a 162-game system. For the Yankees, that means five or so fewer starts each from Tanaka and Pineda, their best pitchers. Of course, without a six-man rotation, those two could end up making way fewer starts due to injury.
The idea of using a six-man rotation is more complicated than it seems. First of all, the Yankees would have to find six starters worthy of being in a big league rotation, which isn't all that easy. It also screws with the rest of the roster and any health benefits aren't guaranteed. It is a conversation worth having though. The Yankees have undoubtedly done more research on six-man rotations that us, and if they have reason to believe it will reap real benefits, then it's a plan worth putting into place.