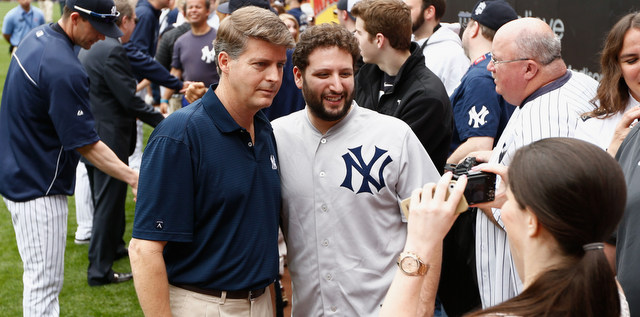 As expected, Hal Steinbrenner has confirmed the Yankees will try to get under the luxury tax threshold in two years or so. The team tried and failed to get under the $189M threshold last year. If you've been paying attention at all the last few years, this should be no surprise. Hal is very focused on the bottom line.
Here's what Steinbrenner told Bill Madden:
"I found (being called cheap) very interesting," he said, smiling, "given that we offered $25 million (for Moncada) and spent substantially in the international market (a reported $26.82 million in bonuses and penalties for greatly exceeding their bonus allotment). I'm not saying we'll never give another seven-year contract, but going in you know you're probably only going to get three-four good years out of it. It remains my goal to get under that $189 million (luxury-tax threshold), but it's not going to happen for at least two more years when these big contracts we have expire. But I've continued to say you shouldn't need $200 million to win a championship."
Hal has really worn out that "you shouldn't need $200M to win a World Series" line in recent years. I guess no one has told him there have only been 12 individual teams with a $200M+ payroll in baseball history, with nine going to the postseason and one winning the World Series (2009 Yankees). One out of 12 is a helluva lot better than whatever the odds have been for all the non-$200M payroll teams in history, but I digress.
Anyway, the current Collective Bargaining Agreement expires after the 2016 season and I expect the luxury tax threshold to be raised at that time. It has to go up. The league's revenues are through the roof and a dozen teams will open this season with a payroll at or above $120M (six will be at or above $160M). With salaries and revenue only going up, a $189M luxury tax threshold doesn't make sense anymore. It did when the current CBA was ratified in 2012, but come 2016 it should be at $200M at the very least, if not $210M.
Unlike the last time the Yankees tried to get under the luxury tax, they do have a lot of expensive contracts coming off the books soon. Mark Teixeira ($22.5M luxury tax hit) and Carlos Beltran ($15M) will be gone after 2016, maybe CC Sabathia ($24.4M) too. Alex Rodriguez ($27.5M) and Sabathia will definitely be off the books after 2017. Between shedding those big contracts and the inevitable raising of the luxury tax threshold, the Yankees will have a much better chance of getting under the tax threshold in two (or three) years than they did last year.
I totally understand why Hal wants to get under the luxury tax threshold — luxury tax is basically wasted money and no one likes throwing money away — and it's his team, so he's free to do whatever he wants. That said, the Yankees have a distinct advantage over the rest of the league because of their market, and focusing on getting under the luxury tax threshold is essentially tossing that advantage aside and leveling the playing field. The other 29 teams should send Hal a nice thank you note for that.
Whether you like it or not, the Yankees are going to try to get under the luxury tax threshold in the near future. My advice to Hal: stop talking about it. The media is going to ask, I know, but just say you've discussed it already and move on. Believe it or not, the fans don't want to hear the owner talking about reducing payroll in the future, especially coming off back-to-back postseason-less years and with the team hardly a lock for October this year. So Hal, please just keep it to yourself the next few years. You're the only one in favor of this.