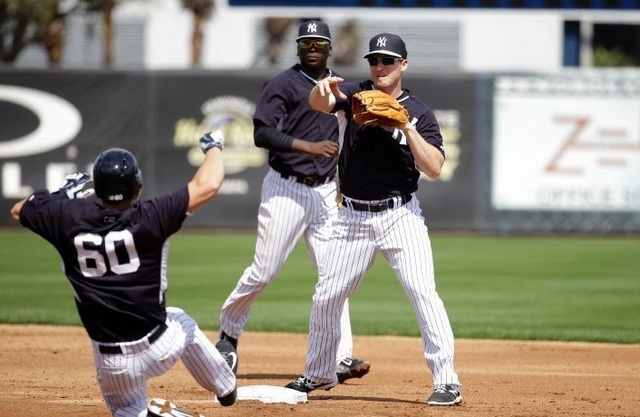 If he was two or three years older, the season Stephen Drew had last year might have been a career-ender. Players in their mid-30s don't get to come back from that, at least not on a contract that guarantees them $5M. Seasons like that usually result in a minor league contract or a forced retirement.
Luckily for Drew, his 32nd birthday is still two weeks away, and his dreadful 2014 campaign comes with some built-in excuses. He turned down the qualifying offer and remained unemployed until the Red Sox mercy signed him in late-May, so he didn't have a normal Spring Training at all. His minor league tune-up lasted only seven games as well.
Drew hit an unfathomable .176/.255/.328 (57 wRC+) in 145 plate appearances with the Red Sox, then, instead of getting his act together with some at-bats under his belt, he hit an even worse .150/.219/.271 (32 wRC+) in 155 plate appearances after being traded to the Yankees. The end result was a .162/.237/.299 (44 wRC+) batting line in exactly 300 plate appearances.
Before the Yankees traded for Didi Gregorius, it appeared Drew was the front-runner for the shortstop job since he would come super cheap and not require a long-term commitment. There were no perfect free agent shortstop solutions available, and if New York couldn't trade for someone like Gregorius, they would stick with Drew, hope for a rebound, and keep the contract short.
But, even after acquiring Gregorius, the Yankees re-signed Drew because they had traded Martin Prado to get Nathan Eovaldi. Instead of playing short, Drew will play second, where he finished last season. It's a classic one-year "prove yourself" contract, giving Drew a chance to show he's better than last year in a favorable home ballpark. Time to look at the demand and supply.
Yankees Need: Catch The Damn Ball
It's clear the Yankees prioritized improving their infield defense this offseason after last year's disaster. They did that with Gregorius at short and Chase Headley at third, and they hope Drew can be the solution at second. Historically, guys like Ivan Nova, CC Sabathia, and Masahiro Tanaka are ground ball pitchers while Eovaldi is more or less a league average keep it on the ground pitcher. The Yankees want to support those guys with a strong infield defense, particularly up the middle.
Drew Can: Catch The Damn Ball, I Think
At the time of the trade last year, Drew had no experience at second base whatsoever. He had played shortstop his entire professional career and the Yankees more or less threw him to the wolves. Predictably, Drew struggled at first, especially turning double plays, but I thought he improved as the second half progressed. For what it's worth, the Inside Edge data on Drew's second base defense is promising, but we're talking super small sample sizes.
The Yankees are not oblivious to Drew's limited experience at second base (274 innings!). They understand he's still a novice at the position and there will continue to be growing pains this year. But he is a legitimate big league shortstop defensively and they believe his skills and athleticism will translate to the other side of the bag. This is an experience thing, not a "lacking the tools" thing. There are several reasons to believe Drew can be a defensive asset at second.
Yankees Need: Something More Than Last Year Offensively
Including Drew, Yankees' second basemen hit .227/.278/.357 (75 wRC+) in year one of the post-Robinson Cano era, which was somehow only the eighth worst production at the position in MLB. The bar has been set low. Really low. Really, really low. Just like expectations for Drew. The Yankees need as much offense as they can get but no one is realistically expecting Drew to be an impact hitter. They just need him to be something more than he was last summer.
Drew Can Provide: Maybe More Than Last Year?
I mean, Drew can't possibly be that bad again, right? He hit .253/.333/.443 (109 wRC+) with 13 homers as an everyday player as recently as 2013. It's not like he's never been good at the plate. And besides, Drew is a dead pull left-handed hitter who should benefit from Yankee Stadium's short right field porch:
Source: FanGraphs
From 2011-13, Drew hit .263/.348/.431 (112 wRC+) against right-handed pitchers and .204/.263/.340 (59 wRC+) against lefties, so he is a platoon player, but the Yankees don't have a good platoon partner. (Brendan Ryan doesn't really count.) The Yankees will live with automatic outs against lefties as long as Drew produces against righties. At this point, everyone seems to be in "he can't possibly be that bad again" mode with Drew's bat. I mean, he can't, right?
Yankees Need: A Backup Plan At Shortstop
Make no mistake, the Yankees didn't give up Shane Greene to get Gregorius only to bench the young shortstop as soon as he falls into his first slump. They're going to give him a chance to sink or swim. So, in reality, Drew is shortstop insurance in case of injury or if Gregorius is sitting on, say, a 50 wRC+ come the All-Star break. The Yankees won't — or shouldn't, anyway — pull the plug on Didi at short if he has a rough April. Drew is a deep level backup plan, not someone who will make Gregorius look over his shoulder.
Drew Can: Be That Backup Plan
You could make a good argument Drew is the best shortstop on the roster right now. But he has no real future with the organization. Gregorius might. So Gregorius will play shortstop everyday and Drew will be that just in case guy. He's perfectly capable of doing that.