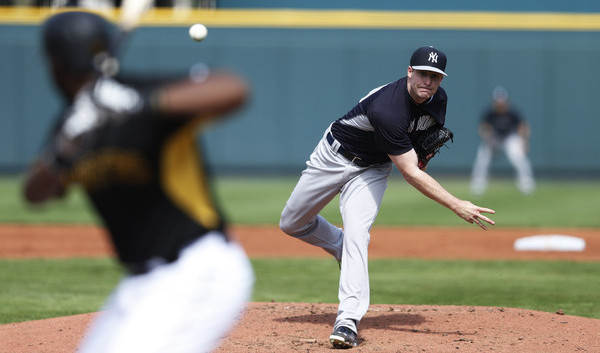 The Yankees have won 12 of their first 20 games for the first time since, well, last season. They went 12-8 to start the 2014 season too. But wait! Last year's team scored 84 runs and allowed 87 runs in those first 20 games. This year's team has scored 103 runs and allowed only 79 runs. That's much better. That matches what my eyes are telling me, that the 2015 Yankees are different and more well-rounded than the 2014 Yankees.
Anyway, for the first time this season the Yankees are turning to a spot sixth starter to give the regular members of their rotation an extra day of rest. Chase Whitley has been called up from Triple-A to make the spot start and I was surprised when he didn't make the team out of Spring Training. He was awesome in camp. Apparently the plan all along was the keep Whitley stretched out in Triple-A for this exact reason though, to make occasional spot starts. Hopefully it pays off. Here is the Rays' lineup and here is the Yankees' lineup:
CF Jacoby Ellsbury
LF Brett Gardner
1B Mark Teixeira
C Brian McCann
RF Carlos Beltran
DH Garrett Jones
3B Chase Headley
2B Stephen Drew
SS Didi Gregorius
RHP Chase Whitley
It's been a damn near perfect weather day in New York today and it'll continue tonight. Great night for baseball. Tonight's game is set to begin at 7:05pm ET and can be seen on YES locally and, depending on where you live, MLB Network nationally. Enjoy the game.
Roster Move: Gregorio Petit was optioned to Triple-A Scranton to clear a spot for Whitley, the team announced. So no backup infielder tonight. I guess this means Whitley will be sent down tomorrow and Jose Pirela (concussion) will be activated off the DL. Pirela's been on a minor league rehab assignment these last few days and, for what it's worth, he told Dan Pfeiffer he doesn't feel his swing is all the way back yet. We'll see.