So that series couldn't have gone much better. The whole road trip couldn't have gone better, really. The Yankees eked out a 2-1 win over the Tigers on Thursday afternoon to win three of four in the series. They've won six of their last seven games overall and went 7-3 on the ten-game trip through Baltimore, Tampa Bay, and Detroit.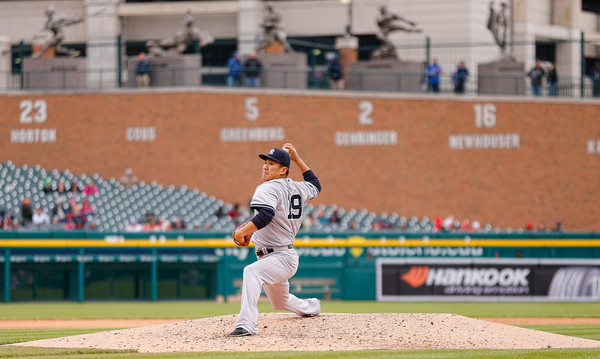 Settled Down
Much like Adam Warren on Wednesday night, Masahiro Tanaka seemed to struggle with his command in the cold weather in the first inning of Thursday's game. The results weren't as bad as Warren's but Tanaka still allowed a first inning run on an Anthony Gose double, an Ian Kinsler ground out, and a Victor Martinez sac fly. He struck out J.D. Martinez looking with Miguel Cabrera on second to end the inning.
Then, like Warren on Wednesday, Tanaka settled down and found a groove. He retired 16 of the next 17 batters he faced with the only blemish a booming two-out double by J.D. Martinez in the fourth that stayed in the park because of the cold. The ball was well-struck and probably leaves the yard on a nice hot summer day. Martinez doubled again with one out in the seventh — hard-hit but not as hard-hit as the first double — and Tanaka followed that by walking Yoenis Cespedes, ending his afternoon.
The bullpen and infield defense picked up Tanaka out in that seventh inning. Justin Wilson was brought in to face the lefty hitting Alex Avila, who was replaced by righty pinch-hitter James McCann, who then ripped a hard-hit grounder to third base. Chase Headley snared the ball on his knees and fired a one-hopper to second to get the force out. Gregorio Petit made a real nice scoop. Great plays by both Headley and Petit. Dellin Betances then coaxed a pop-up from Nick Castellanos to strand runners on the corners.
All told, Tanaka limited a powerful Detroit lineup to one run on three hits and two walks in 6.1 innings. All three hits were doubles. He struck out six, got five ground ball outs, two foul pop-ups, and six fly balls outs. Only one or two of the fly ball outs were any kind of trouble. They were mostly routine. After two shaky starts to open 2015, the pre-injury version of Tanaka has returned these last two starts. He's locating his fastball up and down, breaking off nasty sliders, and still throwing the embarrasplitter. It's glorious.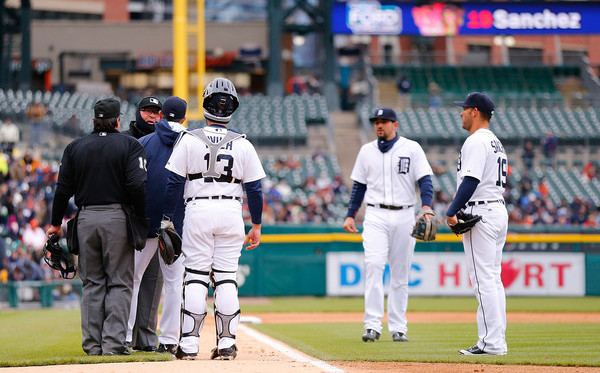 AniBALK Sanchez
Despite his ugly early season numbers, Anibal Sanchez is a damn good pitcher and it was clear early in Thursday's game he was sharp. He was locating his fastball well, particularly inside on lefties, and his changeup was dancing all over the place. Chris Young had the team's first and only hit of the first six innings, singling to left in the second. Sanchez sat down eleven of the next 13 batters.
The Yankees caught their big offensive break — well, two of them, really — in the sixth inning, when Jacoby Ellsbury worked a nine-pitch at-bat to draw the leadoff walk. He stole second and moved to third on Brett Gardner's ground ball. That brought Carlos Beltran to the plate. Beltran struck out feebly to end the third inning with runners on second and third and two outs, so he had a chance to redeem himself. Instead, Beltran struck out again, taking some hittable fastballs over the plate before waving at a changeup in the dirt for the second out of the inning. Ugly.
It appeared New York was about to blow their best run-scoring opportunity when Ellsbury took matters into his own hands. Sanchez was working from the full windup and Ellsbury coaxed him into a balk by dancing off third base. Check out the play:
@mikeaxisa pic.twitter.com/U3eQZhqKYY

— #GREGBIRD (@EderMik) April 23, 2015
For whatever reason, home plate umpire Phil Cuzzi did not call that a balk. Third base ump Gerry Davis had to step in to bail him out a few seconds later. Balk rules are weird, but c'mon. Sanchez was in the middle of his windup, stopped, stepped off the rubber, and threw home. Easy balk call yet Cuzzi missed it. Davis didn't and Ellsbury was awarded home plate for the game-tying run. Jacoby can be game-changer on the bases and we saw it there.
Battle of the Bullpens
Both starters were out of the game with the score tied 1-1 in the seventh inning, and while the Yankees' bullpen was able to navigate through danger in the seventh, the Tigers' bullpen couldn't do the same in the eighth. It started once again with Ellsbury, who laced a hustle leadoff double to center and narrowly beat the throw. He was looking two all the way. Like I said, his base-running can be a real game-changer.
Gardner bunted Ellsbury to third base, which again put Beltran in the spotlight, but this time he didn't have a chance to redeem himself/fail. The Tigers intentionally walked him to set up the double play and get the left-on-left matchup with Tom Gorzelanny against Brian McCann. It almost worked! McCann hit a ground ball to first base. Miguel Cabrera couldn't handle it cleanly though, so there was no chance for a double play. They took the out at first and Ellsbury trotted in with the go-ahead run from third. The Yankees were up 2-1 with six outs to go.
Betances stayed on to pitch the eighth and, for the first time this year, he really looked like 2014 Dellin. Nasty breaking balls and upper-90s fastballs all inning. He completely overwhelmed Hernan Perez, Gose, and Kinsler, sandwiching two strikeouts around a weak tapper back to the mound. Vintage Dellin. And yet, he did not face Miguel Cabrera to start the ninth. Not-the-closer Andrew Miller came in even though Cabrera was 2-for-2 with a double against him in his career. (Miggy is 0-for-3 with three strikeouts against Betances.) Pretty safe to say the co-closers experiment is over.
Anyway, Miller is a retired the side in order in the ninth inning for his sixth save in six chances. He struck out Miggy, got a ground out from Victor Martinez, and struck out J.D. Martinez for a clean 1-2-3 frame. Seven of his eight pitches were strikes. Headley made a great diving stop on V-Mart to save a single. It took some nice third base defense, but the bullpen retired all seven men they faced. Beautiful.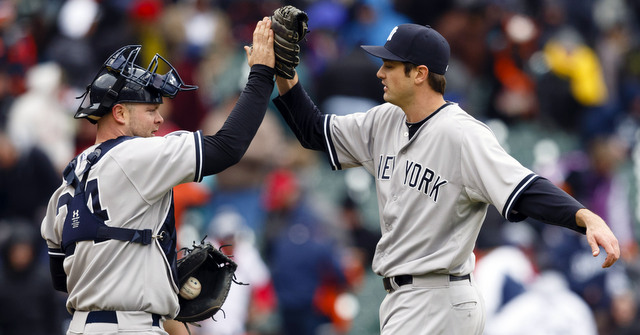 Leftovers
I can't remember the last time the Yankees played a series in Detroit in which Cabrera didn't hit a massive home run. He went 0-for-3 with a walk and a strikeout on Thursday and 2-for-13 (.154) with two walks and two strikeouts in the four-game series. That's basically the best case scenario. V-Mart went 0-for-3 with a sac fly on Thursday and 0-for-10 with three walks (one intentional) with two strikeouts in the series. Pretty awesome.
Betances threw six straight curveballs to Castellanos to get the final out of the seventh, then threw eight fastballs and four curves in the eighth inning. Dellin has been throwing a ton of breaking balls lately but it seems he is starting to go back to the fastball now. That's good to see. Betances is making real progress and starting to look more like the elite reliever he was last summer.
The Yankees only had three hits in the game — Ellsbury's hustle double, Young's second inning single, and a single by Petit off the bench. They only drew one walk too, and it was intentional. Four base-runners and they still won! That won't happen often. I'm an idiot. They drew six walks. That's a lot. Ellsbury's speed had a major impact and some good ol' fashioned small ball did the trick. Sometimes you have to win games like this.
And finally, Miller's six saves currently lead the league. He's struck out 15 batters in 7.1 innings so far this year. Two hits, four walks, no runs. As advertised. Maybe even better.
Box Score, WPA Graph & Standings
Here are the box score, video highlights, and updated standings. Also, here are our Bullpen Workload and Announcer Standings pages. Do with them as you please. Now here is the win probability graph:

Source: FanGraphs
Up Next
The ten-game road trip is over. The Yankees will fly back home this evening before opening a three-game weekend series with the Mets. Michael Pineda and reigning NL Rookie of the Year Jacob deGrom kick off the Subway Series on Friday night. Fun fact: Pineda is seven months younger than deGrom.