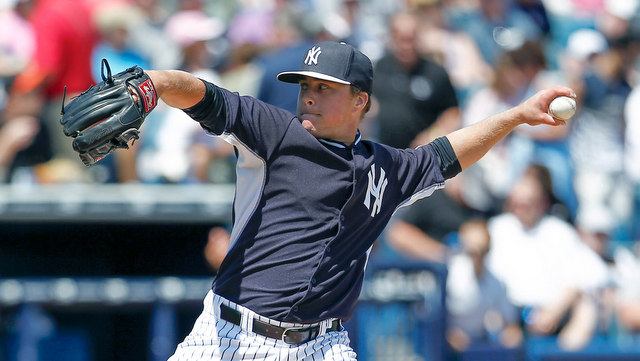 With the exception of last Wednesday's massive meltdown in Baltimore, the Yankees' bullpen has been a major strength so far this season. They own a collective 2.13 ERA (3.32 FIP) in 55 innings with a very good strikeout rate (26.5%) and a below-average walk rate (10.9%) that should come down once Dellin Betances and Justin Wilson get over their early-season strike-throwing issues. Hopefully get over them, anyway.
New York's bullpen has thrown a ton of innings this season, fourth most in MLB thanks in part to that 19-inning game, so they've worked a lot and answered the bell. On the list of problems with the team, the relief crew is very far down right now. That said, there is always room for improvement, and when you rely on the bullpen as much as these Yankees, fielding the strongest possible bullpen seems like a no-brainer.
At some point very soon, the Yankees are going to reach a crossroads with Jacob Lindgren, their top bullpen prospect who is currently wasting bullets in Triple-A. And that's basically what he's doing. Wasting bullets. Lindgren has struck out 42.1% of batters faced with an 84% ground ball rate in 32.2 innings since signing last year. He's faced 36 batters in Triple-A this year — eleven have struck out and 19 others hit the ball on the ground. Exactly 80% of the batters he's faced as a pro have either struck out or hit a grounder. Total domination.
Given how quickly he's risen up the ladder and how much success he's had in pro ball, I'm not sure what's left for Lindgren to learn in the minors. He's never going to be a control artist because there's some funk in his delivery, so sitting around and waiting for his walk rate (career 12.1%) to come down seems like a waste since it might never happen. Lindgren's not a starter who has to work on turning over a lineup three times or a position player who needs to iron out his approach at the plate or improve defensively. He's a one inning, air it our reliever who isn't being challenged.
Part of Lindgren's appeal out of the draft was his ability to move quickly, which he has. He's knocking on the door of the show nine months out of college. The Yankees have downplayed his MLB readiness since last year but that's not really uncommon. Lots of teams try to pump the breaks on their recent draft picks. Here's what scouting director Damon Oppenheimer told Anthony McCarron after drafting Lindgren with the team's top pick last summer:
"I kind of leave those decisions for other people. My job's just to bring the talent into the system. But we just think as a group that he does have the capability of moving through the system hopefully quickly. Whether he's good enough to go pitch in the big leagues right away, somebody else will make that decision. But he's obviously advanced. He's obviously gotten out really good hitters. There's some history with guys doing this, but there's also some history with guys getting to the big leagues as relievers too quick and it doesn't last. We'd like to get impact and longevity from him, not just something that's real quick."
Development isn't always nice and linear. Even David Robertson, another strikeout and ground ball heavy reliever, went up and down a few times before sticking for good. Chances are Lindgren will do the same, and those trips up and down are a learning experience. Right now Lindgren doesn't seem to be learning all that much in Triple-A, but he will learn in the big leagues because he will be challenged, at which point he may have to go back to Triple-A to make adjustments. The sooner he comes up, the sooner the sticks for good, even if he rides the bus a few times before it happens.
The Yankees have moved Lindgren through the minors much quickly than any of their other recent reliever draft picks. J.B. Cox, another high-end college reliever selected in the second round (2005), spent his entire first full pro season with Double-A Trenton. Lindgren started his first full season in Triple-A. He did the Double-A thing late last year. The team hasn't been shy promoting him. It would be ridiculous if Lindgren was still in High-A or even Double-A. He's not though. He's right on the doorstep.
I think the Yankees are planning to call Lindgren up very soon because they've moved him aggressively. Maybe it'll even happen this weekend. Fitting him on the roster won't be difficult — I like Chris Martin, but you don't let a soon-to-be 29-year-old who was designated for assignment in the offseason stand in the way of a bonafide end game bullpen prospect, Martin can go to Triple-A for a few weeks — and even if the Yankees were playing the service time game, Lindgren's free agency has already been pushed back a year. (Relievers are so volatile that planning six and seven years into the future with them seems totally pointless, but I digress.)
Given his overwhelming minor league dominance to date, every pitch Lindgren throws in Triple-A is a wasted bullet. It's a pitch he should be throwing in MLB. I've been saying that since the spring. The Yankees are rapidly approaching a crossroads with Lindgren if they haven't gotten there already — he needs to come up to be challenged so he can take the next step in his development. The bullpen has been very strong and I understand not wanting to fix something that isn't broken, but this isn't an attempt to fix anything. It's a necessary step to continue Lindgren's development that also has the potential make that all important bullpen even stronger.