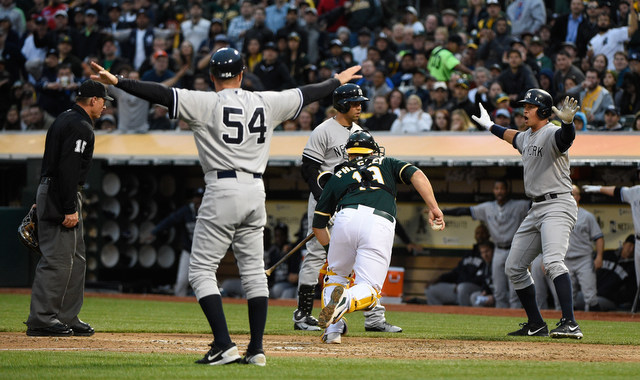 Last night's loss was sorta disheartening, and tonight's pitching matchup isn't going to make you feel much better: Chris Capuano against Sonny Gray. Capuano's been pretty crummy in his two starts since returning his Spring Training quad injury while Gray's been dominant all year, pitching to a 1.77 ERA (2.58 FIP) in ten starts in 66 innings. It doesn't get much more lopsided than that.
That said, this is a potential reverse lock game. A game with a pitching matchup so one-sided that the opposite of what you expect to happen happens. Baseball is weird like that. The Yankees have a good offense — well, they have six good hitters and three black holes — so maybe they can make life miserable for Gray, and Capuano has one of his trademark unexpected masterpieces. We'll see. Here is Oakland's lineup and here is New York's lineup:
LF Brett Gardner
3B Chase Headley
DH Alex Rodriguez
C Brian McCann
RF Carlos Beltran
1B Garrett Jones
2B Stephen Drew
CF Chris Young
SS Didi Gregorius
LHP Chris Capuano
It's cloudy and cool on the east side of the San Francisco Bay tonight, and there's no rain in the forecast. Tonight's game will begin at 10:05pm ET (groan) and can be seen on YES. Enjoy.
Injury Updates: Joe Girardi said Masahiro Tanaka will start on Wednesday, which is Capuano's spot … Mark Teixeira is fine, just a routine day off … in case you missed it earlier, Slade Heathcott (quad) was placed on the 15-day DL and Ramon Flores was called up.