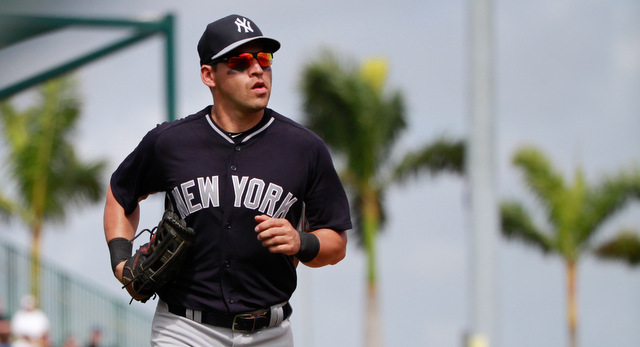 11:27pm: It's official, Ellsbury has been placed on the 15-day DL with what they're calling a right knee sprain, the Yankees announced. Heathcott will indeed be called up.
11:00pm: Ellsbury will be placed on the 15-day DL, reports Jack Curry. Slade Heathcott will be called up to fill the roster spot. Heathcott is not on the 40-man roster but either Brendan Ryan or Chase Whitley can be slid to the 60-day DL.
10:40pm: Ellsbury is going for an MRI, Joe Girardi told reporters after the game. He said expects Ellsbury to miss some time but not much. Ellsbury has a history of getting injured and staying injured longer than expected, so we'll see. Obviously a leg injury for a speed guy is bad news.
8:14pm: Jacoby Ellsbury exited tonight's game against the Nationals in the fourth inning with a right knee injury, the team announced. Ellsbury appeared to hurt himself on a swing, but he stayed in to run the bases. Joe Girardi and trainer Steve Donahue came out to check on him, but Ellsbury remained in the game, scored from second on a single, and was then taken out of the game.
Replays showed Ellsbury pointing to his right leg — near his knee but it was tough to tell on television — while talking to Girardi and Donahue. He took a swing and his knee appeared to buckle a little bit. I didn't even notice it at first. Ellsbury has had minor leg injuries during his time with the Yankees, including an ankle issue last year and calf problem this spring.
Needless to say, the Yankees can not afford to lose Ellsbury for any length of time. Brett Gardner is more than qualified to step in as the leadoff hitter, but Ellsbury is one of the team's best hitters, and there's no replacing that, regardless of lineup spot. His defense and base-running ability can't be replaced either. Hopefully it's nothing major.