Time for the final West Coast trip of the season. That's right, after this three-game series with the Angels, the Yankees are completely done with the West Coast. Heck, just ten of their final 83 games of 2015 are in the Central Time Zone. Travel gets much easier from here on out. The Yankees swept three from the Halos in the Bronx earlier this month, by the way.
What Have The Angels Done Lately?
The Angels beat the Mariners yesterday thanks to a walk-off wild pitch, which is always wacky. They took two of three from Seattle and are 7-7 in their last 14 games. Anaheim is 39-37 with a -4 run differential overall, good for second place in the AL West.
Offense & Defense
Last season manager Mike Scioscia's team had the best offense in baseball, one which averaged 4.77 runs per game. This year they're one of the lowest scoring teams in MLB. The Angels are averaging just 3.89 runs per game with a team 95 wRC+. SS Erick Aybar (78 wRC+) is day-to-day with a hamstring problem and OF Collin Cowgill is out for a while with a wrist injury.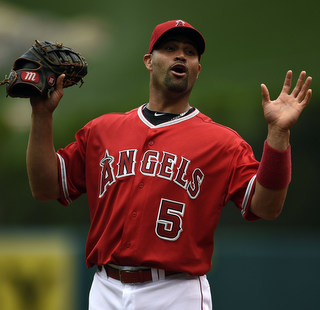 As always, Scioscia's offense is led by OF Mike Trout (167 wRC+), the best all-around player in baseball. He is quietly on pace for 41 homers this season. 1B Albert Pujols (147 wRC+) leads the league with 23 homers but doesn't hit for average (.265) or get on base (.334) like he did in his prime. Still, he's really dangerous. Personal fave OF Kole Calhoun (101 wRC+) hasn't been able to repeat last season's success (125 wRC+).
3B David Freese (103 wRC+), 2B Johnny Giavotella (94 wRC+), OF Matt Joyce (67 wRC+), and C Chris Iannetta (64 wRC+) are the rest of the regulars. OF Daniel Robertson (48 wRC+ in limited time) and UTIL Efren Navarro (82 wRC+ in limited time) are splitting time in left with Joyce at DH for the most part. C Carlos Perez (68 wRC+), IF Taylor Featherston (7 wRC+), and IF Kyle Kubitza (36 wRC+) round out the bench with their small sample size stats.
Overall, the Angels have a good defensive club led by Trout and Iannetta. They're studs with the glove. Pujols is good around the bag — his range is nonexistent at this point — and Calhoun is fine in right. So is Giavotella at second. Freese and Joyce are disasters in the field. Aybar is good when healthy and Robertson can really go get it in left.
Pitching Matchups
Monday (10pm ET): LHP CC Sabathia (vs. LAA) vs. LHP C.J. Wilson (vs. NYY)
The Angels tried to trade the 34-year-old Wilson this offseason but had no luck. Now he is arguably their most consistent starting pitcher, pitching to a 3.92 ERA (3.80 FIP) in 15 starts and 96.1 innings with strikeout (21.1%) and walk (7.3%) rates in line with his career norms. He is getting fewer ground balls (43.1%) than usual and is giving up more home runs as well (0.93 HR/9). Go figure. Wilson has close to no platoon split this season (.301 vs. .295 wOBA in favor of lefties) but has historically been much more effective against same-side hitters. Wilson throws six pitches, including five at least 10% of the time. He offers low-90s two and four-seamers, an upper-80s cutter, a mid-80s changeup, a low-80s slider, and an upper-70s curveball. The cutter is the sixth pitch. That one he's thrown only 7% of the time this year. The Yankees roughed Wilson up for six runs in seven innings earlier this month.
Tuesday (10pm ET): RHP Ivan Nova (vs. LAA) vs. LHP Andrew Heaney (vs. NYY)
Heaney, 24, was the ninth overall pick in the 2012 draft. He was traded twice in one day this offseason — first from the Marlins to the Dodgers for Dee Gordon, then from the Dodgers to the Angels for Howie Kendrick. So Heaney was teammates with Giancarlo Stanton, Clayton Kershaw, and Trout all in one day. Cool. Anyway, he was just called up, and he limited the Astros to one run in six innings last time out. Heaney had a 4.71 ERA (3.08 FIP) in 78.1 Triple-A innings this season with okay strikeout (20.9%) and walk (7.1%) rates. He's a three-pitch command lefty with a low-90s fastball, a sweepy upper-70s slider, and a sinking low-80s changeup. Heaney's not a blow-you-away type. He just locates well and keeps everyone off balance.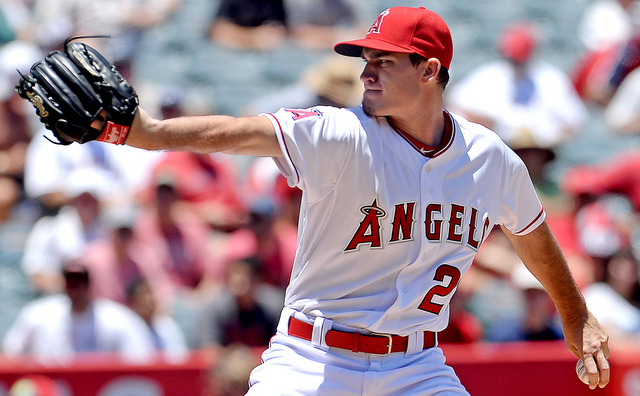 Wednesday (7pm ET): RHP Adam Warren (vs. LAA) vs. RHP Matt Shoemaker (vs. NYY)
The 28-year-old Shoemaker finished second in the AL Rookie of the Year voting last season — narrowly edging out Dellin Betances! — but man, he crashed back to Earth and hard this season. I guess that's not surprising considering his Triple-A performance was never all that good to start with. Shoemaker has a 5.03 ERA (4.62 FIP) in 14 starts and 78.2 innings this year — to be fair, his last six starts have been much better (3.41 ERA and 3.13 FIP) — with an average strikeout rate (20.5%), a good walk rate (5.4%), a below-average ground ball rate (38.7%), and an awful home run rate (1.72 HR/9). He also has no platoon split (.337 vs. .332 wOBA in favor of righties) this year after getting hit around a bit by lefties last year. Shoemaker has upper-80s two and four-seam fastballs, and he backs them up with mid-80s changeups, low-80s sliders, and a slow mid-70s curveball. The changeup is his go-to offspeed pitch. The Yankees didn't see Shoemaker earlier this month. In fact, the Angels used some off-days to skip his start that series because they didn't want to run him out there in Yankee Stadium with his homer problems.
Bullpen Status
The Mariners did the Yankees a solid and forced Scioscia to use both closer RHP Huston Street (3.10 FIP) and setup man RHP Joe Smith (2.18 FIP) each of the last two days. Street blew the save yesterday. RHP Trevor Gott (1.96 FIP in very limited time) also pitched yesterday. He is their Nick Rumbelow. The 2013 mid-round pick who flew through the minors with great numbers.
LHP Cesar Ramos (3.33 FIP) and LHP Jose Alvarez (3.71 FIP) are Scioscia's two lefties but neither is a matchup guy. They're both starters by trade who can pitch full innings if necessary. RHP Cam Bedrosian (4.38 FIP) and RHP Fernando Salas (3.07 FIP) fill out the relief crew. Joe Girardi's bullpen is in good shape thanks to Michael Pineda's eight-inning complete game yesterday. Still make sure you check out our Bullpen Workload page for recent workloads. Then head over to Halo Hangout for updates on the Angels.