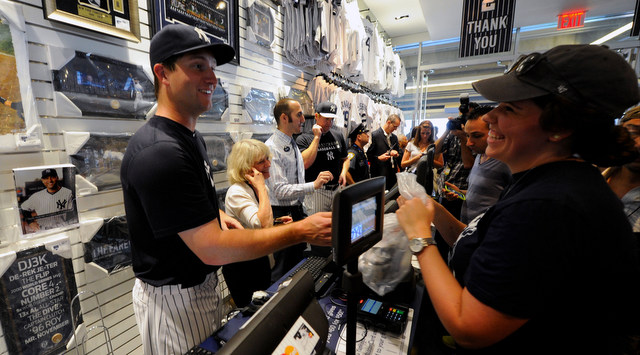 In a week or so, the Yankees will send a starter to the bullpen and go back to a normal five-man rotation. All signs point to Adam Warren being the odd man out even though he has been no worse than their third best starting pitcher this season. He's had success in a setup role and the Yankees do need help there, so it's an easy move. It would be an undeserved demotion to say the least.
Tonight's series opener against the Astros may be Warren's chance to show the Yankees he belongs in the rotation, not the bullpen. I honestly have no idea what he needs to do to keep his rotation spot — anything short of a shutout may seal his fate. Life ain't fair, man. Having too many starting pitchers is a good thing … as long as the five best are actually in the rotation. Here is the Houston lineup and here is New York's party like it's 2013 lineup:
CF Chris Young
3B Chase Headley
DH Alex Rodriguez
1B Mark Teixeira
RF Carlos Beltran
LF Jose Pirela
C John Ryan Murphy
SS Stephen Drew
2B Gregorio Petit
RHP Adam Warren
It's sunny and hot in Houston. The Minute Maid Park roof will probably be closed for air conditioning reasons, not because it's raining. Tonight's game will begin at 8:10pm ET and you can watch on YES locally and MLB Network nationally, depending where you live. Enjoy the game.
Roster Moves: As you can tell from the lineup, both Drew and Petit are back. Drew was activated off paternity leave and Petit was recalled from Triple-A Scranton. Branden Pinder and Diego Moreno were sent down yesterday to make room on the roster. The Yankees are rolling with a six-man bullpen.
Injury Update: Andrew Miller (forearm) played catch again and everything went well. He'll take tomorrow off then throw again Saturday … Jacoby Ellsbury (knee) is running at 75-85% and isn't ready for rehab games yet … Brett Gardner and Brian McCann are fine, just an off-day against the lefty starter.
Misc. Update: Andy Pettitte was in the clubhouse and in full uniform before the game. He only threw batting practice though. No comeback planned.