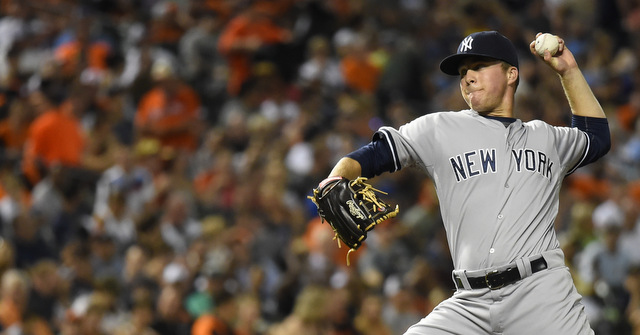 Rookie left-hander Jacob Lindgren will have surgery on Monday to remove a bone spur from his elbow, the Yankees announced. Team doctor Dr. Ahmad will perform the procedure and the Yankees say the rehab timetable is "expected to be no more than 12 weeks."
Lindgren, 22, allowed four runs in seven innings with the Yankees after pitching to a 1.23 ERA (1.93 FIP) in 22 innings with Triple-A Scranton. He allowed three homers in his seven innings with New York and left a lot of pitches up, which could have had something to do with the elbow problem. Maybe, maybe not. Who knows.
I'm not sure how the timing of all this works. I was under the impression the Yankees would have had to call Lindgren back up and place him on the big league DL if he suffered the injury in MLB, allowing him to accrue service time and get big league salary. He was optioned down a few days ago and placed on the Triple-A DL though, and it sounds like that's where he's staying. Like I said, I'm not sure how this works.
The 12-week timetable comes close to ending Lindgren's season — it puts him on target to return in the middle of September. I think the injury makes Lindgren a prime candidate for the Arizona Fall League, which would allow him to make up for some lost innings.