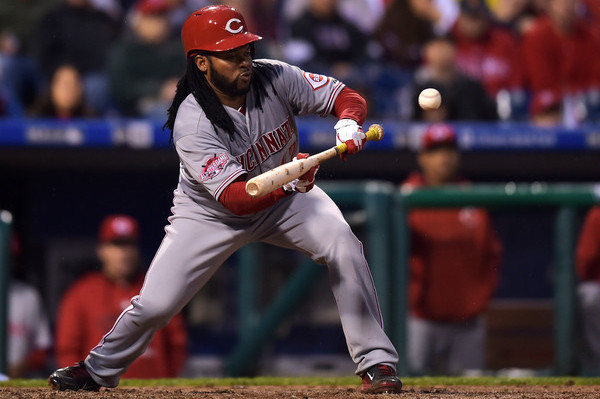 According to George King, the Yankees sent scout Jeff Datz to watch right-handers Johnny Cueto and Mike Leake pitch this weekend. The Reds are already well out of the postseason race and are stuck in a really tough NL Central division. They haven't yet said they will sell at the trade deadline, but all signs point to Cincinnati dealing away their two impending free agent starters come July 31st.
Cueto, 29, allowed four runs in seven innings against the Cubs on Friday, striking out nine and walking none. He has a stellar 2.85 ERA (3.15 FIP) in 12 starts and 85.1 innings this season, right in line with the 2.48 ERA (3.37 FIP) he put up from 2011-14. Cueto has truly been one of the game's best pitchers over the last half-decade or so. Remarkably consistent.
The biggest concern with Cueto is his elbow — he missed two starts last month with elbow inflammation, and tests did confirm his ulnar collateral ligament is intact, says Mark Sheldon. He's been excellent since coming back from the elbow issue, allowing six runs total with 22 strikeouts and two walks in 20 innings across three starts, but still. The guy's elbow was barking not too long ago. Red flag!
Leake, on the other hand, has crashed back to Earth after a great start. The 27-year-old gave up three runs in five innings against Chicago on Saturday and has a 4.35 ERA (4.86 FIP) in 13 starts and 82.2 innings this year. It's his worst season since 2012 despite a monster start that featured a 2.36 ERA (4.27 FIP) in his first seven outings. The crash has been quick and hard.
Both Leake and Cueto are impending free agents — the Tigers, Red Sox, and Giants were also scouting Cueto this weekend according to Jon Morosi and Ken Rosenthal — and Cueto is definitely a qualifying offer candidate. Easy call there. The Reds have no reason to take anything less than a first round caliber prospect for their ace, and ultimately it'll wind up taking a lot more to get him because multiple teams figure to be involved in the bidding. There have only been three rental ace trades in the last seven years:
Jon Lester for one and a half years of Yoenis Cespedes and rental Jonny Gomes.
Zack Greinke for big league ready Jean Segura and prospects Johnny Hollweg and Ariel Pena.
CC Sabathia for prospects Michael Brantley, Matt LaPorta, Zach Jackson, and Rob Bryson.
The Lester trade was unique because both teams planned to contend — the Athletics right away and the Red Sox the following season, which is why all big leaguers were involved. The Greinke and Sabathia trades are examples of bad teams trading their ace before losing him to free agency, which applies to Cueto and the Reds. Both trades involved at least three prospects with one big time headliner (Segura and LaPorta). (Brantley was the player to be named later in the Sabathia trade. He was the fourth piece!)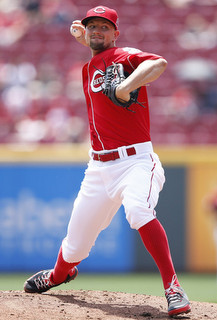 Leake is a mid-rotation starter with a long track record and those guys get traded all the time. Brandon McCarthy, Matt Garza, Ryan Dempster, Justin Masterson, Matt Garza, Ricky Nolasco, Francisco Liriano … those dudes were all traded a few months prior to free agency for anything from one okay prospect (McCarthy and Masterson) to four good prospects (Garza). Dempster and Liriano were traded for two prospects and my feeling is Leake falls into that category. Two good but not great prospects may be enough.
Now, here's the thing: the Yankees might not need to trade for a starter at the deadline. Cueto is an impact pitcher who would improve any rotation, he's the kind of guy you get no matter who is in your starting five as long as his elbow is healthy, but Leake is a band-aid type who probably doesn't move the needle much for New York unless they get hit with a sudden barrage of injuries, which is always possible. The Yankees have a long way to go before getting to October, but man, imagine a rotation of Cueto, Masahiro Tanaka, and Michael Pineda with Sabathia as the number four and Nathan Eovaldi throwing about 130 mph out of the bullpen in the short postseason series. Gosh.
Anyway, the Yankees are scouting Cueto and Leake because teams scout players all the time. They're just covering their bases in case they do wind up needing rotation help or decide to make the big play for Cueto to separate themselves in the AL East. King's report doesn't mean the Yankees are looking to make a deal now and it certainly doesn't mean anything is close — might be though! never know — it just means they're doing their due diligence prior to the deadline. Expect a few similar reports involving other players in the coming weeks.