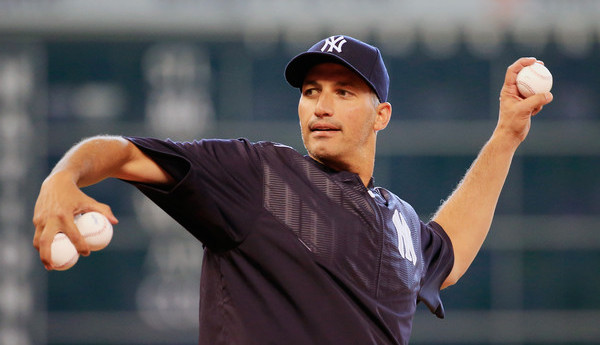 I'm not sure if Andy Pettitte was hanging around the team last night or if he'll be back this weekend, but he was in the clubhouse in full uniform on Thursday, and he tossed batting practice before the game. Pretty cool. Anyway, the Yankees and Astros continue their series later his afternoon. Here are some links to hold you over until game time.
Do six-man rotations work?
The Yankees are currently employing a six-man rotation but only temporarily — Joe Girardi said they are likely to go back to a normal five-man rotation once the road trip ends next week. The team has been talking about using a six-man rotation since before Spring Training and baseball as a whole seems to be heading in that direction. I don't think it'll be long before six-man rotations are the standard around MLB. Maybe ten years or so.
Russell Carleton did some research on six-man rotations to see if they are actually worth the trouble. Does it improve performance? Does it reduce injury? What happens if you have an ace like Clayton Kershaw and don't want him to make five fewer starts in a season? After some gory math, Carleton found that most pitchers don't see an uptick in performance with an extra day of rest and their injury risk isn't reduced substantially. Unexpected!
That doesn't mean a six-man rotation isn't worth trying though. It just means historical data indicates the benefits may not be as great as they seem. Every pitcher is different though. Perhaps a six-man rotation greatly benefits Masahiro Tanaka and Michael Pineda. Or maybe it helps Tanaka and does nothing for Pineda. Who knows? Carleton's research just shows that a six-man rotation may not be as great everyone seems to think.
Yankees still negotiating for A-Rod's 3,000th hit ball
It has now been one week and one day since Alex Rodriguez took Justin Verlander deep for his 3,000th career hit, and, according to Dan Martin and Brendan Kuty, the Yankees are still trying to get the ball from ballhawk Zack Hample. The two sides have made "significant progress" after the team initially offered a package of tickets and memorabilia.
Hample says he wants the Yankees to "perhaps make a large donation" to Pitch In For Baseball, a charity that provides baseball equipment to kids around the county. "I could sell the ball at an auction for a lot of money and then turn over the money to the charity. I've certainly been hearing from a lot of auction houses," he said. "This is a big chance to do something extraordinary for (the charity)."
Using the milestone baseball to help charity rather than for personal gain is an honorable thing. Of course, Hample has spent the last few days trolling A-Rod on Twitter and going on a media tour, so he's milking his 15 minutes for all they're worth. Hopefully A-Rod gets the ball, a charity gets a lot of money, and Hample stops pushing kids out of the way for baseballs. That way everyone wins.
Maikel Franco: Almost a Yankee
Earlier this week Phillies infielder Maikel Franco made a bit of a name for himself by wrecking the Yankees, going 6-for-12 with three home runs in the three-game series at Yankee Stadium. I won't dub him a Yankees Killer based on one series, but yeah, he crushed them. Impressive showing by the kid. The Phillies are really bad but Franco is a definite bright spot and a reason for fans to tune in every day.
As Dan Barbarisi writes, the Yankees tried to sign Franco as a 17-year-old out of the Dominican Republic back in 2010, but fell $5,000 short of Philadelphia's offer. The Phillies offered $100,000 and the Yankees offered $95,000. "I was very close to signing with the team—my agent told me which teams wanted to sign me, and the Yankees were up in that group," he said. Only if Hal Steinbrenner wasn't so stupid and cheap Franco would have been a Yankee argh!!!
Except that's not really how this works. For starters, no one cares about this if Franco does 2-for-12 in the series. Second, we can't assume he would have signed with the Yankees had they simply matched the offer. Franco might not have liked the idea of joining a team with a first baseman and third baseman signed until the end of time. Third, every team falls a few grand short of signing players every year. And sometimes those players get good. That's baseball.