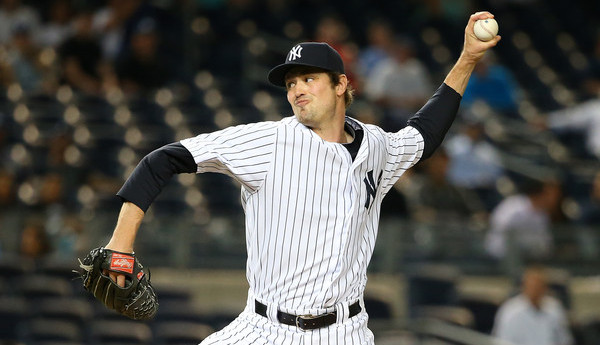 The Yankees have placed Andrew Miller on the 15-day DL with a flexor muscle strain in his forearm, Joe Girardi told reporters after this afternoon's game. Girardi said Miller has been dealing with the issue on and off but didn't tell the team until last night. Miller had an MRI today that confirmed the strain. He will be shut down 10-14 days before throwing.
Miller, 30, has never had any serious arm problems in his career. He missed about a week in Spring Training with triceps inflammation back in 2012, but that's it. Miller has had foot, hamstring, knee, and oblique problems throughout the years. Girardi said the MRI showed Miller's ulnar collateral ligament was intact, for what it's worth.
As our Bullpen Workload page shows, Miller threw 21 pitches last Tuesday then another 35 the next day, and they were all pretty high stress too. Perhaps the forearm problem started there. YES showed some replays of Miller shaking out his arm and flexing after throwing pitches during the ninth inning on Tuesday.
With Miller down, Girardi said Dellin Betances will slide into the closer's role, which presumably pushes Chasen Shreve and Justin Wilson into the seventh and eighth innings. The Yankees have Ivan Nova set to join the rotation fairly soon and could bump Adam Warren back to the bullpen, but geez, he's pitched so well as a starter. Would hate to take him out of the role just as he's hitting his stride.
The Yankees have an off-day Thursday and will need to call someone up in time for Friday's game against the Orioles. Chris Martin seems like a logical candidate since he was up with the team earlier this year and is currently in Triple-A, plus the Yankees have been talking about adding a right-hander. Jose Ramirez, Branden Pinder, Danny Burawa … they're all candidates as well. Either way, losing Miller is a huge blow.