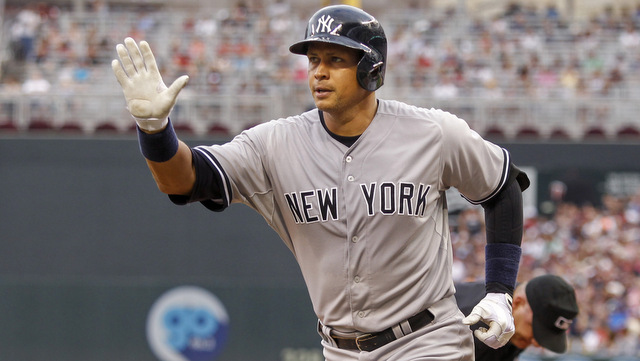 Today is Alex Rodriguez's 40th birthday. He was only 28 years old when the Yankees originally got him in the trade with the Rangers. Man, time flies. The coolest part is that A-Rod is playing like a 28-year-old this year, at least at the plate. He doesn't play the field anymore and running is a challenge, but he's mashing and I love it. The Summer of Al is in full swing.
Alex will get to celebrate his 40th birthday back in Texas where the locals will boo him like he kicked their dog, not cheer him like a guy who hit 156 homers in three years and won an MVP in their uniform. Whatever. A-Rod gets booed everywhere. As he said earlier this year, the last 15 years have been one long boo. Let's celebrate Al's birthday with a win, mmmkay? Here is the Rangers' lineup and here is the Yankees' lineup:
CF Brett Gardner
LF Chris Young
DH Alex Rodriguez
1B Mark Teixeira
C Brian McCann
RF Carlos Beltran
3B Chase Headley
SS Didi Gregorius
2B Brendan Ryan
RHP Ivan Nova
It's sunny and extremely hot in Arlington — temperatures were over 100 degrees earlier today and it'll still be north of 90 for the game. Gross. Tonight's game is scheduled to begin at 8:05pm ET and you can watch on YES locally and ESPN nationally. Enjoy.
Roster Move: Gregorio Petit cleared waivers and was outrighted to Triple-A Scranton, the Yankees announced. He can now elect free agency. Petit was designated for assignment a few days ago to clear a 40-man roster spot for Nick Goody.
Injury Update: Jacoby Ellsbury "jammed the shoulder pretty good" running into the wall while making a catch yesterday, but said today he's fine and was scheduled to get the day off anyway. The Yankees will face a lefty starter tonight and tomorrow, so they could sit Ellsbury and play Young tomorrow to give him one extra day if they want.