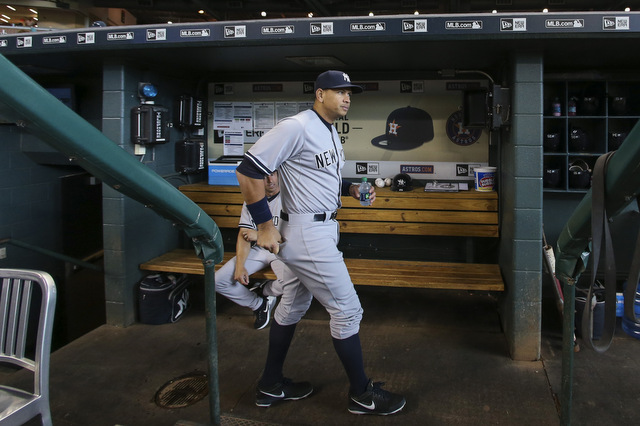 The Yankees and Rays continue their three-game series with an Independence Day matinee at Yankee Stadium later today. Here are some links to help you pass the time until the game.
A-Rod wants to make the All-Star team
The All-Star Game rosters will be announced soon — the starters will be announced tomorrow night, the rest of the rosters Monday night — and Alex Rodriguez told Andrew Marchand he hopes to be selected for the Midsummer Classic. "From where I came from just a year ago — I mean it's every player's dream to make the All-Star Game, I'm not exception to that, especially with all that I've been through — to be able to be included in something like that, it would be incredibly special," said Alex.
As productive as he's been this season, I don't think A-Rod will be selected for the All-Star Game. Kendrys Morales is running away with the fan voting for the DH slot and both Nelson Cruz and Prince Fielder have better All-Star cases than Alex. (Cruz has actually played more outfield than DH this year.) You can only carry so many DH types on the roster. Oh well. A-Rod will turn 40 later this month and he could probably use the four days off to recharge his batteries. He's been to 14 All-Star Games anyway.
Cuban RHP Yasiel Sierra threw for scouts
Time to meet the latest Cuban player the Yankees won't sign. According to Kiley McDaniel, 23-year-old Cuban right-hander Yasiel Sierra threw for scouts yesterday and is generating positive buzz. McDaniel likens Sierra to Reds righty Raisel Iglesias, who signed a seven-year contract worth $30M last June. Sierra worked mostly as a reliever in Cuba and had a 3.74 ERA with 166/135 K/BB in 238 career innings before defecting. He is not subject to the international spending restrictions due to his age, so the Yankees can offer him any amount despite the penalties stemming from last year's spending spree. I know nothing about Sierra beyond what's in this post, but I suspect we'll read his name a few more times in the coming weeks.
Yankees to be first team shot in 8K ultra-high def technology
I'm not a big technology guy, so I don't quite know what this means, but Maury Brown reports the Yankees-Mariners game at Yankee Stadium on July 17th will be the first game shot in 8K ultra-high definition. Apparently 4K high-def is just making its way to consumers now. The 8K broadcast of the Yanks-Ms game won't be available for fans though — Japanese public broadcaster NHK will install the cameras and show the broadcast to the media in a suite at the game. They're testing the technology for the 2020 Olympics in Tokyo. (Might be time to take to advantage of my BBWAA membership!) Either way, I'm sure 8K will be available for fans soon enough, and it'll blow all our minds.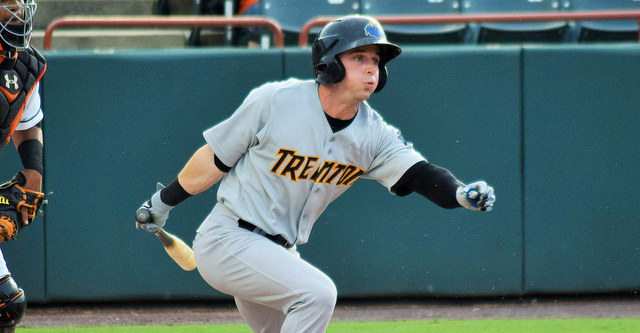 Benefits to being on the MLB roster
A few days ago the Yankees surprisingly called up outfielder Taylor Dugas just so he could sit on the bench while Carlos Beltran was dealing with a sore ribcage. Sitting on the bench knowing you're going to sent back down in a few days stinks — Dugas was sent down yesterday, sure enough — but being added to the 40-man roster and spending even one day in MLB comes with major perks, as MLBPA director of communications Greg Borris explained to Brendan Kuty.
First and foremost, the player gets the pro-rated portion of the $507,500 minimum salary, which works out to $2,773.22 per day during the regular season. Dugas was making approximately that per month in the minors. Players are also entitled to a portion of the MLBPA's licensing program revenue (baseball cards, video games, etc.) and they start accruing service time towards pension benefits. And finally, the big thing is health care for them and their families. They get access to the league's high-quality yet affordable health care program for life after just one day in the show. Getting called up for a day might sound disappointing, but man, the benefits are as good as it gets.
Cashman on long-term deals, scout on Girardi
Going to wrap this up with a pair of quotes that caught my eye earlier this week. First, here is Brian Cashman talking to Marchand about long-term contracts:
"Money doesn't always equate to performance," Cashman acknowledged. "In fact, most of the time it will never equate. That's the cost of doing business. Signing a player to a long-term contract is like buying a car. They don't tend to get better with age, and the ones that do are probably cheating."
Ain't that the truth. The Yankees have several bad long-term contracts on the books right now but it's clear they're willing to live with the ugly back end for the production up front, or at least they were at one point. These days it seems like teams get fewer high-end years early in long-term contracts though. They're the Yankees though, they're never going to not be involved with big name players, and Cashman understands they tend to be really bad investments.
Now here is an anonymous scout speaking to Jerry Crasnick about Joe Girardi:
"I don't care what anybody says: It's hard to manage [in New York]. It's a zoo. You couldn't pay me enough to manage there. I don't know if he's a top-five manager. But Girardi doesn't get enough credit for the job he does."
I think Girardi is an average-ish in-game manager. He's very good at keeping his relievers fresh and putting them in positions to succeed, but he does slave to platoon matchups and is a little too rigid with his pitcher-inning assignments. That makes him no different than any other manager though.
Girardi really seems to do well with limiting distractions and running a healthy clubhouse, which is something we as outsiders can't possibly understand or appreciate. The A-Rod stuff could have been a total fiasco for example, yet it's blown over and been a non-factor. You never hear about players being unhappy — example: Adam Warren going to the bullpen — and stuff like that. On-field decisions are just a small part of a manager's job. Most of their responsibility is in the clubhouse managing personalities, and the fact that things are so quite around the Yankees (the Yankees!) suggests Girardi is a great manager of people.