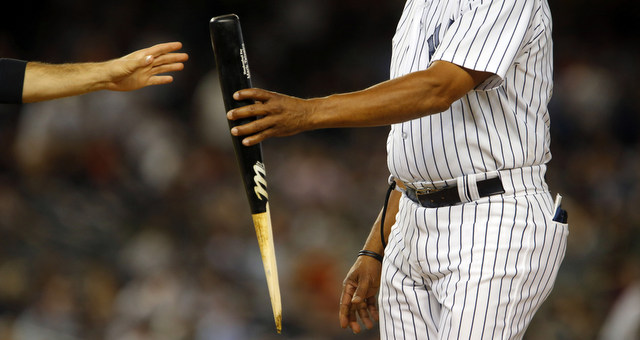 The Yankees are back home in the Bronx and they're going to be here for a while. They start a ten-game homestand tonight and 20 of their next 26 games (!) will be played at Yankee Stadium. We all know the Yankees play much better at home, so these next 26 games are a huge opportunity to create some distance in the AL East. (The Blue Jays also play much better at home, and they play 17 of their next 26 on the road.)
I figure the Yankees will probably have to win at least 12 or 13 of these upcoming 20 home games to give themselves a really good chance to win the division. That seems like a decent number, no? It's not set in stone or anything, but 12-8 feels like an okay record in those 20 home games. 11-9? Eh, not so much. Take it one game at a time though. Win today, worry about tomorrow tomorrow. Here is the Twins' lineup and here is the Yankees' lineup:
CF Jacoby Ellsbury
LF Brett Gardner
DH Alex Rodriguez
1B Mark Teixeira
C Brian McCann
RF Carlos Beltran
3B Chase Headley
SS Didi Gregorius
2B Stephen Drew
RHP Bryan Mitchell
Gosh is it hot in New York. It's been in the mid-90s all day with enough humidity to make you stick to everything. Yuck. It rained for a little while this afternoon and there's a small chance of rain tonight. Nothing major though. The game is scheduled to begin just after 7pm ET and you can watch on WPIX. Enjoy.
HOPE Week: This is week is HOPE Week, when the Yankees reach out to various individuals, families, and organizations doing some wonderful things. HOPE Week begins tonight with Chris Singleton, a college baseball player who lost his mother in the Charleston church shooting a few weeks ago. Chad Jennings has the details. Also, as part of HOPE Week the Yankees are holding a back-to-school supplies drive on Wednesday. Here are the details.
Schedule Update: The Subway Series game at Citi Field on Sunday, September 20th, has been bumped from 1pm ET to 8pm ET, MLB announced. I guess ESPN deemed the Yankees and Mets worthy of a late-season Sunday night broadcast.