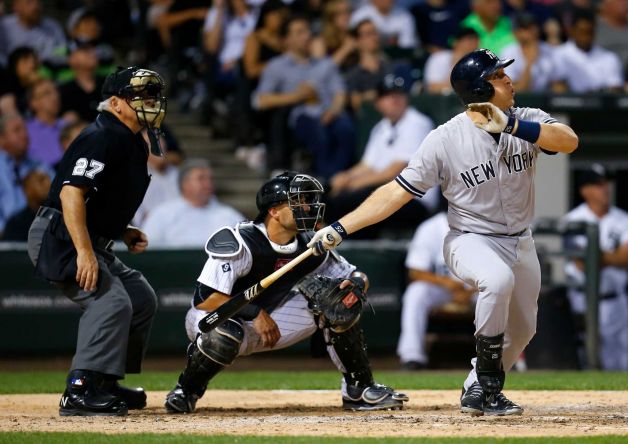 "A cardinal crashed into my window;
I'll plan him a funeral; I'll read his last rites
'Cause I know what he saw in that reflection of light.
On the glass was a better life."
With the announcement on Friday that he would miss the rest of the season due to his leg injury, Mark Teixeira's 2015 season came to a close. While this has been lingering since he fouled a ball off his leg on August 17 against the Twins, the news still carries a bit of a shock, considering the original diagnosis wasn't this bad, not to mention just how well Tex had hit the ball all year. The timing of the announcement–on the verge of a terribly important four game series with the division-leading Blue Jays–was a harbinger for the weekend (or at least the first three games and two days thereof). Not only was the weather miserable yesterday, but so was the baseball as the Yankees have dropped all three games of the series so far, including a double-header sweep (hopefully, Masahiro Tanaka can right the ship today) leaving them 4.5 games back of the Jays with 21 games to play. Having played the last few weeks and facing the last few weeks without Teixeira, that lead seems about as bleakly large as it can be when it comes to winning the division.
Things aren't all bad, however, as they do have a three game lead on the Rangers for the first Wild Card spot which is obviously good, but not preferable. That idea is just a microcosm of Tex's injury situation; it's nice that Greg Bird has filled in about as admirably as possible, but like the Wild Card spot, he's just not your first choice.
2015 was a renaissance year for Tex as his 30 homer power (officially) returned. He clubbed 31 homers in his 111 games this year, nine more than he did all of last year in fewer games (123) and fewer plate appearances (462 this year; 508 last year). In terms of raw OPS, Tex's .906 mark this year is the second best of his Yankee career, bested only by 2009 and its .948 mark. Using OPS+, though, 2015 has been Tex's best season in the Bronx, beating out 2009 by a "score" of 148-141. A similar pattern holds true with wOBA/wRC+ as 2009 was better from a raw perspective–.402 to .381–while 2015 was better from an adjusted perspective–143-142.
Tex's last three (partial) seasons have mirrored the Yankees' last three seasons in that there were some underlying positives despite a less-than-desirable outcome. In 2013, Tex played in just 15 games. There were some signs that he was himself–a 12.7% walk rate and a .189 ISO–but there's no way to call that a season, let alone a successful one. He took a step forward in 2014 and displayed his usual patience–11.4% walk rate–and solid power–.182 ISO. But, it still wasn't quite enough, just like the Yankees' season in general. With his return to prominence in 2015, so too returned the Yankees, who've long been in playoff position; with Tex back where he should be, the Yankees were back where they "should be."
This isn't to say that the loss of Tex dooms the Yankees into bird-crashing-into-unseen-window status. They have plenty of bats, a solid (if tired) bullpen, and plenty of games to make up some ground on the Blue Jays or separate themselves from the Rangers (and Twins and Angels). Those tasks are obviously a lot harder without the team's offensive MVP, but they aren't impossible. Thanks to Tex, the Yankees are in a good position to make the playoffs and hopefully make a deep run therein. He helped carry the this far and now it's up to his teammates to carry his torch as far as they can. Thanks for a great season, Mark; we'll see you in the spring.