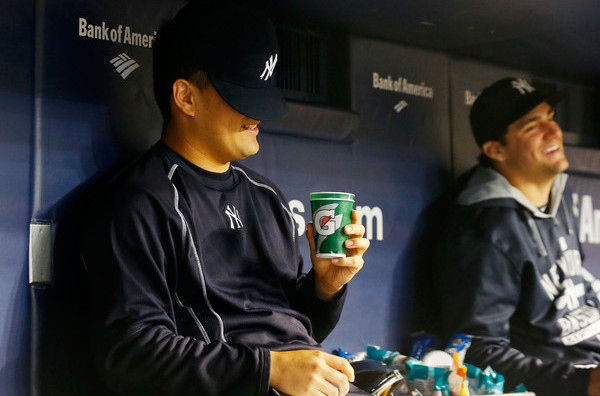 After a 12-day hamstring-related hiatus, Masahiro Tanaka returns to the mound and rejoins the rotation tonight. And not a second too soon either. The Yankees need to line him up for next Tuesday's wildcard game, and they need to actually clinch a postseason spot too. That hasn't happened yet. It can happen tonight though.
For the Yankees to clinch their first postseason berth since 2012 tonight, they first need to beat the Red Sox, and then any two of the following have to happen as well:
– Twins lose (doubleheader at Indians)
– Astros lose (at Mariners)
– Rangers OR Angels lose (Rangers home against Tigers, Angels home against A's)
Got all that? I miss the days of "you win, this other team loses, and you're in" clincher scenarios. Life was much simpler before that second wildcard spot came along. Anyway, as long as the Yankees win and two of those other three things happen, they'll clinch a postseason spot tonight. Gotta take care of the Red Sox first. Here is Boston's lineup and here is New York's lineup:
CF Jacoby Ellsbury
2B Chase Headley
DH Alex Rodriguez
RF Carlos Beltran
C Brian McCann
LF Chris Young
1B Greg Bird
2B Rob Refsnyder
SS Didi Gregorius
RHP Masahiro Tanaka
Good news on the weather front: there is only a small chance of rain throughout the night. At this time yesterday the forecast said it was supposed to pour basically all day and night. That hasn't happened. Hasn't rained since the late-morning. The sky does look mighty threatening though. Tonight's game will begin just after 7pm ET and you can watch on YES. Try to enjoy.