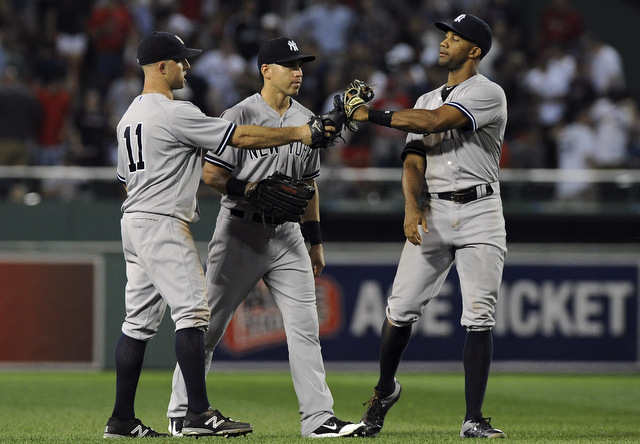 The Yankees are in position to clinch a wildcard spot very soon, possibly tonight, so it's time to start thinking about the wildcard game roster. Earlier today we sorted through the pitching staff, trying to figure out which ten or eleven pitchers the Yankees will carry in the wildcard game. It was easier said than done.
Ten or eleven pitchers — my guess is ten, but you never know — leaves 14-15 position player spots to fill. Joe Girardi will have a decent-sized bench at his disposal, but ideally it won't come into play too much. The starting lineup will decide the game. As we did with the pitchers, let's go through the position player group and try to figure out who will be on the wildcard game roster next Tuesday.
The Locks
This is the easy part …
Catcher: Brian McCann, John Ryan Murphy
First Base: Greg Bird
Second Base: ???
Shortstop: Didi Gregorius
Third Base: Chase Headley
Outfield: Brett Gardner, Jacoby Ellsbury, Carlos Beltran
Designated Hitter: Alex Rodriguez
That's nine of the 14-15 position player spots right there and they're all self-explanatory right? Right. That is eighth-ninths of the starting lineup and the backup catcher. All easy calls. Next.
Second Base
For most of the summer, Stephen Drew and Brendan Ryan platooned at second base. That is no longer the case. Drew has been dealing with some dizziness/concussion issues that may end his season, but even before that Dustin Ackley wrestled the starting job away from him. Ackley got some playing time, hit right away, and he's continued to play against right-handers.
Meanwhile, Rob Refsnyder has started each of the Yankees' last four games against left-handed starters, not Ryan. Chances are Refsnyder will start against lefties Wade Miley, Rich Hill, and Wei-Yin Chen the next three days too. Like Ackley, he got a few at-bats, got some hits, and has received more playing time. That Drew/Ryan platoon was together for 140 games or so. The last 16 have gone to Ackley/Refsnyder.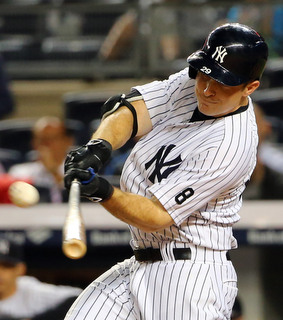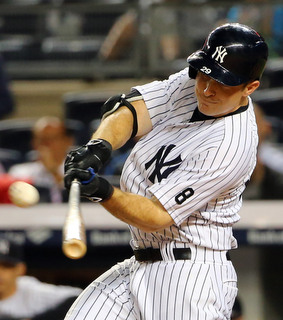 At this point there is no doubt Ackley will be on the wildcard roster. The rest of the guys is where it gets tricky. Refsnyder is starting against lefties, but would the Yankees actually start him in the wildcard game if they face, say, Dallas Keuchel or Scott Kazmir or Cole Hamels? I get the sense Girardi would stick with Ackley in that situation and just roll with his best player.
If Refsnyder's not going to start the game, then what's his role? Pinch-hitter against a lefty reliever. That's all. I guess he could pinch-run too, but there figure to be other guys on the roster to do that. Refsnyder's not going to come in for defense. Pinch-hitter against a lefty is a big deal though! It could be the difference in the late-innings of a close game. Given the extra bench spots, I think Refsnyder's in.
With Ackley and Refsnyder on the roster, the Yankees will need to carry a shortstop-capable backup infielder. Neither of those guys can play short. Not even in an emergency. That leaves a spot for Drew or Ryan. In a vacuum, I'd take Drew over Ryan eight days a week and twice on Sundays. But Drew isn't healthy and we shouldn't count on him getting healthy before the wildcard game. He's still dealing with this dizziness/concussion stuff and has been for almost two weeks now. That puts Ryan on the wildcard game roster along with Ackley and Refsnyder.
The Pinch-Runner
Rico Noel will be on the wildcard game roster. I'm sure of it. One of the benefits of shrinking the pitching staff in the postseason is creating an open roster spot for someone just like Noel. A burner who can come off the bench to pinch-run in the late innings of a close game. Look at Rico run:
The kid can fly and his speed can potentially have a huge impact in the wildcard game. The Yankees brought Noel up this month strictly to pinch-run and I fully expect him to be on the postseason roster. Remember, they carried Freddy Guzman on the postseason roster in 2009 for this exact reason. Noel's on the wildcard roster. I have no doubt about it.
(Since he wasn't called up until September 1st, Noel will technically have to be an injury replacement. The Yankees have two position player injury spots available thanks to Mark Teixeira and Mason Williams.)
The Backup Outfielder
Noel will be on the wildcard game roster but he's not really a backup outfielder. He's a pinch-runner and that's all. (The scouting reports indicate Noel is a pretty good defender, but the Yankees haven't used him defensively all that much.) The Yankees will still need to carry a legitimate backup outfielder if for no other reason than to replace Beltran for defense in the late innings. Chris Young, who is the only righty hitting outfielder on the roster, held that job all season and I expect him to be on the wildcard roster. I know he's stumped lately, but there's no reason to think the Yankees won't carry Young in October. In fact, I'm not sure how you can look at the 39-man active roster and saying Young doesn't belong on the wildcard game roster. He's in.
The Final Roster Spot
We still have one last roster spot to fill. The nine locks above plus Ackley, Refsnyder, Ryan, Noel, and Young gets us to 14 position players. I suppose the Yankees could carry eleven pitchers, but I doubt it. It was hard enough coming up with ten pitchers worth a spot on the wildcard roster. One last position player makes sense.
There's no point in carrying three catchers, so Austin Romine and Gary Sanchez are out. The remaining candidates are Jose Pirela and Slade Heathcott, assuming Drew is indeed done for the year. With Refsnyder on the roster, there's no need for Pirela, another righty hitter. Yeah, Pirela can play the outfield if necessary, but he's an emergency option out there only. Noel and Ackley are available as emergency outfielders. I also think Pirela would have played more this month if he was a serious wildcard game roster candidate.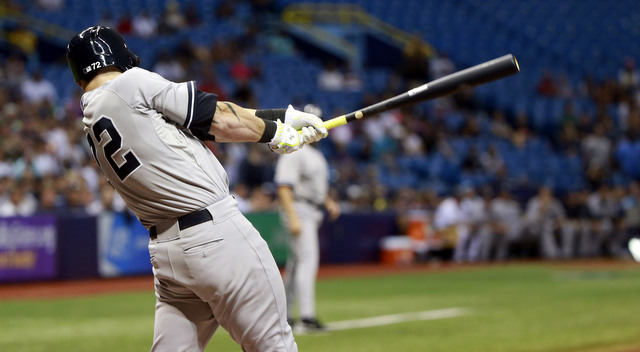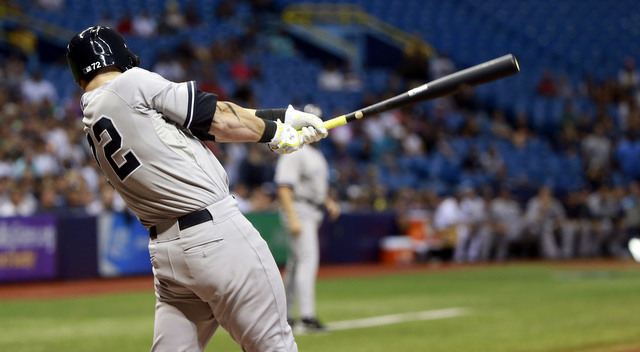 That leaves it between Heathcott and a possibly but not likely healthy Drew. If Drew is not over high dizziness/concussion symptoms by next week, this questioned gets answered for us. In the unlikely event Drew is healthy though, would it make sense to carry another infielder or another outfielder? I think an extra outfielder makes more sense. Between Ackley, Refsnyder, and Ryan, you've got the second base starter and two backups. The only backup outfielder is Young considering Noel's job is pinch-running.
Heathcott gives the Yankees another potential pinch-runner — he's no Rico, but he's faster than Young or Refsnyder — and another quality defender, as well as a left-handed bat on the bench. In fact, Drew and Slade are the only possible lefty bats off the bench, and one's hurt. Besides, if Drew is healthy, it's Ryan or Heathcott, not Drew or Heathcott. I'd take Heathcott over Ryan.
With Slade on the roster, the Yankees would have two backup infielders even without Drew (or Ryan), and Heathcott at least has a chance to contribute offensively and defensively. I mean, if Drew's healthy and on the roster, what's the point of Ryan? What does he offer in a winner-take-all game? I'd expect neither guy to actually play in the game, but, if pressed into action, it's easy to see Slade having more potential impact than Ryan.
So after all of that, here's the 25-man wildcard game roster we've kinda sorta pieced together today:
| Catchers (2) | Infielders (7) | Outfielders (6) | RHP (5) | LHP (5) |
| --- | --- | --- | --- | --- |
| McCann | Bird | Gardner | Masahiro Tanaka (SP) | Andrew Miller |
| Murphy | Ackley | Ellsbury | Dellin Betances | Justin Wilson |
| | Gregorius | Beltran | Adam Warren | Chasen Shreve |
| | Headley | Young | Andrew Bailey | Chris Capuano |
| | A-Rod (DH) | Heathcott | Nova/Severino/Pineda | CC Sabathia |
| | Refsnyder | Noel (PR) | | |
| | Drew/Ryan | | | |
Remember, the Yankees can change their 25-man roster prior to the ALDS should they advance, and they'll have to change it too. They'd need to get more starting pitchers on the roster. Let's not get ahead of ourselves though. One thing at a time.
That appears to be the best 25-man roster the Yankees can carry in the wildcard game. Maybe not the most talented, but the most useful given the circumstances. We're not planning for a best-of-five or best-of-seven series. It's one game. One stupid little game where anything can happen. Hopefully Girardi won't have to use anyone beyond the nine starting position players, Beltran's defensive replacement, Tanaka, and the big three relievers. That's the best case scenario. If the Yankees need to dip any deeper into their wildcard game roster than that, then, well, just hang on tight.