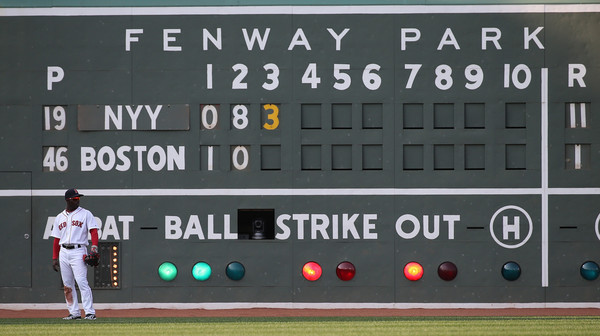 The Yankees wrapped up the six-game road trip yesterday and tomorrow they begin a long ten-game homestand. From here on out, the team will not be away from New York more than three consecutive days. The travel situation is very favorable the rest of the season. Anyway, I have some thoughts.
1. After all his injuries the last two or three years, who would have thought Mark Teixeira would become such a vital piece of the 2015 Yankees? He's been the team MVP this year. Losing him for what is going to end up being at least a month is really, really tough. Teixeira's two-way play is irreplaceable. There's no way to replace both his bat and his defense. Can't be done. The only thing the Yankees can do is hope everyone else steps up their game, allowing them to weather the storm. I like Greg Bird, he seems to have a plan at the plate and a knack for hard contact, but he's also a 22-year-old rookie who's been thrust into a postseason race. Not an ideal situation. (Remember, Bird was called up to spell Teixeira and Alex Rodriguez on occasion, not play everyday.) Losing Teixeira to this dumb, fluke injury is a huge blow. They needed him to dominate just to establish themselves as contenders. Now they have to try to stay in the race without him.
2. Speaking of Bird, it sure seems the scouting report is attack him with high fastballs. Here are two strike zone plots from Baseball Savant. On the left is every two-strike pitch Bird has seen as a big leaguer, and on the right are all his strike threes. You can click the image for a larger view.

Opposing teams are definitely attacking Bird with high heat in two-strike situations. It has been noticeable watching games and the PitchFX data backs it up. Teams have great scouting reports these days, even on kids who were just called up. I remember the Yankees using the shift against Jackie Bradley Jr. when he was first called up — Red Sox manager John Farrell said that prompted them to check the spray charts of their own players to make sure they weren't missing something — and that's another example. No, Bird doesn't have much big league experience, but teams already know his strengths and weaknesses. Now it's up to Bird to adjust to all those high fastballs — hitting high fastballs is really hard, he has to learn to lay off more than anything — and make pitchers beat him a different way.
3. I'm not surprised the Yankees are staying away from A-Rod playing first base, even against lefties. I think he could do it — awkwardly, but do it — if the team is really in a bind and has no other choice, and that seems to be their thinking. Emergencies only. Dustin Ackley and Austin Romine can play first base, and they could always stick Brian McCann there if necessary, so they have a few different options. Not great ones, but options nonetheless. A-Rod has looked out of gas at times in the second half, so the Yankees are trying to do anything they can to keep him fresh. Being 40 years old with two surgically repaired hips stinks, apparently. It's an unfortunate situation because I'm sure they'd like to be able to sit Bird every once in a while, but keeping A-Rod as fresh as possible is the priority.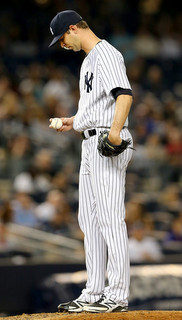 4. Following Tuesday's call-ups, there are only six players on the 40-man roster who are not in the big leagues right now: Gary Sanchez (hamstring) and Jacob Lindgren (elbow), who are hurt; Nick Rumbelow and Nick Goody, who will be called up once their ten days pass after being sent down last week; and Chris Martin and Slade Heathcott. I thought Heathcott would get called up on September 1st and it was surprising when that didn't happen, but I think the Yankees want him to play everyday with Triple-A Scranton rather than sit on the big league team's bench after missing so much time with the quad injury this year. Slade is still under 300 plate appearances this year after playing only nine games last year. The kid needs at-bats and he'll get them with the RailRiders, who are very likely to go to the postseason. They'll be playing another two weeks or so. Martin? Not sure what the story is there. It seems like he's next in line to lose his 40-man spot should a need arise, and I guess the Yankees just don't think he is able to help them this month. He's been passed by other players on the depth chart.
5. The Yankees called up Rico Noel just to be their pinch-running specialist this month, which got me wondering how often a guy like that is actually used. Terrance Gore pinch-ran nine times in 26 September games for the Royals last year, stealing five bases and scoring five runs. Quintin Berry pinch-ran eight times in 25 September games for the 2013 Red Sox, stole two bases and scored three runs. Freddy Guzman pinch-ran eight times in 31 September/October games for the 2009 Yankees, stealing four bases and scoring just two runs. So, all together, those three players stole eleven bases and scored ten runs in 25 pinch-running situations across 82 games. (There have been other September pinch-runners, both those are the three that stand out to me.) Pinch-running 25 times in 82 games doesn't sound like much, but remember, these are high-leverage pinch-running spots. They're not pinch-running in blowouts — 23 of those 25 pinch-running situations came in the sixth inning or later of a game separated by no more than two runs. Considering the standings and the fact the Yankees have some slow runners in the lineup, we're going to see Noel pinch-run in some very big spots these next few weeks. The potential for impact is there, just in a very specialized way.
6. The YES booth had a conversation the other day about which pitcher the Yankees should start in a potential wildcard game. If I'm remembering correctly, David Cone said Masahiro Tanaka while John Flaherty said either Luis Severino or Nathan Eovaldi. Either way, it blows my mind anyone would consider starting someone other than Tanaka in a winner-take-all game. Eovaldi's been great of late and Severino has been super impressive, but man, season on the line, I trust Tanaka more than anyone. I think he's most likely to dominate and, perhaps more importantly, least likely to completely implode. Even Tanaka's bad starts aren't all that bad. He's allowed more than three runs just five times in his last 18 starts and more than four runs only twice in those 18 starts. Forget about the contract. I want Tanaka in a potential winner-take-all game because of his wide array of weapons and unflappability. If the Yankees do have to settle for a wildcard spot, I hope they're able to line up their rotation and give Tanaka that start.