It's probably not a good thing a bunch of September call-up relievers are deciding games in a postseason race late in the season, right? The Yankees lack of quality pitching depth came back to bite them Tuesday night, in their 6-3 loss to the Rays. They couldn't take advantage of the Braves beating the Blue Jays. Drat.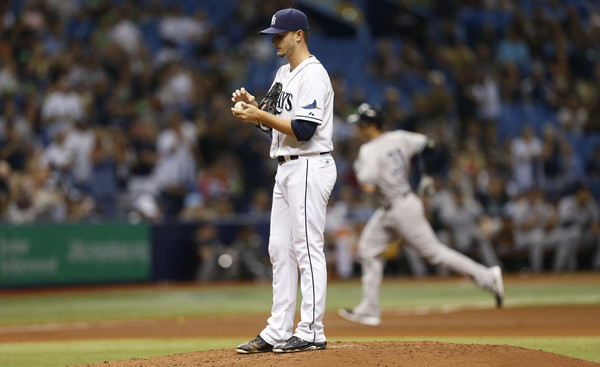 One Run, Two Runs
One night after being no-hit into the eighth inning, the Yankees scored in the first inning Tuesday night, with Alex Rodriguez taking care of business. He swatted an opposite field solo home run off Jake Odorizzi. It was the kind of homer I wasn't sure Alex would ever be able to hit again coming into the season. Rodriguez has six homers in his last eleven games and 32 on the season. The Summer of Al, baby.
The Yankees were trailing 2-1 (more on that in a bit) in the fourth inning when Greg Bird gave them a 3-2 lead with a two-run homer off Odorizzi. A-Rod walked earlier in the inning to set it up. Bird had a fantastic ten-pitch at-bat with four foul balls. Odorizzi kept pumping fastball after fastball, and eventually he made a mistake, leaving one out over the plate for Bird. He destroyed it. It hit halfway up that restaurant thing in center field at the Trop. Great at-bat, great result. Yankees up 3-2.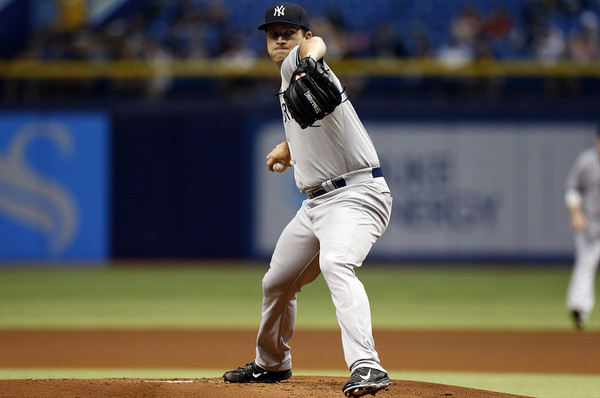 Adam the Starter
Adam Warren made his first start since late-May and it went … okay. He got dinked and dunked and blooped to death in the first inning. It was frustrating as hell. The Rays scored a run in the first on four singles (two bloops) and another run in the second on a double and an error. Mikie Mahtook, aka the new Sean Rodriguez, doubled to left field with one out in the second, then tried to steal third. Brian McCann's throw short-hopped Chase Headley at third and bounced away, allowing Mahtook to score. D'oh.
Warren finished the night with those two runs allowed on six hits in four innings. He struck out four, walked none, and threw 65 pitches. The Yankees had him on a 65-70 pitch limit in his first start back. Warren retired the final seven men he faced and looked pretty darn good once all those silly bloops stopped finding grass. Finding turf, I guess. Whatever. Just another effective Adam Warren outing. He's been quite good no matter how the Yankees have used him the last few seasons.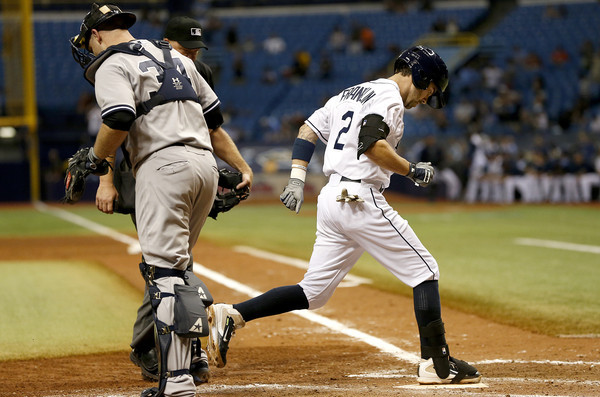 Bullpen Shuttle
Of course, the short start meant Joe Girardi was going to have to dip deep into his bullpen, which is bad news these days. Everyone aside from Dellin Betances and Andrew Miller is shaky right now. First up was James Pazos, who got Kevin Kiermaier to line out, walked the unwalkable J.P. Arencibia, then allowed a single to the lefty John Jaso. Not a great outing. Not terrible — Jaso's hit wasn't a rocket or anything — but not good either.
Nick Rumbelow was summoned out of the bullpen to face Steven Souza Jr. and Evan Longoria with runners on the corners with one out, and he managed to strike out both with a barrage of breaking balls and changeups. He threw three straight changeups to Longoria and struck him out on three pitches. Wild. Then of course Rumbelow served up a monster go-ahead two-run home run to Nick Franklin (!) in the sixth. Gone off the bat. Zero doubt about it. That made it 4-3 Rays. Sigh.
Chasen Shreve and Branden Pinder did a nice job getting the next five outs before giving way to Bryan Mitchell in the bottom of the eighth. Mitchell's inning went strikeout, single, single, fielder's choice, single, walk. That's not good. To be fair, Arencibia's two-run single was a little flare Rico Noel nearly caught on a slide, but he couldn't keep it in his glove. Still, Mitchell has not been nearly as good as he was earlier this season since taking the line drive to the face. Tampa stretched the lead to 6-3.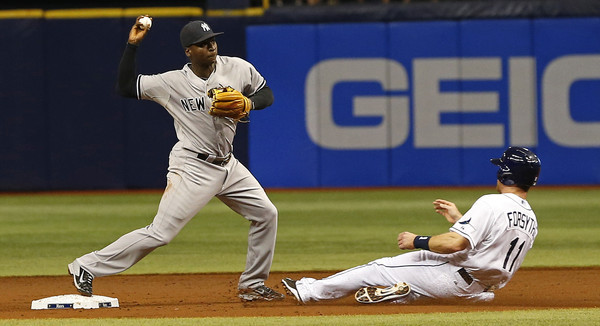 Leftovers
The Yankees did bring the tying run to the plate in the ninth! Dustin Ackley singled with two outs and Jacoby Ellsbury reached base on a James Loney error, but Brett Gardner flew out to left to end the game. Ellsbury could have easily been credited with a hit. It was a hard-hit grounder to Loney's left that he just missed. Jacoby needs all the help he can get right now. The official scorer could have thrown him a bone.
Five hits for the offense, one day after having four hits. The Yankees had 17 hits in the three-game series against the Rays at Yankee Stadium ten days ago, so that's 26 hits in their last five games against Tampa. Know how they've had all those line drives and hard-hit grounders get eaten up by defenders? It's not bad luck. It's good positioning. A-Rod, Bird, Ackley, McCann, and Carlos Beltran had the hits.
The combined bullpen damage: four runs on seven hits and three walks in four innings. The six relievers combined to strike out six. Middle relief is a really big problem right now, especially with Warren starting. Shreve and Justin Wilson seem to be out of gas and none of the Triple-A guys have emerged as a trusted arm. This staff right now feels like the bare minimum for contention.
Box Score, WPA Graph & Standings
Here are the box score and video highlights for the game, and here are the updated standings and postseason odds for the season. The magic number to clinch a postseason berth dropped the 15 because the Twins lost to the Tigers, so hooray for that. Here are our Bullpen Workload and Announcer Standings pages, and here's the loss probability graph:

Source: FanGraphs
Up Next
The Yankees and Rays will wrap up their season series Wednesday night. It'll be Luis Severino and Chris Archer on the mound. The Yankees could use a win. Too many winnable games have ended up in the loss column of late.