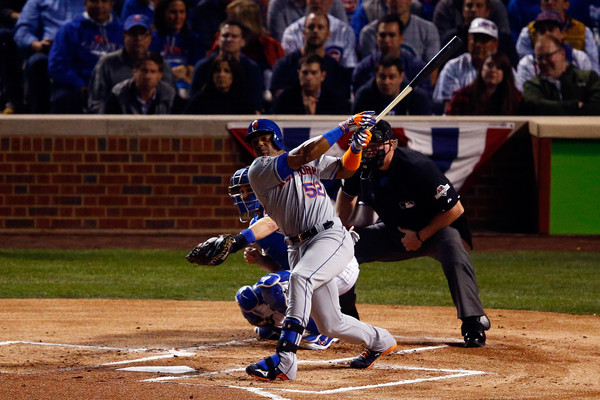 You knew this was coming at some point. According to Jon Heyman, the Yankees are not expected to pursue Yoenis Cespedes as a free agent this offseason. Apparently part of it may have to do with his representatives at Jay-Z's Roc Nation. I guess the Yankees don't have too good a relationship with them. Maybe that dates back to talks with Robinson Cano a few years ago?
Cespedes, 30, hit .291/.328/.542 (135 wRC+) with a career-high 35 home runs in 159 games split between the Tigers and Mets this year. It was his best all-around season since coming over to MLB by a decent margin. Cespedes had a good but not great .251/.298/.446 (106 wRC+) line from 2013-14, after all. I wouldn't bank on the 2015 version being the real Cespedes going forward, but that's just me.
The Yankees may or may not spend big on a free agent this winter, but, if they do, it's hard to think they'd do it for another over-30 outfielder. They already have three of those making big money in Carlos Beltran, Jacoby Ellsbury, and Brett Gardner. Jason Heyward would be a different story because he's so young, but Cespedes? I'm not sure that makes sense.
Of course, the Yankees could always trade Gardner to clear a spot for someone like Cespedes, and they do desperately need the right-handed power, so in that respect he would fit the lineup. But again, they'd be committing huge money — Cespedes is going to wind up with $150M or so, I think — to guy on the wrong side of 30. Seems like the Yankees want to stop doing that.
Cespedes and Heyward are the two biggest free agent outfielders this winter, along with Justin Upton. After them, the best of the bunch is probably Dexter Fowler. The Yankees would have no trouble finding a suitor for Gardner — would you rather trade for Gardner or give Fowler five years and $75M or so? — to clear a spot for someone else. Is there a way to trade Gardner and improve the team without handing out a nine-figure contract? I'm not so sure.