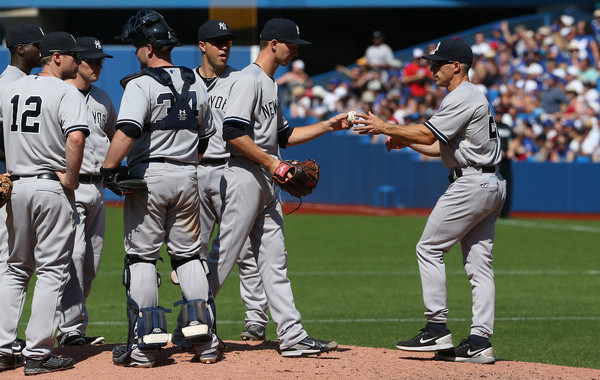 Over the last few years I've been lucky enough to branch out beyond RAB and get an opportunity to write about all of baseball. That's exposed me to all 30 fanbases through comment sections and Twitter and whatnot. Based on that exposure, I've come to three conclusions that apply to all fanbases:
They all think their offense sucks at hitting with runners in scoring position.
They all think their ace isn't really an ace whenever he loses a random game.
They all think their manager is a dolt based on his bullpen usage.
We've all seen remarks like that before, especially if you lurk in the RAB comments. Like every other manager, Joe Girardi has made baffling bullpen moves over the years — remember Andrew Bailey facing the middle of the Blue Jays order last month in what was essentially the Yankees' last chance to stay in the AL East race? — but he's generally been very good at running at bullpen.
Quantifying that is tough. Brian Cashman & Co. have given Girardi some pretty good relievers over the years — they've had at least two elite relievers every year since 2011 thanks to Mariano Rivera, David Robertson, Rafael Soriano, Dellin Betances, and Andrew Miller — which makes it easier to be successful, but it doesn't guarantee anything. After all, even with two elite relievers, there are still five other relievers ready to be brought in at inopportune times.
In a piece at Grantland yesterday, Ben Lindbergh reintroduced an older stat called BMAR (Bullpen Management Above Random), which essentially tells you how well a manager used his bullpen based on leverage data. I recommend reading the piece for the gory details, but, in a nutshell, Lindbergh explains BMAR helps answer this question: "In light of the bullpen he had, how much better (in wOBA points allowed) were the relievers he did choose than the relievers he could've chosen at random?"
BMAR shows Girardi had the second best bullpen usage in baseball this season, behind only ex-Padres manager Bud Black, who was fired at midseason. Removing Black because of his small sample, Girardi was the best in the game at leveraging his relievers. His optimal usage was 37.2% compared to the league average of 18.2%. (So yes, based on BMAR, managers used the "correct" reliever less than 20% of the time on average, though BMAR assumes every reliever is available every game, which we know isn't true.)
Lindbergh explains BMAR isn't all that predictive year-to-year. It tends to fluctuate. However, Girardi is one of a handful of managers who have consistently ranked near the top of the BMAR leaderboard in recent seasons, along with Angels manager Mike Scioscia and Giants manager Bruce Bochy. Here is the top of the BMAR leaderboard from 2012-15:
Girardi was the very best in baseball at leveraging his relievers both in terms of wOBA advantage gained — that is, on average, how much better the reliever used is than everyone else in the bullpen — and percent of optimal usage. I know 28.8% optimal usage doesn't sound like much, but no other manager who managed two full seasons from 2012-15 was above 25.7%. The league average from 2012-15 was 18.9%.
By no means is BMAR perfect. Like I said, it doesn't adjust for who is and who isn't available on a given day, and I'm not even sure if it's possible to do that anyway. Relievers are unavailable all the time for reasons that are never made public. BMAR is a good overview stat that helps us quantify bullpen usage. The data matches up with what I've felt watching games over the years — Girardi and Bochy are very good, Terry Collins and Mike Matheny are very bad, etc. — so I feel it is at least on the right track.
The Yankees used their bullpen a ton this season and it was by design. Girardi tried to avoid letting his starters go through a lineup three times, and the Triple-A shuttle always gave him a fresh arm. I don't think they can lean on their bullpen quite as much next year — asking the 'pen to get 10-12 outs a night all summer doesn't strike me as a sustainable strategy — but if they do, BMAR shows Girardi is as good as any manager in the game at using the right reliever in the right situation.