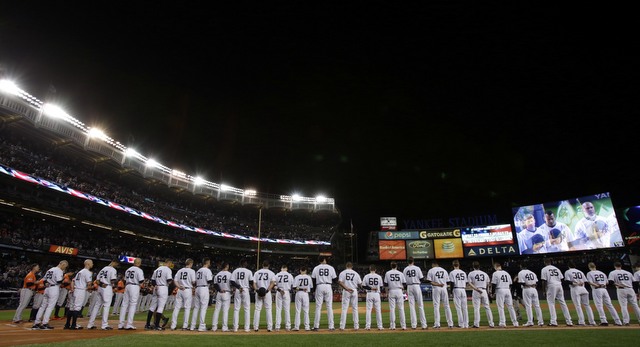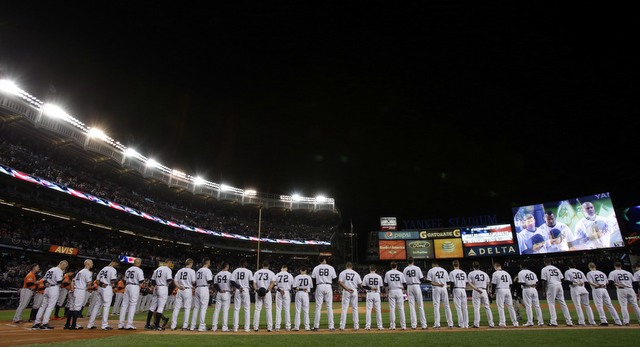 The Yankees season officially ended last night when the Astros walked into Yankee Stadium and shut the so-called Bronx Bombers out 3-0 in the AL wildcard game. The lethargic, uninspiring play we saw at the end of the regular season carried over in the wildcard game. It was not fun. Anyway, way I have some thoughts.
1. It is going to get second-guessed like crazy but benching Jacoby Ellsbury rather than Brett Gardner was absolutely the right move in my opinion. It looks awful in hindsight — Gardner went 0-for-4 with three strikeouts — but that move was based on more than Joe Girardi's gut feel. Gardner was very bad in the second half! But so was Ellsbury. Worse, in fact (67 vs. 59 wRC+). Ellsbury also had much worse numbers against lefties (112 vs. 83 wRC+) and ended the season with three hits in his last 21 at-bats. Before the game, hitting coach Jeff Pentland told Dan Martin that Ellsbury's swing hasn't been right since he crashed into the wall against the Red Sox last week — I assume it was the play when he crashed back-first into the wall in front of the visitor's bullpen and stayed down on the ground a few moments, remember that? —  so there was a physical (i.e. non-numbers) reason for the move too. Gardner was awful last night, just like most of his teammates. But in a winner-take-all game, Girardi had to put his best players on the field, and at this point Gardner is simply a better player than Ellsbury. (Also, the fact Ellsbury was not in the lineup in a game of that magnitude in year two of a seven-year deal is damning.)
2. The offense was very bad last night and has been bad for a few weeks now, and I suspect it will be a hot topic in the offseason. The pitching was the real problem though. Not last night, just throughout the season. The Yankees were second in baseball with 764 runs scored this year but were 16th with a 4.05 ERA and 13th with a 3.93 FIP. The rotation specifically was 18th with a 4.25 ERA and 14th with a 4.04 FIP. The starters also ranked 21st with 927 innings. That was a big, big problem. The bullpen seemed to wear down late in the season and that's because they had to get 10-12 outs per game in the first half. The Yankees have six starters either under contract (CC Sabathia, Masahiro Tanaka) or team control (Nathan Eovaldi, Michael Pineda, Luis Severino, Ivan Nova) next season, but do they really have six starters? Is that the makings of a title-winning rotation? I don't think so. Exactly two of those guys (Tanaka and Severino) were even league average this year. Offense was a problem late in the season. It couldn't be any more obvious. The pitching, specifically the rotation, was a bigger problem all year though.
3. With that in mind, I can't help but wonder if things would have turned out differently had Tanaka not hurt his hamstring a few weeks ago. He had a 2.79 ERA and held opponents to a .207/.234/.396 batting line in the nine starts and 61.1 innings immediately prior to the injury. Tanaka never seemed right after the injury. He wasn't locating as well and his pitches didn't have the same finish to them. Maybe if he never gets hurt, the Yankees clinch home field advantage earlier, the regular position players get more rest, and they head into the postseason much more refreshed. Who knows? Tanaka wasn't the reason they lost last night — he wasn't great but two runs in five innings is winnable — but his hamstring injury rally short-circuited that great stretch he'd been on. Blame the NL, I guess.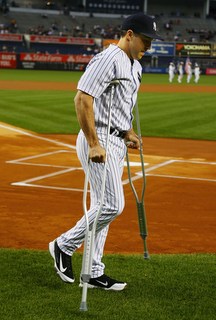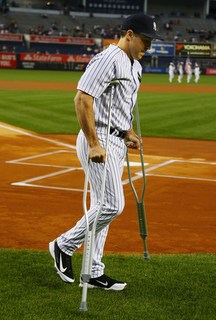 4. In hindsight, the turning point of the season was Mark Teixeira's injury. Greg Bird played very well in Teixeira's absence, about as well as anyone could have expected, but he's no Teixeira. The lineup was suddenly short its top power hitter and a big middle of the order switch-hitting presence. Teixeira adds balance, depth, and more thunder to the lineup. Then there's the defense on top of it. The offense never really seemed to get on track after Teixeira went down, especially against left-handers. I don't know if he would have made a difference against Dallas Keuchel last night, but boy, it's hard to believe the Yankees wouldn't have been better off with Teixeira in the lineup the last few weeks. He was sorely missed even with Bird playing so well as his replacement.
5. Whenever a team gets eliminated from the postseason, the natural reaction is "blow it up." Trade all the players we don't like, sign a bunch of free agents, call up some kids, the works. It's not just Yankees fans, everyone does it. That's not possible this offseason and it's not even realistic anyway. The Yankees have problems to solve and roster holes to fill like every other team. That said, this basically amounted to a rebuilding year for the Yankees. They sought youth last offseason in Didi Gregorius and Eovaldi, and when they needed help during the regular season, they called up kids from Triple-A. Bird, Severino, Slade Heathcott, the relievers, whoever. The only outside help they added was Dustin Ackley. (And I guess Rico Noel.) This was as close to a rebuilding season as you're going to see from the Yankees, and they still managed to make the postseason. That ain't too bad. The ending was disappointing, no doubt. There was also a lot of positive to be taken from this season thanks to the young players. It's been a while since the Yankees had a crop of youngsters like Didi and Severino and Bird. Players who look like they can legitimately be part of a winning core in the not too distant future.