This post is the first of something I hope becomes a series over the next few weeks/months, detailing things certain players could work on heading into the new season.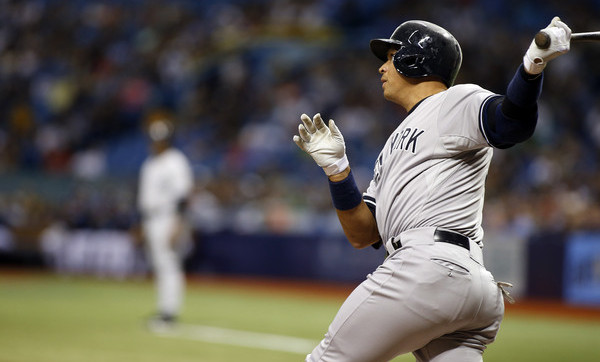 By almost any account, the 2015 season was great for Alex Rodriguez. Not only did he come back from suspension and injuries to lead the team in home runs, but the Summer of Al greatly defied even the wildest expectations the most optimistic of fans, analysts, and observers could've imagined for Rodriguez. And, it's probably fair to say that he won over a good deal of hearts and minds that he may not have previously won over. Despite those rousing successes, there is at least one area Rodriguez needs to work on as he prepares for 2016.
Using the good old eye-test, it was clear A-Rod had a bit of a hole in his swing during the 2016 season. His 23.4% strikeout rate was the highest he's ever had in a full season, "bested" only by partial seasons in 2013 (23.8%), 1995 (28.2%), and 1994 (33.9% in just 59 PA). Of course, Rodriguez was able to counter that with robust power and a great walk rate; his .235 ISO was his highest mark since 2010 (.236) and his walk rate of 13.5% was his best since 2009 (15%). You can deal with a high volume of strikeouts so long as you're getting at least one of those things–walks or power–back in exchange. This is why Jayson Nix infuriated me so much, but I digress.
The noticeable hole in A-Rod's swing appeared to come on certain pitch types in a certain location. Every time he had two strikes on him, it seemed that pitchers were going with soft and/or breaking stuff low and away, and Alex was chasing each time, leading to that relatively high strikeout rate. If he take a look here, we can see this supposition backed up by the numbers. Al had a high whiff/swing percentage on changeups, sliders, and curveballs, each clocking in at at least 42%. This gives us pitch type, but it doesn't quite give us the location. Let's take a look at A-Rod's zone profile by whiff/swing and see what we can find.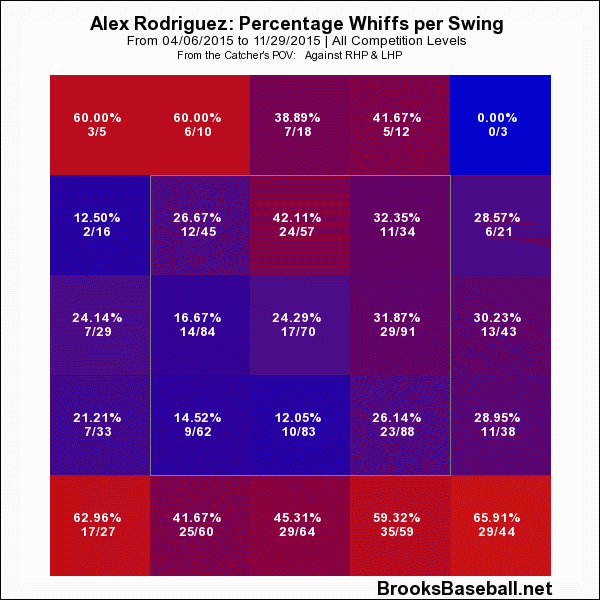 We see some pops of red (high whiff/swing%) in the top left of the chart–so up and in, out of the zone–but my eye is drawn to the lower right of the chart, those two boxes lowest and right-most where we see sky-high whiff/swing percentages of 59.32 and 65.91. Recall the pitch types Rodriguez struggled to make contact against: changeups, sliders, and curveballs. Those are pitches that fit into these high-volume whiff zones when we consider that Rodriguez is a right-handed batter. Whether it's a right-handed pitcher trying to get him to swing over sliders and curves low in the zone or a left-handed pitcher trying to go backdoor with all three of those pitch types, those locations are prime for attacking righties.
Alex has always had a good eye and still managed a good walk rate and good power, even while chasing the low and breaking stuff. If he can iron that out and get a handle on it–and, let's be honest, with his work ethic and dedication to the game, he's capable of doing that–he'll have a great shot at replicated 2015 during the 2016 season.