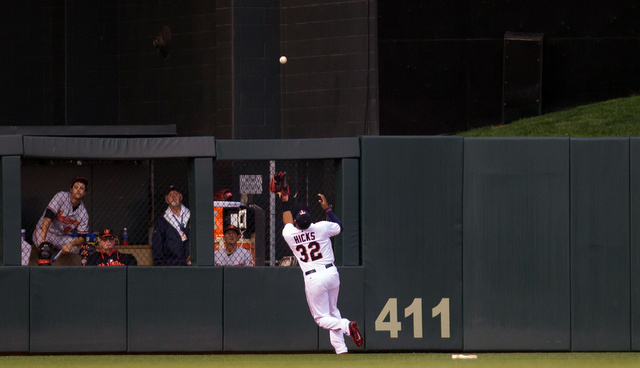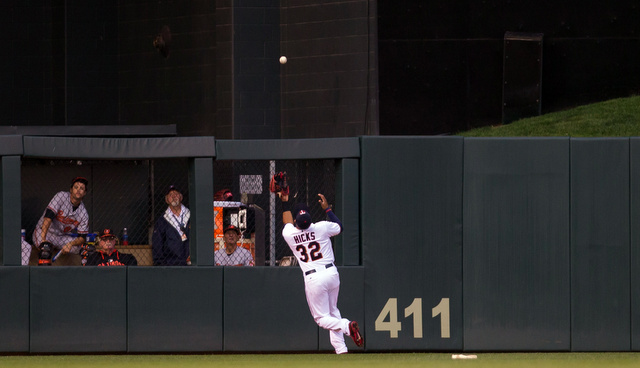 The Yankees made their first significant move of the offseason yesterday afternoon, trading John Ryan Murphy to the Twins for Aaron Hicks. It came the day before the one year anniversary of the Francisco Cervelli-Justin Wilson swap, which was the first significant move of last offseason. Anyway, I have some thoughts to share.
1. I think this was a really smart trade for the Yankees, and overall it was a good trade for both the Yankees and Twins. Know how I know that? Fans of both teams hate it. I've seen plenty of Yankees fans complain about giving up a potential starting catcher for a fourth outfielder — just click the RAB comments! — and plenty of Twins fans complain about trading a guy with star caliber tools for a backup catcher. You've got to give something to get something, you know? I'm a huge Murphy fan, irrationally so, but Brian McCann is signed for another three years. Murphy's value to the Yankees was limited to backup catcher who maybe takes over as the starter in four years, when he's one year away from free agency. Rather than sit on him in that low impact role, the Yankees used Murphy to get another young player who fit the roster better. It's a fair trade in terms of player value in my opinion and the deal really helps both teams. "I wasn't going to trade John Ryan Murphy for an old guy," said Brian Cashman to Billy Witz yesterday. Amen.
2. Following the trade, Cashman told reporters the Yankees view Hicks as "an everyday player" — for what it's worth, Cashman also called Murphy an "everyday catcher" — which could easily lead you to believe another move is in the works, potentially a Brett Gardner trade. "It provides us flexibility as we move forward to do some things but that's not why I did the trade," said Cashman to Erik Boland. I don't know if adding Hicks makes a Gardner trade more likely, but, if nothing else, the Yankees are now better equipped to replace Gardner. Hicks can at least provide high end defense and crush left-handed pitchers, so the Yankees could pair him with lefty hitting Slade Heathcott or Mason Williams or Ben Gamel in a dirt cheap platoon, and maybe squeeze something like +2 WAR out of them. There's always a chance Hicks, who will spend all of next season at 26, blossoms into something more too. Carlos Gomez is as tooled up as anyone and he didn't start to figure it out until age 26, and didn't really break out until age 27. Sometimes it takes time. Like Gomez, Hicks has the kind of natural ability clubs are willing to be patient with.
3. As for trading Gardner, I don't love the idea but I'm certainly not opposed to it. It depends on the return, like any other trade. A good young pitcher or a second baseman makes the most sense. Prospects? Eh, they don't really do anything for me. I would be opposed to trading Gardner if the main goal is to clear up payroll space, however. That wouldn't sit well with me. For starters, Gardner is not exactly expensive, averaging $13M a year for the next three years. That's Melky Cabrera and Michael Bourn money these days. Also, they're the Yankees. Trading one of your best players to rework payroll when the payroll hasn't significantly increased in ten years would be a really bad look. I mean, geez. The team's payroll was $208.3M in 2005 and $217.8M in 2015. The average MLB payroll climbed from $73.3M in 2005 to $125.4M in 2015. So yeah. It's one thing to not raise payroll commensurate with league-wide inflation. It's another to start trading good players to make sure payroll continues to remain steady when you're a huge market club with a six-year-old ballpark. I don't think the Yankees would salary dump Gardner, but if part of the thinking is clearing money to make other moves, that's a problem. The Yankees shouldn't be pinching pennies after getting a postseason gate.
4. Even if the Yankees keep Gardner, Hicks figures to see an awful lot of playing time next season. Chris Young appeared in 140 games (!) this past season and batted 356 times. Garrett Jones, Heathcott, and Williams combined for another 119 plate appearances as outfielders. Joe Girardi said he plans to find a way to keep his players fresher and more productive next season, which I'm sure means extra rest, so Hicks will play a ton. The job description is fourth outfielder, but it's not hard to imagine a scenario in which Hicks bats 400+ times next year. One injury and he's an everyday guy.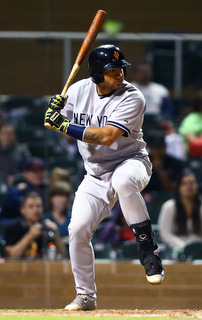 5. Does this trade happen if Gary Sanchez doesn't mash this summer and continue mashing in the Arizona Fall League? (Coincidentally, Sanchez hit his seventh AzFL homer yesterday literally moments after the Murphy-Hicks trade was announced.) At this time last year Sanchez was coming off a good but not great year in Double-A, and questions about his defense and maturity persisted. His glovework took a bit of a step forward this summer and his maturity improved tremendously according to various reports. Sanchez began to take his career more seriously. (His wife had a kid late last year. I can't help but wonder how much becoming a father led to the improved maturity.) If all of that doesn't happen, the Yankees might not view him as a viable big league option — "I think Gary Sanchez can play in the big leagues this year. Whether he will or not we'll have to wait and see," said Cashman to Boland yesterday — making them more hesitant to part with Murphy. Either way, Sanchez made some significant progress this year and is on the cusp of a big league job. The talent in the farm system is starting to catch up to the MLB roster, allowing the team to make moves like Murphy-for-Hicks.
6. The backup catcher situation will be pretty interesting to watch the rest of the offseason. Something tells me we're headed for another Spring Training competition, though this one may be more of a true competition than the ones we've seen the last few years. (Like last year, when it was Murphy's job to lose but others were involved for show.) The Yankees do love strong defensive catchers, and maybe Sanchez has reached an acceptable level for them, but I don't think they'd give him the job outright. Austin Romine could hang around longer than expected — he figured to be a 40-man roster casualty this offseason but now may stick around at least until Spring Training, in case there's an injury — and the Yankees could look to sign a veteran backstop to a minor league contract for depth. Someone like Carlos Corporan or Jeff Mathis could be a fit. (Don't laugh. Mathis is a great defender and has a reputation for being a top notch works with pitchers/leadership dude. There are worse veterans to have working with young pitchers in Triple-A.) Sanchez stepping into Murphy's role as the backup catcher who starts almost exclusively against left-handed pitchers would be pretty damn awesome. I'm not sure that is the team's plan right now. There's still basically an entire offseason remaining and a lot can happen. It wouldn't shock me if Sanchez started next season in Triple-A and Romine or someone else was backing up McCann.
7. As part of their youth movement over the last calendar year, the Yankees have targeted players with high-end ability who seemed to fall out of favor with their former teams. Hicks, Didi Gregorius, Nathan Eovaldi, and Dustin Ackley all fit into that group. The Twins got tired of waiting for Hicks' tools to turn into production and they had Byron Buxton ready to step into center field, so he was made available to fill a need behind the plate. The Yankees gave up some pretty talented players to get those guys, but almost all of those trades were made using players at a position of depth. The only exception is Shane Greene, and, well, you've got to give up something that'll hurt to get a 25-year-old shortstop these days. They had the catching depth to deal Murphy, had the outfield and bullpen depth to deal Ramon Flores and Jose Ramirez, and re-signing Chase Headley made Martin Prado expendable. This the Yankees version of rebuilding. It's done on the fly. They look for guys with talent and ability who need a change of scenery, and so far it's worth pretty well. Gregorius and Eovaldi were positives this summer and the early returns on Ackley were good. Hicks is next in line. Who else joins him this offseason?