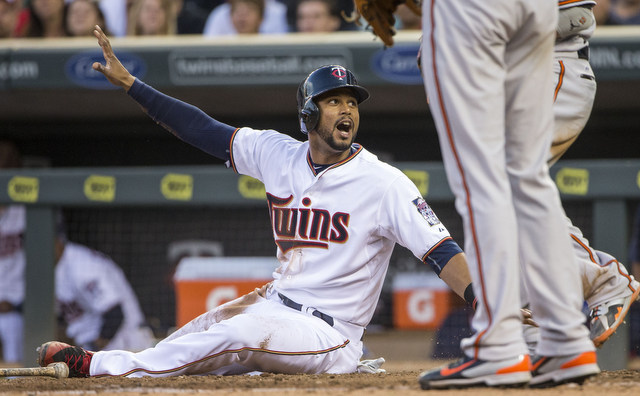 Let the roster makeover begin. The Yankees have traded catcher John Ryan Murphy to the Twins for outfielder Aaron Hicks, both teams announced. It's a straight one-for-one trade. Brian Cashman told reporters at the GM Meetings he first proposed the swap to Minnesota a few weeks ago.
In a nutshell, both teams traded from a position of depth to fill a need. The Twins had a ton of outfielders but no viable catcher, and Murphy figures to get an opportunity to start in Minnesota. That wasn't happening in New York because of Brian McCann. Hicks replaces Chris Young as a lefty mashing fourth outfielder at the very least, but he has the potential to grow into much more.
Hicks, 26, is a former top prospect — peaked at No. 19 on Baseball America's top 100 list in 2010 — who has struggled to find his way at the MLB level. He is a career .225/.306/.349 (82 wRC+) hitter in 928 big league plate appearances, but he did start to figure it out in 2015, hitting .256/.323/.398 (97 wRC+) overall and .307/.375/.495 (139 wRC+) against lefties. Interestingly, Hicks is a switch-hitter who two years ago stopped hitting left-handed due to a lack of confidence. He then went back to switch-hitting this year.
In the field, Hicks is a borderline elite defender — he's almost certainly the best defensive outfielder in the organization now — capable of playing all three outfield spots. He also has a rocket arm. Hicks did this at Yankee Stadium two years ago:
Statcast says
Hicks was one of five outfielders to make at least three 100 mph throws this past season, and he didn't even play everyday. What a novel idea, an outfielder who can throw. Hicks is also a stolen base threat. The tools are high-end but the production has yet to match. It's easy to understand why the Yankees grabbed him. Hicks has a lot of ability and major upside.
Murphy, 24, is a career .267/.311/.374 (88 wRC+) hitter in 284 MLB plate appearances over the last three years. He put up a .277/.327/.406 (99 wRC+) line as McCann's backup this past season, including .266/.314/.456 (108 wRC+) against lefties. Murphy's a good defender and a pretty likable dude, though it was difficult to see how he could be anything more than a backup for the Yankees with McCann signed through 2018.
Hicks is under team control through 2019 and will be arbitration-eligible for the first time next offseason. Murphy is under control through 2020 and it looks like he'll be right on the Super Two bubble, so he might be arbitration-eligible for the first of four times next year. The Yankees are getting four years of team control while the Twinkies are getting five.
The move could mean Gary Sanchez steps in as the backup catcher, but I don't think that's a given. It could mean Austin Romine sticks around a little longer, or the Yankees go outside the organization for a veteran backup. Sanchez mashed this season — he's still mashing in the Arizona Fall League — but his defense is rough around the edges. Some more time in Triple-A wouldn't be a bad thing.
Anyway, the Yankees continue to target young players with tools and upside. Over the last year they've brought in Didi Gregorius, Nathan Eovaldi, and Dustin Ackley, three young guys who seemed to fall out of favor with their former teams, and Hicks was in a similar situation with the Twins. I'm the world's biggest Murphy fan and I'll miss him, but I get it. The Yankees are adding upside while dealing from a position of depth.