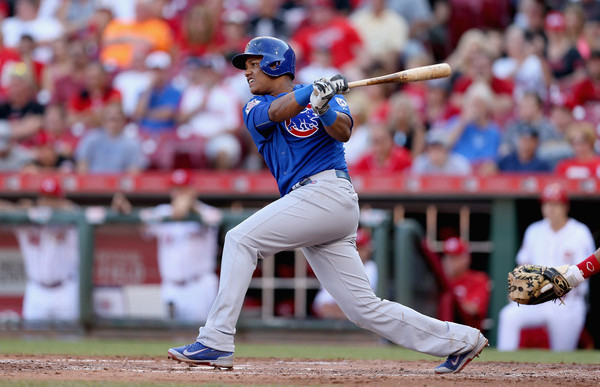 By now it's no secret the Yankees are one of the most pull happy teams in baseball, which is why they see so many infield shifts. Their 44.4% pull rate this past season was the highest in baseball by more than a full percentage point (Blue Jays were second at 43.3%). Over the last three years the Yankees have a 41.6% pull rate, fifth highest in baseball. (Interestingly, three of the four teams ahead of them are AL East clubs. The Red Sox are the AL East club not in the top five.)
Part of this is absolutely by design. The short right field porch at Yankee Stadium rewards left-handed batters who pull the ball, so the Yankees have targeted those kinds of hitters in both big (Brian McCann) and small (Kelly Johnson, etc.) moves. There's now a stigma associated with pulling the ball due to the increased use of shifts, which is unfair. Pulling the ball is the best way to hit for power — the MLB average was a .267 ISO when pulling the ball in 2015. It was .142 when going the other way.
That said, there's an obvious benefit to having a diverse offense. It can be pretty easy to defend a team of pull hitters, especially when the few hitters capable of spraying the ball all around aren't at their best. We saw this in the second half this summer. Brett Gardner and Jacoby Ellsbury are the team's two best all-fields hitters and when they stopped hitting, the offense was one batted ball to the right side of the field after another. That's a problem.
"I love home runs as much as the next guy – and, in fact, probably more – but there needs to be a little added dimension to us offensively, and we have those guys in place to do that," said hitting coach Alan Cockrell to Chad Jennings earlier this offseason. "I'm not going to say playing the game like the Kansas City Royals did, but the little things that add a dimension to a club that pitchers just don't want to face you."
There is still half an offseason to go, but right now it appears the Yankees will bring back largely the same offense next year. Teaching guys like McCann and Mark Teixeira to not pull the ball just isn't going to happen at this point of their careers. Both tried to go the other way more often in recent years — McCann in 2014, Teixeira in 2012 — and it had a negative impact on their production. They are who they are. Let them be.
The Yankees did, however, add two new offensive pieces this offseason, and both stand to help the Yankees diversify their offense. Starlin Castro is the most notable offensive pickup and he's historically used all fields in his career. In fact, a week ago we looked at an adjustment he made to his stance that better allowed him to use the entire field after he fell into a rut trying to pull everything. Castro's right-handedness and ability to go the other way are welcome additions to the lineup.
The Yankees also added Aaron Hicks earlier this winter. Hicks only projects to be platoon player at this point, but the guy he replaced, Chris Young, is one of the most extreme pull hitters on record. (Batted ball data goes back to 2002.) Hicks is a switch-hitter and his batted ball profile is pretty interesting. It matches up well with what the Yankees would like to see from their hitters.

As a left-handed batter (vs. R), Hicks pulls the ball a little more often, so he is in position to take advantage of the short porch. But, as a right-handed batter (vs. L), Hicks is an all-fields guy who actually goes the other way more than he pulls the ball. Hicks figures to platoon in the lefty heavy outfield and will see most of his action against southpaws, so his all-fields approach as a right-handed batter will give the offense a much different look than it had with Young.
Brian Cashman said the Yankees will look to diversify their offense following the season — "The method to signing Jake and Gardy were to be table-setters, to be those guys who can get on base and wreak havoc … It was supposed to start changing the evolution of the picture of this team being only home run oriented," he said to Jennings — and the additions of Castro and Hicks are a step in that direction. Their batted ball profiles aren't a coincidence. They were targeted for a reason. (Many reasons, really.)
The Yankees are always going to be a home run hitting team. That's their identity. They're the Bronx Bombers because their ballparks have always been conducive to dingers, particularly to right field. The current incarnation of Yankee Stadium is the most extreme example. It would be foolish to shy away from that homer hitting identity given their ballpark. Homers are very good. The Yankees should continue hitting lots of them. Hitting the ball out of the park is what the Yankees do.
At the same time, the Yankees have run the risk of being too one-dimensional in recent years. There's always been a kernel of truth behind the #toomanyhomers movement that never did get expressed properly. There is no such thing as hitting too many homers, but there is such a thing as not scoring enough runs in other ways. With simple base hits becoming harder to come by these days thanks to the shift, the need to diversify the offense and add players who can hit to all fields became too great for the Yankees to ignore.
"We need to talk about the culture of what we are offensively and how we have players in place to have an even better offense," added Cockrell. "Those types of things will be things we'll talk about this winter and things we'll address in Spring Training."