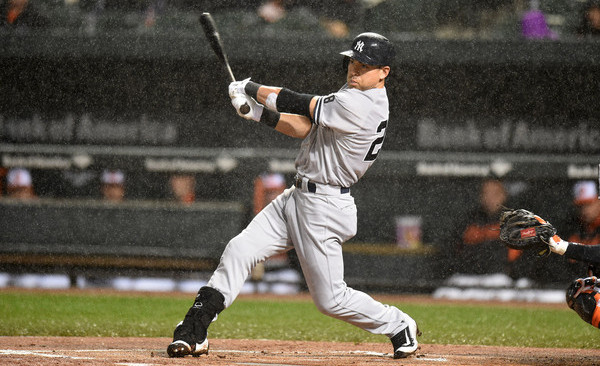 For Jacoby Ellsbury, 2015 couldn't have started any better and couldn't have finished any worse. Borrowing from Mike's post, Ellsbury hit to a .324 average and a .412 OBP with 14 steals in the first 40 games of the season. There isn't much more you could ask of your leadoff hitter. But if the beginning of the season was the best of times for Ellsbury, the end of the season was certainly the worst of times for him. In a move that would've been unimaginable in April, Ellsbury did not start the Wild Card playoff game against the Astros and their brilliant lefty starter Dallas Keuchel. By that time, of course, it was apparent that Taco was struggling mightily against lefties and that putting Chris Young and Brett Gardner in the outfield with Carlos Beltran gave the Yankees their best shot to win that game. Injuries obviously played a big part in this along the way, but to return to his normal form in 2016, Jacoby needs to rebound against left handed pitching.
Coming into 2015, Ellsbury more than held his own against lefties. For his career up through 2014, he hit to a .330 wOBA against them with a 6.8% walk rate and a .116 ISO. In 2014 itself, he hit lefties very well, going for a .360 wOBA, an 81% walk rate, and a .172 ISO. In 2015, though, things cratered. Southpaws limited him to a .295 wOBA with a 6.9% walk rate, and a measly .071 ISO. Did same-handed pitchers attack Ellsbury differently to lead to a dramatic drop in production against them? No, not really, actually. In both 2014 and 2015, lefties threw mostly fastballs, sinkers, and sliders to him. The differences in performances against those pitches tell us part of the story of Ellsbury's apparent demise against left handed pitchers.
In 2015, Ellsbury put 49 fastballs against lefties into play. When he did, his numbers looked pretty good. He hit .286 against lefty fastballs with a .429 SLG, good for a respectable .143 ISO. The same, generally, goes for sinkers, though without the power; despite not getting any extra-base hits on the 31 sinkers he put into play against lefties, Ellsbury still managed to hit .323 against that pitch. Sliders from lefties, however, did him in. He hit just .211 against lefty sliders and put up an ISO of only .089. That performance is definitely a carryover from 2014, when he also hit .222 against sliders, but managed to ISO just .074 then.
To a certain extent, his performances against fastballs and sinkers were holdovers from 2014 as well, but that extent is rather limited. Ellsbury absolutely mauled fastballs and sinkers from lefties in 2014. He hit .359 against number one while slugging .547. He hit for a lower average against sinkers–"just" .341–but crushed them to a .636 SLG, good for a .296 ISO.
Like many things in baseball, his performance against lefties may've been a matter of degrees. He still hit certain pitches fairly well in 2015, just not well enough. And like everything in baseball, there is not one explanation for why these things happened. Perhaps it just wasn't his year against lefties. Perhaps he faced better lefties. Perhaps he just didn't get the bounces. Most likely, though, it has to do with the fact that he just wasn't healthy in 2015. Injuries tend to bring out the worst in players and that was no different for Ellsbury in 2015. Hopefully he goes into 2016 feeling better, allowing him to rebound and make those good numbers from April stretch out all season.