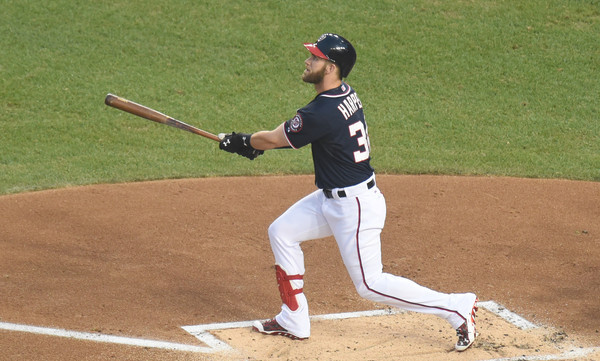 Without question, the current free agent class is the best in quite some time. Teams are locking up their best young players to long-term extensions, so they're rarely hitting free agency in their primes, yet this winter several star-caliber players were available. Heck, there are still plenty of great outfielders and solid starters on the market.
There's no doubt this was a great free agent class. Now fast forward three years, and the mother of all free agent classes is approaching. People are already writing about the 2018-19 free agent class because, well, look at the list of players scheduled to hit the market (via Anthony Castrovince):
Infielders
Manny Machado
Josh Donaldson
Dee Gordon
Jose Iglesias

Outfielders
Jason Heyward *
Bryce Harper
Andrew McCutchen
A.J. Pollock
Michael Brantley
Adam Jones

Starting pitchers
David Price *
Clayton Kershaw *
Jose Fernandez
Matt Harvey
Dallas Keuchel
Shelby Miller
Garrett Richards
Jose Quintana

Closers
Craig Kimbrel
Trevor Rosenthal
Andrew Miller
* Can opt out of current contract after 2018 season
Harper is clearly the top prize because he's no worse than the second best player in baseball right now and will hit free agency at age 26. Beyond him there is another top five caliber player (Machado), a few MVPs (Donaldson, McCutchen, Kershaw), and a couple Cy Youngs (Kershaw, Price, Keuchel). That's an incredible group of talent.
That free agent class is also three seasons away. Price will be 33 and Kershaw will be 30 during the 2018-19 offseason, and both will have a million innings on their arms. Harvey and Richards will be a few months shy of 30 too. Donaldson and Jones will be 33, McCutchen will be 32, and Pollock and Brantley will be 31. Don't even get me started with the relievers. You can barely project relievers from one year to the next. Looking three years ahead is a waste of time.
These players are all super talented and I'd love to have them on my team right now. In three years? That's a different story. Three years ago guys like Justin Verlander, Cliff Lee, CC Sabathia, Ryan Braun, Michael Bourn, and Austin Jackson were among the best players in baseball. Does anyone want them on their team right now? Not really. (Look at the list of top 2012 relievers. Good gravy.)
Also, we've gone through this before, the whole "wow look at the free agent class that's X years away" thing. A few years back Verlander, Kershaw, and Felix Hernandez were all supposed to hit free agency at the same time. remember that? We were all talking about the Yankees spending $400M to sign both Kershaw and Felix. It was going to be awesome. Then all three guys signed extensions. Future free agent classes tend to only get worse because the number of guys who take themselves off the market by signing extensions far outnumber the guys who break out and improve their stock.
That 2018-19 free agent class looks awesome and I'm sure we'll talk about it lots in the coming years. I also have a hard time getting worked up about a free agent class that's three years away. So much can and will change! Yes, the Yankees and every other team have to plan ahead, but gosh, you can't plan that far ahead with any certainty. No team can justify passing on a player today because he may interfere with their 2018-19 (!) offseason plan.
Remember how risky it was when the Yankees declined to trade for Johan Santana because they wanted to sign Sabathia the following offseason? That was insanely risky. It could have blown up in their face completely. Luckily it didn't. Now imagine trying to do that with a player not set to become a free agent for two years, or even three. Can't do it. Too many teams are content to push the present aside for the sake of the future, but no one would go that far into the future.
"You can't predict free agency multiple years out," said Brian Cashman to Chad Jennings earlier this month. "I can't project availability. Obviously if you turn the clock back and look at projecting Price's availability, (it was impossible to know), would he be healthy? He's been with three teams since. It's such a guessing game when you go through that process that far out to forecast."
For now, that stellar looking 2018-19 free agent class is nothing more than eye candy. It doesn't factor into the Yankees' plans at all. They're trying to get under the luxury tax threshold because it'll save them a boatload of cash, not because they have their eye on Harper and Machado in three years. There are two and a half offseasons between now and then, and if all goes according to plan, the Yankees will have a young core in place and be ready to spend on high-end complementary pieces come 2018, assuming some are actually available.