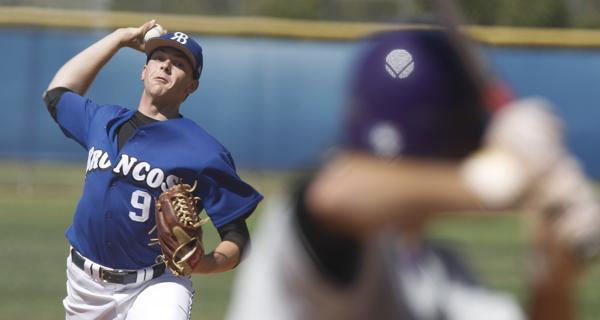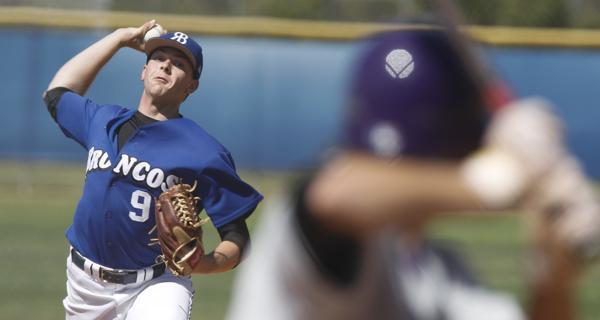 Drew Finley | RHP
Background
Finley is from San Diego and his father David is a lifelong baseball man. He was a two-time All-American in college and played two years of pro ball before getting into scouting. He's worked for the Padres, Marlins, and Red Sox — he was a special assistant to the GM and director of player personnel in Boston — before joining the Dodgers, his current team.
The junior Finley attended baseball powerhouse Rancho Bernando High School, which has produced Hank Blalock, Cole Hamels, and Alex Jackson (6th overall pick in 2014), among others. Finley had a 0.81 ERA with 131 strikeouts in 86 innings last spring, and he also threw a school record 20-strikeout game in April. Keith Law and Baseball America (both subs. req'd) ranked Finley as the 26th and 60th best prospect in the 2015 draft class, respectively.
The Yankees selected Finley with their third round pick, the 92nd overall selection. He signed relatively quickly for a $950,000 bonus that was well above the $626,000 slot recommendation. The extra draft pool space came from second rounder Jeff Degano, who signed a below slot deal.
Pro Debut
After signing, Finley was assigned to the team's new rookie ball affiliate, the Pulaski Yankees. He had a 3.94 ERA (6.58 FIP) in 12 starts and 32 innings — he was limited to three innings per start — with a good strikeout rate (27.2%) but shockingly high walk (12.6%) and homer (2.53 HR/9) rates. Finley allowed six homers in his first 15.1 innings and only two in his final 16.2 innings, which I guess is the good news. The Yankees didn't bother to send Finley to Instructional League in the fall after he threw 118 total innings between high school and pro ball in 2015. They sent him home to rest.
Scouting Report
Finley, 19, has good size at 6-foot-3 and 200 lbs., and, as you'd expect from someone who grew up around the game, he's very advanced for his age. His fastball regularly sits in the 88-92 mph range and he spots it to both sides of the plate. The expectation is Finley will add velocity as he matures and gets under a pro throwing program.
Finley's bread and butter is a sharp 12-to-6 curveball he can throw for a strike or bury in the dirt for swings and misses. Here's some video, first from behind the plate and then from a traditional television broadcast outfield camera:
Interestingly,
Keith Law
(subs. req'd) mentioned Trackman (i.e. PitchFX) data at the 2014 Area Code Games measured Finley's fastball extension and curveball spin rate among the best in the draft class.
Jonathan Mayo
has some data showing Finley's fastball spin rate was among the highest measured as well.
Spin rate correlates very well to swing-and-miss rate
.
Finley also throws a solid changeup with fade away from left-handed hitters. He can throw all three of his pitches for strikes and has very good feel for his craft. His delivery is relatively effortless as well, pointing towards future above-average command. Finley is not an ace in the making. He's an advanced high schooler with three pitches who looks like a very safe bet to pitch in the middle of a rotation for a long time. (Safe bet being a relative term, of course.)
2016 Outlook
Over the last few years the Yankees have had their most advanced high school draftees begin their first full pro ball season in Extended Spring Training before bumping them up to Low-A Charleston in May. That's what they did with Ian Clarkin two years ago, and you can even go as far back as Slade Heathcott and John Ryan Murphy in 2010. They started the year in ExST before being moved up to the RiverDogs in May. I think that might be the plan for Finley in 2016. He's really advanced for his age and he threw plenty of innings last year, so his workload situation is in good shape. Low-A ball will be a nice test for him this year.
My Take
I'm a really big Finley guy. I thought he was a borderline first round talent heading into the draft and I was thrilled when the Yankees were able to get him in the third round. The walks and homers with Pulaski were a bit disconcerting, but Finley was at the end of a long season and in his first taste of pro ball, so I'll cut him some slack. I don't think the Yankees will or should move Finley has aggressively as they did Luis Severino, but he is advanced and he should be a pretty quick mover by high school pitcher standards. I'm excited to watch Finley develop and believe he could be one of the better pitching prospects in the game in a year or two.