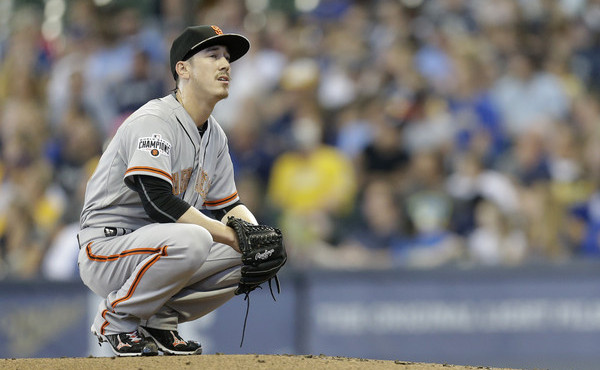 This is the time of the offseason when teams begin to bargain hunt and look for that low cost free agent to fill out the roster. The Yankees have added players like Brian Roberts, Raul Ibanez, and Eric Chavez later in the offseason for this reason the last few years. Sometimes it works out, sometimes it doesn't. That's the nature of the beast.
The Yankees tend to target former stars with this moves, and one former star who remains available as a free agent is two-time Cy Young award winner Tim Lincecum. He's no longer the pitcher he once was, but he's still relative young (31) and his track record is as good as it gets, and that will surely land him a job at some point reasonably soon. Should the Yankees be interested? Let's dive in.
The Performance
Lincecum's career is hard to believe. He's played eight full seasons in the big leagues now, and the first four were outstanding. It's among the best four-year stretches in modern history. The last four seasons have been a total disaster though. Everything went south as soon as Lincecum turned 28. Look at this:
| | IP | ERA | FIP | K% | BB% | GB% | HR/9 | bWAR | fWAR |
| --- | --- | --- | --- | --- | --- | --- | --- | --- | --- |
| 2008-11 | 881.2 | 2.81 | 2.81 | 26.9% | 8.7% | 47.1% | 0.55 | 23.3 | 23.1 |
| 2012-15 | 615.2 | 4.68 | 4.08 | 21.6% | 10.0% | 45.9% | 1.02 | -2.7 | 3.1 |
How? How in the world does that happen? Lincecum went from a 2.74 ERA (3.21 FIP) in 2011 to a 5.18 ERA (4.18 FIP) in 2012. He owned a career 2.98 ERA (137 ERA+) following that 2011 season. That has since climbed to a 3.61 ERA (107 ERA+). Man. That's nuts.
Anyway, last season was Lincecum's least bad season of his four recent bad seasons. He had a 4.13 ERA (4.29 FIP) in 76.1 innings, his lowest ERA since 2011, though his strikeout (18.5%), walk (11.4%), and grounder (44.3%) rates were career worsts. You can't help but look at this and cringe (his K% has also declined every year since 2008):
There is no silver lining here. Lincecum was very bad last season, he's been very bad for four seasons now, and there is nothing to indicate a return to form is coming. The Lincecum of 2008-11, the guy who was one of the most dominant and exciting pitchers in the world, is long gone. He doesn't exist anymore. CC Sabathia has been great more recently than Lincecum. Sad but true. Check the stats if you don't believe me.
The Stuff
People have been talking about the decline of Lincecum's stuff for four years now, so it's no secret. Velocity isn't everything, we all know that by now, but it's not nothing either. A 94-95 mph fastball is much different than an 87-88 mph fastball. It changes everything. Lincecum had the 94-95 mph heater back in the day. Now he has a fastball you could catch with your teeth.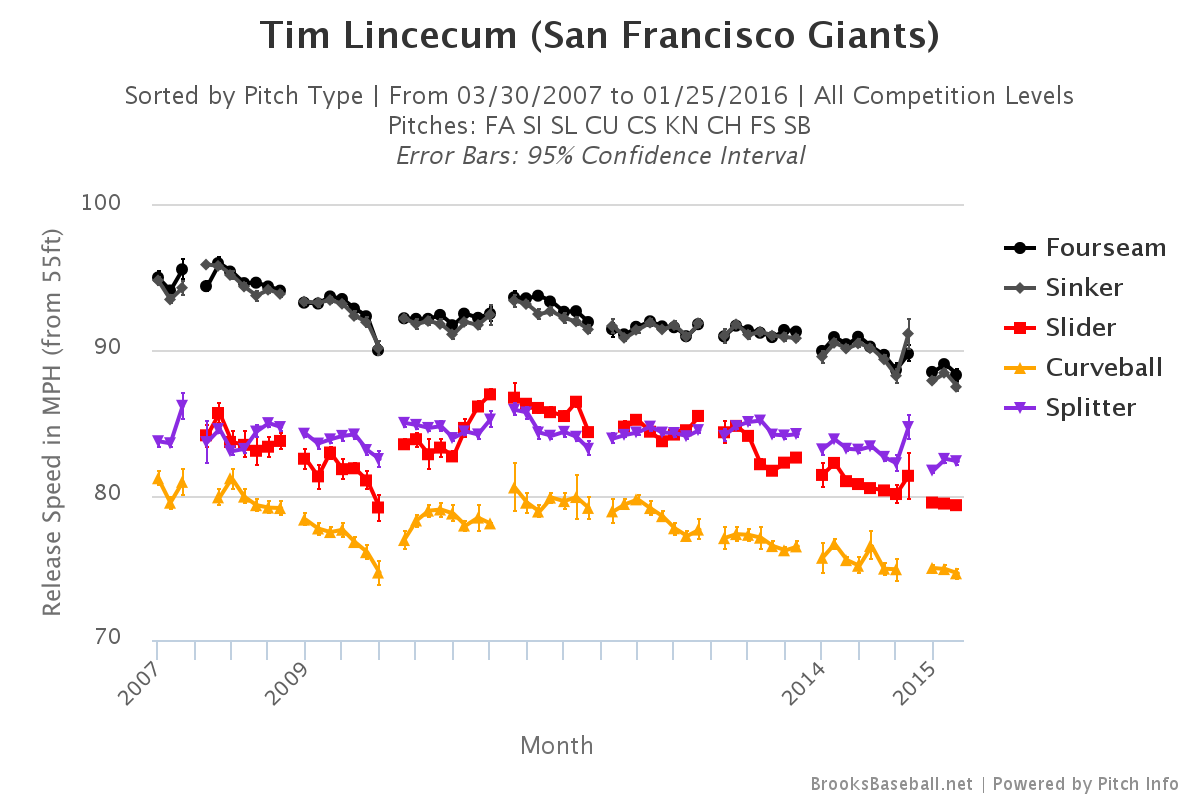 Woof. That's scary. Lincecum is not a big guy (he's listed at 5-foot-7 and 170 lbs.) and he still has that max effort tornado delivery, which may have taken a physical toll over the years. Deliveries like that usually aren't built to last. Look at Dontrelle Willis and Hideo Nomo. They had wild, twisty deliveries too, and they were both done as above-average pitchers by their late-20s as well.
Lincecum and the Giants were not oblivious to his declining stuff the last few years. They did alter his pitch selection, specifically by getting him to stay away from his four-seamer and emphasize his sinker and split-finger fastball. During that great 2011 season he threw 38.1% four-seamers, 14.9% sinkers, and 15.7% splitters. Last year it was 23.3% four-seamers, 25.2% sinkers, and 24.1% splitters. Yes, Lincecum threw more splitters than four-seamers in 2015.
The change in pitch selection hasn't help a whole lot, though who knows, maybe Lincecum would have performed even worse without leaning on the sinker and split-finger. Here's some video from last season so you can get an idea of what Lincecum is working with these days:
The electricity is gone. That sucks. I hate watching great players lose their greatness. The last four seasons have given us plenty of evidence — both statistical and the eye test — that Lincecum is little more than a replacement level starter at this point of his career. He crashed hard a few years back and I'm not sure why you'd expect any sort of significant rebound at this point.
Injury History
Despite his decline in stuff and performance, Lincecum has never had any kind of significant arm injury. The only arm problems he's ever had were contusions (forearm in 2015, shoulder in 2010) due to batted balls, and a blister in 2013. The blister sidelined him for ten days in Spring Training. Put any 31-year-old pitcher in an MRI tube and you'll find something scary, but Lincecum's arm is structurally sound.
His hip, however, is not. Lincecum had surgery in September to repair a torn labrum and impingement in his left hip. It's the same procedure Alex Rodriguez had back in 2013. Heck, the same doctor (Dr. Philippon in Colorado) operated on both A-Rod and Lincecum. Lincecum's rehab is reportedly going well, and he'll throw for teams in early-February to show he's healthy, according to Jon Heyman.
"He's throwing every day and says he's doing great. He's got no instability in his hip, and he's enthusiastic about his progress," said agent Rick Thurman to John Shea. Physical therapist Brad Schoenthaler added Lincecum is "doing great. He looks really strong. His hip pain and compensation patterns have cleared up. Everything's coming back a lot quicker than we expected."
Surgery to repair torn labrums and impingements in the hip is fairly new — they've gotten better at detecting these injuries, hence the uptick in recent years — and not many pitchers have had it. Jason Isringhausen was one of the first to have his hip repaired this way back in the day and he came back fine, with no loss of stuff or effectiveness. Brett Myers had it towards the very end of his career. That's pretty much it. We don't have much data on the long-term impact of the procedure on moundsmen.
Contract Projections
FanGraphs was the only site to give a contract estimate for Lincecum this offseason, and their crowdsourcing results spit out a one-year contract worth $6M. That's the going rate for veteran reclamation project starters these days. Think Henderson Alvarez ($4.25M), Rich Hill ($6M), Kyle Kendrick ($5.5M), Aaron Harang ($5M), and Chris Capuano ($5M). They've all signed for similar amounts the last two offseasons. Lincecum is in that group now.
Keep in mind Lincecum has already made a ton of money in his career. The Giants paid him $89M over the last five seasons alone. He is presumably in a situation where he doesn't need to chase every last dollar and can instead look for the best opportunity to get his career back on track. Lincecum is still only 31. I doubt his goal is to simply hang on. He wants to put himself in position to have a strong second phase of his career.
Wrapping Up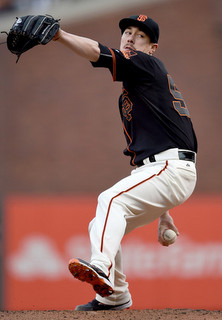 I have no interest in Lincecum as a starter. There's no reason to think he will provide value in that role in 2016, even with a healthy hip. He's been too bad for too long now. I do think Lincecum is interesting as a reliever, however. He hasn't relieved much in his career but limiting him to one time through the lineup and letting him focus on his two best pitches could do the trick.
Lincecum has shown throughout his career that he's a bit of an adrenaline junkie, so he might feel right at home in the bullpen. He's pitched in high pressure games, he's pitched in the World Series, he's pitched for a team with championship expectations. He's excelled in those situations. I don't think there is any question about Lincecum's toughness and competitiveness.
The question is about his stuff and whether he can get big league hitters out consistently. I'm guessing plenty of teams would take a flier on Lincecum as a reliever, which makes me think there's close to no chance he comes to New York. Why would he come to tiny Yankee Stadium to try to rebuild value when he could go to a more favorable ballpark, especially if the Giants would take him back? He's a rock star in San Francisco.
The Yankees have three open bullpen spots right now and more than enough internal candidates. Lincecum would be, at best, their fourth option out of the bullpen. I like the idea of using him in the Adam Warren role, as a guy who can go two innings at a time, if necessary. Whether Lincecum is open to that is another matter. I don't like him much as a starter these days, but as a reliever he could be an interesting gamble. Unfortunately, the Yankees don't seem like a good fit for Lincecum personally. Not at this point of his career.