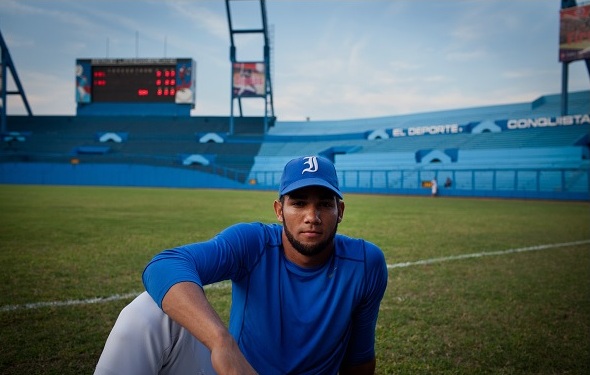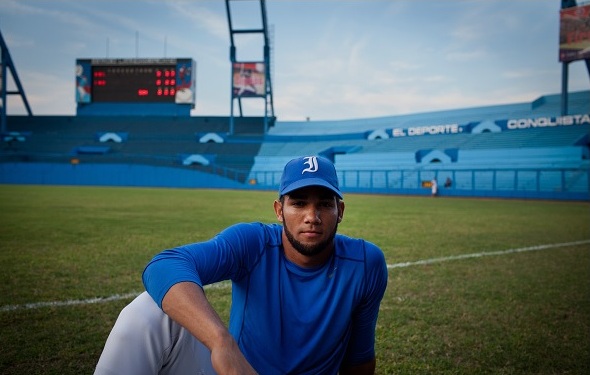 Brothers Yulieski Gurriel and Lourdes Gurriel Jr. have defected from Cuba and are looking to sign with MLB teams, reports Jesse Sanchez. They've gone by Gourriel in the past but dropped the "o" a few years back. Along with Japanese right-hander Shohei Otani, the Gurriel brothers are arguably two of the three best players in the world not under contract with an MLB team.
The Gurriels defected Sunday while in the Dominican Republic for the Caribbean Series. Both have expressed interest in coming to MLB over the years but did not want to betray the Cuban government. So either the Gurriels changed their minds and left, or the government let them leave a la Yoan Moncada. Either way, both have to go through the process of establishing residency in another country, being cleared by the Office of Foreign Assets Control, and then being declared a free agent by MLB before they can sign. The whole process could take months.
Lourdes, 22, is the more significant player of the two because of his age, and the timing of the unblocking process and declaration of free agency could be crucial for him. He is subject to MLB's spending restrictions, so if he is cleared soon, he can be signed as part of the 2015-16 international period. That means big spenders like the Dodgers, Giants, Blue Jays, and Cubs can still bid since they are already over their bonus pools for the current signing period.
But, if Gurriel is not cleared until after July 1st, those clubs as well as the Yankees, Angels, and Red Sox would be out on him because they're limited to bonuses of no more than $300,000 as a result of the penalties for exceeding their signing pools in recent years. Lourdes could wait until his birthday in October to sign and probably will, now that I think about it. Once he turns 23 he will no longer be subject to the spending pools. Any team could pay him whatever they want at that point.
Lourdes is considered capable of playing shortstop, though he has played mostly first and second base in Cuba in deference to veteran players. He was hitting .321/.387/.537 with eight homers in 43 games during the Cuban season prior to defecting. Here are his career stats via Baseball Reference:
Year
Age
AgeDif
Tm
G
PA
H
2B
3B
HR
RBI
SB
CS
BB
SO
BA
OBP
SLG
OPS
2010
16
-9.8
Sancti Spiritus
16
16
3
0
0
1
1
0
1
1
4
.200
.250
.400
.650
2011
17
-9.2
Sancti Spiritus
55
151
30
6
0
3
16
2
2
13
23
.227
.304
.341
.645
2012
18
-8.4
Sancti Spiritus
67
244
55
12
3
4
32
1
0
18
35
.253
.318
.392
.710
2013
19
-8.5
Industriales
45
184
31
6
1
1
17
5
5
36
23
.218
.379
.296
.675
2014
20
-6.9
Industriales
63
258
68
11
0
8
42
7
4
28
28
.308
.388
.466
.854
2015
21
Industriales
43
183
52
11
0
8
32
5
1
16
21
.321
.387
.537
.924
All Levels (6 Seasons)
289
1036
239
46
4
25
140
20
13
112
134
.269
.355
.414
.769
Back in April, Ben Badler (subs. req'd) ranked Lourdes as the fourth best player in Cuba, saying his "game is comparable to a young Ryan Zimmerman." Here's a snippet of Badler's scouting report:
Gourriel has plenty of bat speed to catch up to good fastballs and the plate coverage to make frequent contact. He can have trouble at times against slow breaking balls, but he has good strike-zone discipline and a patient approach, giving him a chance to be a plus hitter with a high OBP. Gourriel flashes above-average raw power with the swing path to generate backspin and leverage the ball for loft in games, making him a 20-homer threat.
Yulieski, 31, is a second and third baseman and has been the best player in Cuba for several years now. He was hitting .535/.604/1.012 with ten homers, 15 walks, and one strikeout in 23 games for Industriales before defecting. He spent the 2014 season with the Yokohama Bay Stars in Japan — the Cuban government allows players to play overseas in Asia — and hit .305/.349/.536 with eleven homers in 63 games. Here's some video:
You can see Yulieski's career stats at
Baseball Reference
. Badler ranked him as the top player in Cuba last April, saying he "would have similar value to Hanley Ramirez and David Wright in terms of age and offensive performance if he were to leave Cuba to pursue a major league contract." Being comped to Hanley and Wright sounded better last April than it does right now. Here's a little more from Badler:
He has plus bat speed and squares up all types of pitches with good hand-eye coordination and barrel control. He wraps his barrel behind his head, angling the bat toward the pitcher, but he gets the barrel into the hitting zone quickly and has good plate coverage. He stays within the strike zone and uses the whole field, and with plus raw power on the 20-80 scale, he offers a balance of being able to hit for average, get on base and hit for power.
Last year Yulieski said he wants to play for the Yankees because his favorite player is Alex Rodriguez, which is neat. The elder Gurriel will be a true free agent free to sign with any team for any amount once he's given the thumbs up. Hector Olivera, who signed with the Dodgers at age 30 last year, received a six-year contract worth $62.5M. Yulieski figures to receive more because he's a better player and doesn't have Olivera's injury history.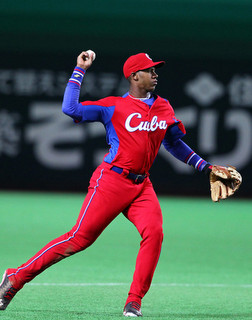 Lourdes is the big one though. If he decides to sign before his 23rd birthday, he's looking at Moncada's bonus ($31.5M) plus more due to inflation and the fact he's closer to MLB ready. If he waits until his 23rd birthday, Lourdes could receive a contract in line with the six-year, $68.5M deal Yasmany Tomas took with the D'Backs. Tomas signed that deal at 24 but was also an inferior player, so adjust up some amount. He's going to wait until his birthday in October so he's not subject to the spending pools, right? Makes too much sense.
The Yankees would have use for both Gurriel brothers, especially Lourdes because he's so young. They'd have to hope he waits until October to sign, in which case he'd get a big league contract that would screw up their luxury tax plan, but that should be a minor consideration. If you can get a potential star caliber up-the-middle player in his early-20s for nothing but money, you do it. Surely they have some level of Moncada regret, which could be a factor in their pursuit of the younger Gurriel brother.
Yulieski would be interesting too. He could potentially fill a Ben Zobrist-esque supersub role — he has experience in the outfield as well as second and third bases — or even take over as a starter at second or third. Who knows what the roster will look like in a few months? The Yankees are not going to want to pay huge money for a player who will be 32 in June, especially since he's unproven at the MLB level. Does he want to play with A-Rod bad enough to take a discount? Developing!