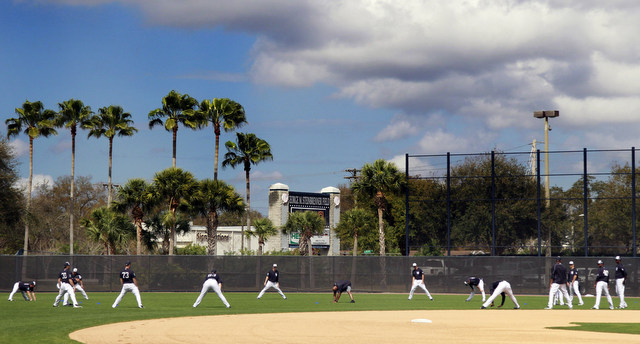 Position players are scheduled to report to Tampa today for Spring Training, and tomorrow the Yankees will hold their first full squad workout. Many of the position players reported to camp early, but today it's all official. And one week from today, the Yankees will play their first Grapefruit League game. Hooray for that. I have thoughts.
1. I'm not the only one sick of all this Aroldis Chapman stuff, right? Commissioner Rob Manfred is taking a very long time to hand out the suspension and I understand why. This is a sensitive subject and he has to toe the line between setting a harsh precedent and not going overboard so the league loses an appeal. I'm just a baseball fan who just wants to watch baseball and be a fan. Every day we get a non-update about the suspension or learn some mundane detail about how the domestic violence policy works. This is Biogenesis all over again, except with a much more serious offense. A suspension is inevitable — MLB is not going to let a player go unpunished after police were called to his home because of an argument in which he fired a gun in anger, this is exactly the sort of incident the domestic violence policy is intended to cover — and I really hope it is announced soon, however long it may be. This is distraction not only for the Yankees and Chapman, but the entire league.
2. Yesterday Cliff Lee's agent told Ken Rosenthal his client is unlikely to pitch again after being unable to find a suitable offer this winter. Lee, now 37, has not pitched since the middle of the 2014 season due to a flexor injury, but he was open to pitching in 2016 if he could find a good situation. Apparently one never presented itself. The Yankees didn't have any interest in the southpaw this offseason as far as we know. Anyway, over the last six or seven seasons Lee probably had the most impact on the Yankees among players who didn't actually play for the Yankees. The Yankees beat Lee and the Phillies in the 2009 World Series. Then of course there was the failed trade in 2010. And then Lee and the Rangers beat the Yankees in the 2010 ALCS. And then the Yankees tried and failed to sign him during the 2010-11 offseason, which changed the team's short and long-term outlook considerably. It's impossible to say how different everything would be right now had the trade gone through in 2010, or if Lee ends up with a team other than Texas, or if he does agree to sign with the Yankees that offseason. He was an artist on the mound and a bonafide ace, and for the first time, Lee made many Yankees fans experience the team not getting a player they coveted.
3. Today is Starlin Castro's first day on the field as a Yankee and he's an important part of the organization going forward as they try this rebuild on the fly thing. The team made a pretty significant investment in Castro and took on quite a bit of risk. They gave up a valuable player in Adam Warren and assumed roughly $40M in future salary. None of the other retooling trades required that kind of commitment. Starlin is still incredibly young — he's a month younger than Didi Gregorius — and his potential is so very obvious. He's had some really productive seasons in his career. That's why the Yankees went out and got him. Two of his last three seasons have been bad though (legitimately bad), and that's the risk. What if Castro is just a guy who peaked early? It's possible. If this rebuild on the fly thing is going to work, the Yankees will need Starlin to get back to where he was a few years ago, because the 2013-15 version was thoroughly mediocre.
4. I'm curious to see how the Yankees dole out innings during exhibition games. Traditionally the relievers with the best chance to make the team pitch early in the game, mostly because the coaching staff and front office want to see them against big league players. All the regulars are out of the game by the fifth or sixth inning most days. The Yankees have a few open bullpen spots and a ton of bullpen candidates, yet there are only so many innings to go around. Early in camp, before the starters are really stretched out, it'll be interesting to see which relievers are brought into the game first. That could be an indication of which way the Yankees are leaning with those open bullpen spots.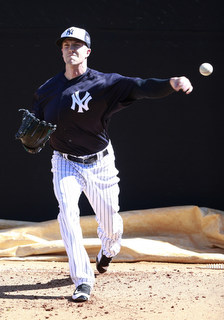 5. Random reliever who will have a big camp: Tyler Olson. Don't ask me why. It's just a hunch. Olson had a big camp with the Mariners last season — 15 strikeouts, no walks, no earned runs allowed in 12.2 innings — and made the team, then got hammered (5.40 ERA and 6.36 FIP in 13.1 innings) during the regular season and was demoted to Triple-A. So it goes. I could see him having a weirdly great Grapefruit League season and getting consideration for a bullpen spot. Olson is a pure lefty specialist with an upper-80s fastball, a sweepy breaking ball, and a funky low arm slot. The Yankees don't really have a need for a lefty specialist — Andrew Miller figures to face the toughest lefties in the late-innings — but who knows. They like Olson enough to keep him on the 40-man roster, so he'll get a chance to show he can contribute in camp. He fits the "I have no idea why he's on the 40-man but wow is he having a great spring" mold perfectly.
6. These things are always tough to pin down, but based on his transaction history, it does appear Carlos Corporan has a minor league option remaining. If true, his late-March opt-out may not be that big of a deal. The Yankees would be able to add him to the 40-man roster and option him down to Triple-A — they can slide Greg Bird to the 60-day DL, so they wouldn't have to cut ties with anyone to clear a 40-man spot — allowing them to carry Gary Sanchez as the backup catcher and keep Corporan in the organization as depth. It's a different story if he's out of options. I still think the Yankees should send Sanchez to Triple-A for a few weeks to delay his free agency, and if that allows them to keep Corporan for a few extra weeks, great. Holding on to catcher depth is never a bad move.
7. You may have seen it by now, but if not, David Ortiz told Kevin Kernan he "would love it if the fans at Yankee Stadium gave me a standing ovation" this season. Ortiz is retiring after the season and the Red Sox will be in the Bronx in late-September, for the second-to-last series of the season. I do expect the Yankees to do something to honor Ortiz — the Red Sox did something for Mariano Rivera and Derek Jeter, after all — but man, could you imagine Jeter or Mo saying they would love an ovation at Fenway Park? Not a chance. Like it not, Ortiz is a historically great player, and he's earned whatever accolades he gets this season. Saying he'd love a standing ovation at Yankee Stadium is kinda small time though. Chances are he's going to end up with the exact opposite now.