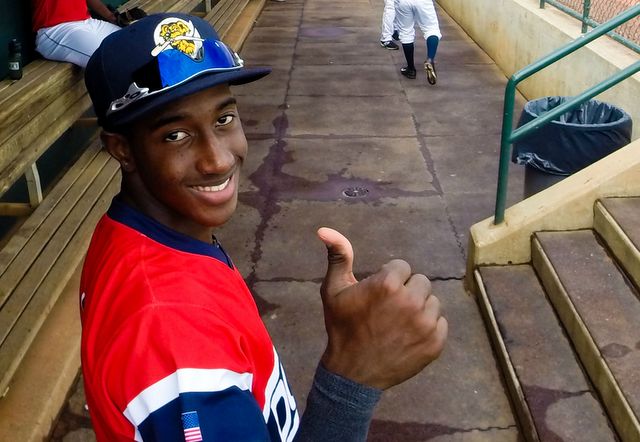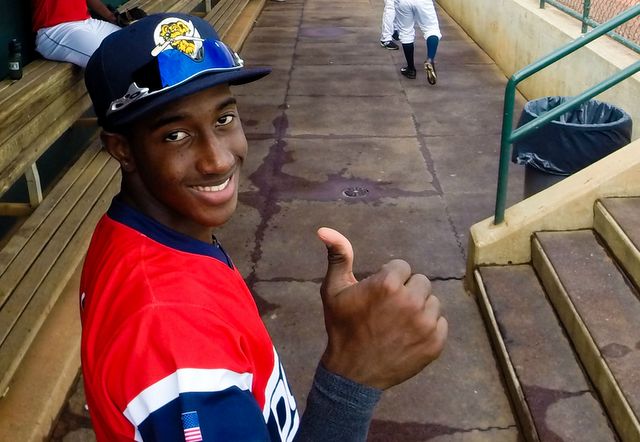 Yesterday afternoon the crew at MLB.com published their list of the top 30 Yankees prospects, which is topped by SS Jorge Mateo. That's not surprising based on their annual top 100 list. OF Aaron Judge, C Gary Sanchez, and RHP James Kaprielian round out the top four, because duh. Who else would it be?
Jim Callis wrote a real quick system overview that's worth checking out. As always, MLB.com's prospect information is completely free. You can see the list, read the scouting reports, and watch all the videos for zero American dollars. It's pretty awesome. Click the link for the complete top 30. Here's the top ten real quick:
Mateo
Judge
Sanchez
Kaprielian
SS Wilkerman Garcia
OF Dustin Fowler
RHP Domingo Acevedo
SS Tyler Wade
2B Rob Refsnyder
LHP Ian Clarkin
Looks good to me. I'm not the biggest Acevedo fan in the world — I ranked him 19th in my top 30 list — but I am in the minority. Sticking him in the top ten is not unreasonable. A few things stuck out to me while reading through the list and scouting reports, so here are my thoughts.
1. There are seven 2015 draftees in the top 30: Kaprielian, RHP Drew Finely (No. 16), RHP Chance Adams (No. 21), SS Kyle Holder (No. 23), LHP Jeff Degano (No. 24), 3B Donny Sands (No. 29), and OF Trey Amburgey (No. 30). Seven! That's an awful lot for a team that had a pretty good farm system to begin with. Usually when so many recent draftees populate your top 30 it's because your system stunk and you had few prospects to being with. Either that or you had a killer draft. I'm always wary of small sample performances when ranking recent draftees — Sands and Amburgey in particularly were great after signing — but the reports indicate the rankings are more scouting based than performance based, which is the way it should be. The Yankees tend to do a very good job in the middle rounds of the draft and MLB.com's top 30 indicates they found some nice talent last year.
2. Speaking of Amburgey, the scouting report notes he "generates some of the best exit velocities among New York farmhands," which is fun to read. I remember reading something similar about Judge a year or two ago. Following last year's draft we heard Finley ranked among the best in the draft class in fastball spin rate, fastball extension, and curveball spin rate as measured by Trackman (i.e. PitchFX) at the 2014 Area Code Games. As fans and analysts we're just now starting to use information like this and we don't even fully understand it yet. Teams are already tracking this stuff for their minor leaguers and potential draft targets. You'll never be able to scout prospects with just numbers, but all of this information can help you confirm reports, raise some questions, identify a sleeper, stuff like that. The more information the better, and that definitely extends into the minors too.
3. OF Leonardo Molina fascinates me more than maybe any other prospect in the system. He hasn't hit much in his two years in pro ball (75 wRC+ in 410 plate appearances) but MLB.com's scouting report says "scouts remain dazzled by his potential." Here's a little more of the scouting report:
Molina's quick right-handed bat and his projectable strength give him the potential for plus power. While he has yet to enjoy much success at the plate, he shows signs of pitch recognition and doesn't swing and miss excessively. Add in his plus speed, and he could be a 20-20 player once he matures physically and as a hitter … Molina's speed and well-above-average arm allow him to play any of the outfield positions. He's still learning how to make proper reads and routes but should be able to stay in center field.
That's the scouting report of a future star, but because he hasn't hit yet and is still so far from MLB — Molina is still only 18 and he's yet to play outside rookie ball — he's not a top prospect. A year or two ago I read something that described Molina as the kind of prospect who could take small steps forward each year and develop incrementally, though in my non-expert opinion I feel the opposite may be true. He strikes me as the kind of prospect where it might just click all of a sudden and bam, he's a top 100 caliber guy overnight. Either way, folks who glance at stat lines are missing what Molina (and 3B Miguel Andujar, for that matter) has the potential to be.
If you're interested, Callis held a Twitter chat yesterday and took a bunch of Yankees prospects questions, so scroll through his feed for some more info. He mentioned OF Jhalan Jackson and 1B Chris Gittens as sleepers. Jackson seems a little too well known to be considered a sleeper at this point.