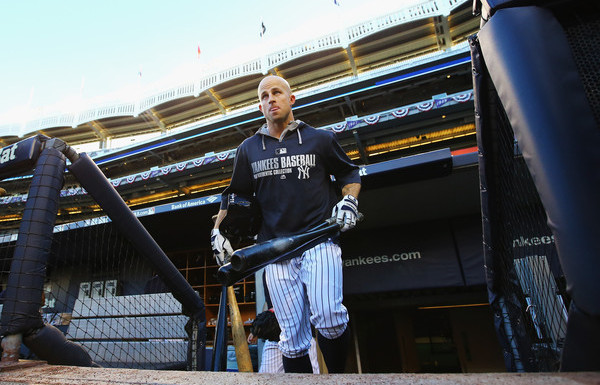 More than four months after the wildcard game, Brett Gardner is still dealing with a lingering bone bruise in his left wrist after crashing into the outfield wall making a catch against the Astros. The Yankees are being cautious and will limit Gardner's work early in Spring Training.
Here's the catch that caused the injury:
"I know he feels good, we are taking it slow," said Brian Cashman to
George King
earlier today. "Spring Training is long enough, we don't have to be rushing. The CT scan showed a bone bruise. The last (scan) showed significant improvement. It's going in the right direction. At this point, taking the safe route."
Joe Girardi told Chad Jennings and Jack Curry there is "very little there, but there's no reason for him to get started," and the team is taking it slow with Gardner "because we can." It's worth noting this is not the wrist that bothered Gardner for much of last season. Last year it was his right wrist after being hit by a pair of pitches in April. This year it's the left wrist. Gardner told Bryan Hoch he's fine and will be ready for Opening Day, because of course. He always says he's fine.
As we learned last season with Mark Teixeira, bone bruises can be very tricky, and even though it's been four months, the Yankees don't want to unnecessarily push Gardner in camp. It's possible the wrist could have been an issue during offseason trade talks. The team has to disclose injuries — well, they don't have to, but they kinda do — and the wrist may have pushed clubs to focus on other outfielders. There were lots available this winter.
In other injury news, Mason Williams told Jennings he expects to start the season on the DL because he is still rehabbing from shoulder surgery. He had his surgery in August and apparently the rehab timetable is something like 8-10 months. That puts Williams on target for a return hopefully sometime in April, but possibly as late as June. He hurt himself diving back into first base on a pickoff throw. Pretty fluky injury.
So with Gardner banged up and Williams likely to start the season on the DL, the Yankees are already faced with the possibility of dipping into their outfield depth. Good thing they have a lot of it. The outfield depth chart looks something like this right now:
1. Jacoby Ellsbury
2. Brett Gardner
3. Carlos Beltran
4. Aaron Hicks
5. Dustin Ackley
6. Slade Heathcott
7. Mason Williams
8. Ben Gamel
Those are on the 40-man options. We could even throw former outfielder Rob Refsnyder into the mix, though that's unnecessary. Lane Adams is a non-40-man roster outfield option. So is top prospect Aaron Judge, but the Yankees want to give him regular at-bats in Triple-A this year, and they have the depth to do that even with Gardner already banged up and Williams hurt. They still might have to tap into their outfield depth earlier than expected.
The good news is the tests show Gardner's bone bruise is improving — remember Teixeira's bone bruise? his didn't improve at all — and he was able to hit today. Sweeny Murti says he took 50 swings earlier today, though those were the first swings he's taken since the wildcard game. Gardner, who usually starts hitting in December, is going to have to knock quite a bit of rust off this spring if he wants to be ready for Opening Day.