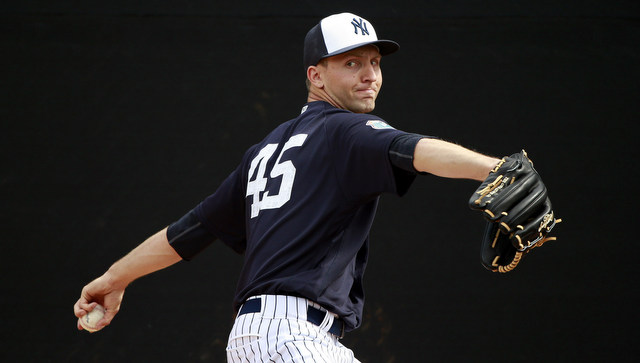 Chasen Shreve was very good last season. And then he was very bad. For the first four and a half months of the season he was truly outstanding, giving Joe Girardi a very good fourth option in the bullpen. Then it all fell apart in the middle of the August. Shreve allowed ten runs on 21 hits (five homers!) and 14 walks in his final 12.2 innings of 2015. Yuck.
There is no shortage of theories why Shreve struggled so much late in the season. He was fatigued. The league caught up to him. It was all bad luck. Everyone has a theory and no one knows if they're actually right. Lately the idea Shreve was tipping his pitches has gotten some press — Joel Sherman wrote about it (twice) and Ryan Hatch asked Larry Rothschild about it — and that's as good a theory as any.
Shreve is a three-pitch pitcher but his fastball and splitter are his main weapons. He does throw a slider too, just not very often. It's a surprise pitch, basically. Not a real weapon. Shreve uses his fastball to set up his splitter and vice versa. Pretty simple formula. Here are some numbers:
What really stands out is how often Shreve threw his splitter in the zone in August and September (and October). The splitter is designed to finish out of the zone. The pitcher releases it, the batter reads fastball in the zone, starts his swing, then the pitch falls off the table. When thrown properly, the split might be the most devastating pitch in the sport.
For whatever reason Shreve threw a lot of splitters in the zone at the end of the season, and that's not where the pitch is supposed to be. That suggests a mechanical issue, or maybe fatigue, but tipping pitches? I'm not sure it jibes with that. When a pitcher tips his pitches, he tells the hitter what is coming, not where it's coming. And even if he did tell them where it was coming, it requires a lot of skill to actually throw it there. Command is hard.
For the sake of thoroughness, here are two GIFs of Shreve from October, in the second to last game of the season. The pitch on the right is a fastball and the pitch on a left is a splitter. If you can spot some sort of difference in his set position or delivery that may be tipping the pitch to the hitter, you're better at this than I am.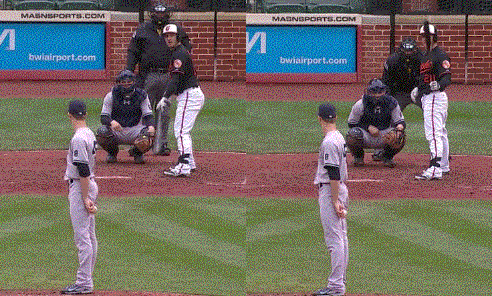 Shreve missed his spot with both pitches though not necessarily in a bad way; he got the fastball a little too far inside and the splitter finished down in the dirt. He didn't miss out over the plate. Of course, this is a sample of two pitches. Shreve did a lot of missing over the plate down the stretch.
Rothschild told Hatch he believes Shreve simply wore down last season, though that could be pitching coach speak for "I'm not telling you anything." It's certainly possible he was tipping his pitches. You can never rule it out, but it often feels like crying wolf. Every time a pitcher struggles unexpectedly, oh well he must be tipping his pitches. We hear it constantly.
Fatigue does seem like the most logical explanation. I don't think Shreve got lucky for four and a half months then it all caught up to him. He didn't get bad overnight. Shreve likely wore down, which threw his mechanics out of whack and resulted in poor location, hence all the extra splitters in the zone. He couldn't get the same finish on the pitch. Fatigue would be the cleanest explanation. An offseason of rest and he's as good as new.
The real Chasen Shreve is probably somewhere between the awesome pitcher he was from April through mid-August and the bad pitcher he was from mid-August through the end of the season. It's up to Shreve and Rothschild to figure out what happened. For now, Shreve's performance most of last season earned him some rope, and I think he's got a leg up on one of those open bullpen spots.